Movie Review: Mere Brother Ki Dulhan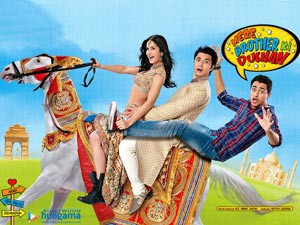 May the Best Man Win
On the rebound after the end of a five-year love-affair, London resident Luv (Ali Zafar) decides to settle for an arranged match, and requests his brother Kush (Imran Khan) to find him a wife in India. "By this Christmas, I want to be a married man," he tells his brother, who informs their parents (loving mother and stern ex-army colonel father), and they proceed on a girl-hunting marathon, arriving serendipitously in New Delhi to find Dimple (Katrina Kaif), the eligible daughter of a foreign-service parent, who spent her early youth in the UK. Their search for a "super-model with an Indian soul," comes to an end, but Dimple turns out to be bad girl D, a high fashion, free-spirited wildcat, who Kush remembers from their college days of five years ago. What follows is a series of events with a Taming of the Shrew theme, in which surprisingly, Kush, the groom's helpful brother, guides and hand-holds carefree Dimple as both families prepare for a lively wedding, and the arrival of the groom.
From the kings of romantic Bollywood comedies, Yash Raj films, Mere Brother Ki Dulhan is a playful gambol of entertaining sequences and songs, illustrating the ever-prevalent Bollywood theme: shaadi (In the footsteps of Yash Raj's last film Band, Baaja, Baarat in 2010). Which desi doesn't love the making of a good match, and a voyeuristic peep into family preparations and politics during a wedding affair? The film offers a little bit of both, with happy families uniting to bond their children in matrimony. There are family dinners, intimate teas and informal repartee, as parents get to know each other and children assist in the wedding preparations. Oddly enough, the bride is given free rein to hang out with the groom's family, in this case, his brother. What occurs during this period is karma, coincidence and a succession of planned events by the main protagonists to change the status of what the movie title implies. The film concludes with a refreshing and sweet twist, where no one gets hurt and everyone is happy. That is of course because from a Yash Raj film one expects nothing less.
As senti-tainment, Mere Brother Ki Dulhan doesn't deliver any warm fuzzy feelings like Yash Raj's 1995 epic young-lovers-in-love melodrama Dilwale Dulhaniya Le Jayenge. The characters are not entirely original. Imran Khan (Kush) is in another repeat role of the sweet, helpful, boy-next-door — something he has perfected down pat. Katrina Kaif (Dimple) is the good-looking, spoilt brat, yet again. However, if you ignore some of her histrionics and garbled dialogue delivery, she looks quite stunning, and her hyper role is likeable enough to have rocked the Indian box-office. But it is fresh newcomer Ali Zafar (Luv), who performs effortlessly in his first Bollywood blockbuster and wins audiences over with his good looks, charming smile, and smooth act — and of course, wonderful voice. Listen to "Madhubhala," probably already a favourite at all Indo-Pak weddings.
So if you're in the mood to give your grey cells a well-deserved rest, chill out with Mere Brother ki Dulhan.
This movie review originally appeared in the October 2011 issue of Newsline under the headline "May the Best Man Win."
The writer is a former assistant editor at Newsline
Next