Movie Review: Love Mein Ghum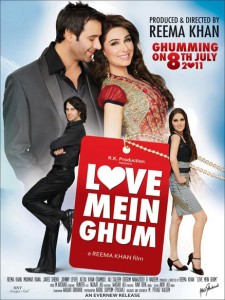 Lost in La La Land
Reema Khan's debut production Love Mein Ghum is a valiant effort to revive a nearly dead Pakistani film industry, but it doesn't reform the hackneyed style of the Pakistani movie, as did its contemporary and competition, Bol. With its shows stripped down to just two a day only a few weeks after release — specifically in Karachi — the film does not live up to the promise of its theme song video, launched some weeks prior to the movie.
Clichéd Lollywood is well and truly resurrected in this ambitious second directorial venture by Reema Khan, who is also the female lead, Maria Joseph aka Zindagi. Filmed entirely in Baku, Azerbaijan, and Kuala Lumpur, Reema has excelled in her choice of locale, but not in creating a new template for screenplay, plot and execution. With a whopping 12-crore-rupee budget, the quality of cinematography is stunning, but is not indicative of Love Mein Ghum's improvement in other realms; we don't find better themes, better acting, or a better story.
Zindagi is an awkward and geeky 'young' library intern who is wildly infatuated by university hot stud and 'gora' Wilson (Nabeel Khan), who treats her with utter disdain at the campus and is too busy cavorting with his American girlfriend played by Azerbaijani actor, Araida Corbol. As Zindagi manages to plod around campus in unfashionable clothes and thick glasses, and displays complete reverence to her massive crush, Wilson and company plot her downfall. Luckily, Zindagi is befriended by her colleagues Rhapar Singh (Afzal Khan, television's 'Jaan' Rambo) and Sukhia (Bollywood comedian John Lever), who attempt to make us laugh with jokes they may have dragged out from a rusty closet in Bollywood. To complete the comedian trio is Nazi (Ali Saleem of Begum Nawazish Ali fame), Zindagi's trusted confidante/fairy godmother, who constantly advises her to ditch her depressive attitude and persona, and stop hankering after Wilson.
In the meantime, enter hero Ali (Moamar Rana), the fortunate son of privileged parents, Mr and Mrs Haroon, who are well-settled in an ostentatious house in Kuala Lumpur. But the snag in the ointment is Mrs Haroon (Gia Ali), actually secretary-turned-second wife and siren step-mom, who plays the angel in front of husband Mr Haroon (Javed Sheikh), but makes an exceptional effort to corner her step-son to make a pass at him. "Mind it, Mrs Haroon," warns the harassed Ali, "After all, you are my father's wife," he tells the sexy predator.
When finally Zindagi's face is literally rubbed in the mud by Wilson and his girlfriend, and Ali is thrown out of his house by his suspecting father, they resort to suicide, but both are saved at the same hospital by the kind Dr Kanwal (the veteran Nadeem Beg), who also happens to be a friend of Mr Haroon and keeps him apprised of the events. You can obviously guess what follows: hero meets heroine in dramatic piano-playing sequence; love ensues; doctor deliberately misleads heroine by telling her that she has a life-threatening disease in a bid to resurrect her spunk for life; life finally takes on a new meaning for the lovers; heroine undergoes sea-change in wardrobe and attitude and realises her childhood dream of becoming a "dulhan"; their adversaries are shown up and eventually all's well that ends well.
Kudos to Lux girl Reema for looking ravishingly fresh throughout the movie, Gia Ali for being a befitting designer-clad siren, Javed Sheikh and Nadeem Beg for always looking handsome and playing their part tenaciously, and Moamar Rana for buffing up and getting away with several shirtless Salman Khan moments. Newcomer Nabeel Khan handles his script awkwardly and definitely needs elocution lessons. The Azerbaijani cast provide some extra eye-candy, and a sprinkling of Malaysians complete the ensemble cast. The song 'Kitni Haseen Hai Zindagi', choreographed with Azerbaijani dancers, is an interesting costume number. The music, except for the theme song, is average and forgettable, even though the tracks feature top of the line playback singers: Ali Zafar, Rahat Fateh Ali Khan, Abrar ul Haq, Shreya Ghoshal and Sunidhi Chauhan.
Love Mein Ghum falls disappointingly short of our expectations that were raised with its promo item song: a trendy, toe-tapping number picturised with top showbiz and fashion personalities shaking their booties and making the moves to a funky new tune. The film is definitely under the microscope for being representative of the Pakistani film industry, therefore open to extra censure as compared to Bollywood offerings.
One wishes Reema Khan had told a superior story, displayed vision and not just sweated over the small stuff. And, more importantly, someone needs to edit her official website and specifically delete this sentence referring to Love Mein Ghum: "Now this wonder girl of Pakistani filmdom is busy in making [sic] another film of an international standard and quality which is widely expected to win CANS [sic] Festival in Paris and Oscar award." Possibly not.
This move review originally appeared in the October 2011 issue of Newsline under the headline "Lost in La La Land."
The writer is a former assistant editor at Newsline
Next