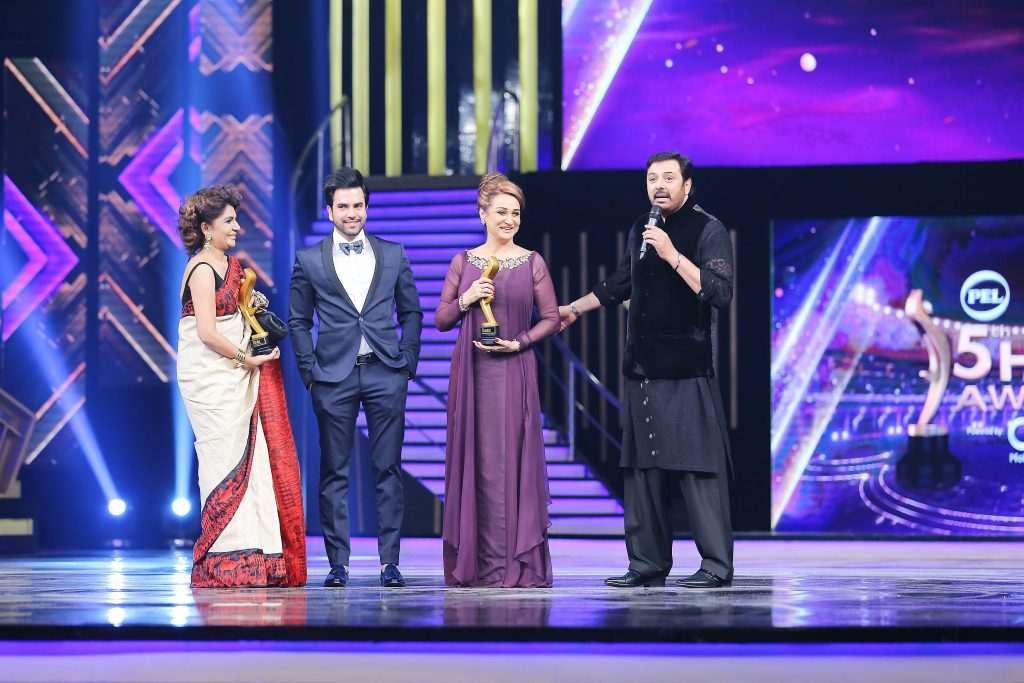 The selfie-brigade were out in full force — at the Lahore International Airport, the Avari Towers and the Expo Centre.
They had got wind of the news that Hum TV was taking its act — the 5th Hum TV Awards — to Lahore. And so they got into the act, accosting any and every star of the big and small screen from the moment they touched down in Lahore. From Maya Ali to Sajjal Aly to Mawra Hocane to Behroze Sabzwari to Feroz Khan to Humayun Saeed — it was a moviestar manna for TV buffs.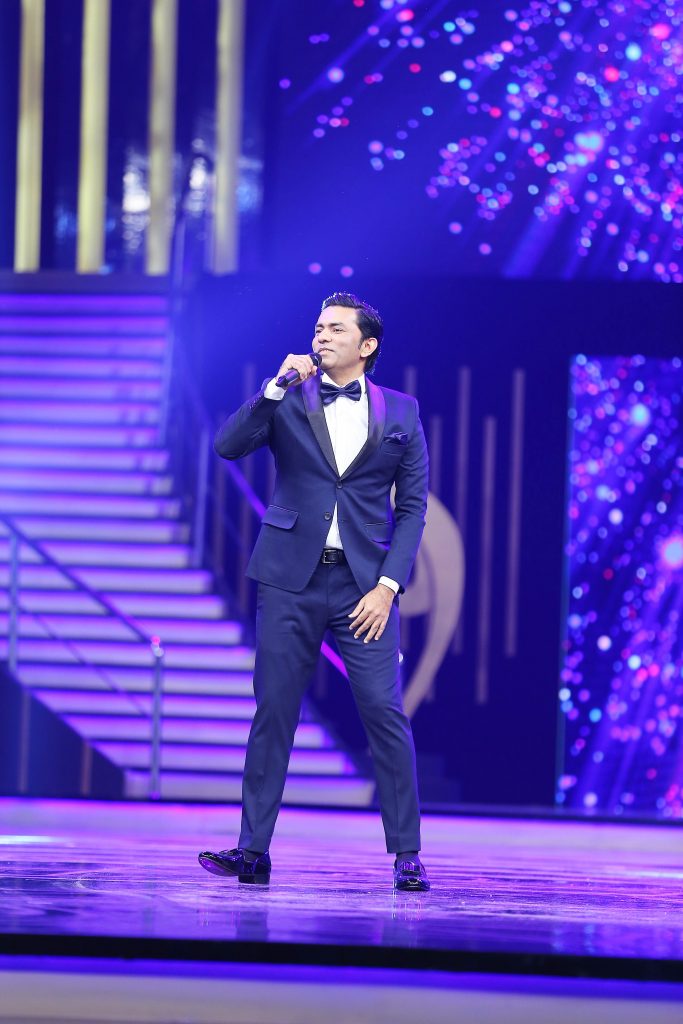 Sajjad Ali, Ali Sethi, Asim Azhar and the current heartthrob, Momina Mustehsan, joined hands to belt out a delightful medley of songs, with Sajjad Ali's zestful "Sohni Lagdi" drawing the biggest applause.
The dance items didn't disappoint either. Shehroz Sabzwari teamed up with his heroine from Syed Noor's production Chain Aye Na, the New-York based Sehrish Khan, who proved to be light years ahead of her grandmother, yesteryears' superstar Sabiha Khanum, in her dancing skills. Mehwish Hayat's sexy moves to a mash-up of Indian hits, including the "break-up" song from Aye Dil Hai Mushkil, were an instant hit. Ahsan Khan teamed up with another Khan, the current TV sensation Kubra Khan, for yet another dance number. A fine actress, Kubra needs to hone her dancing skills.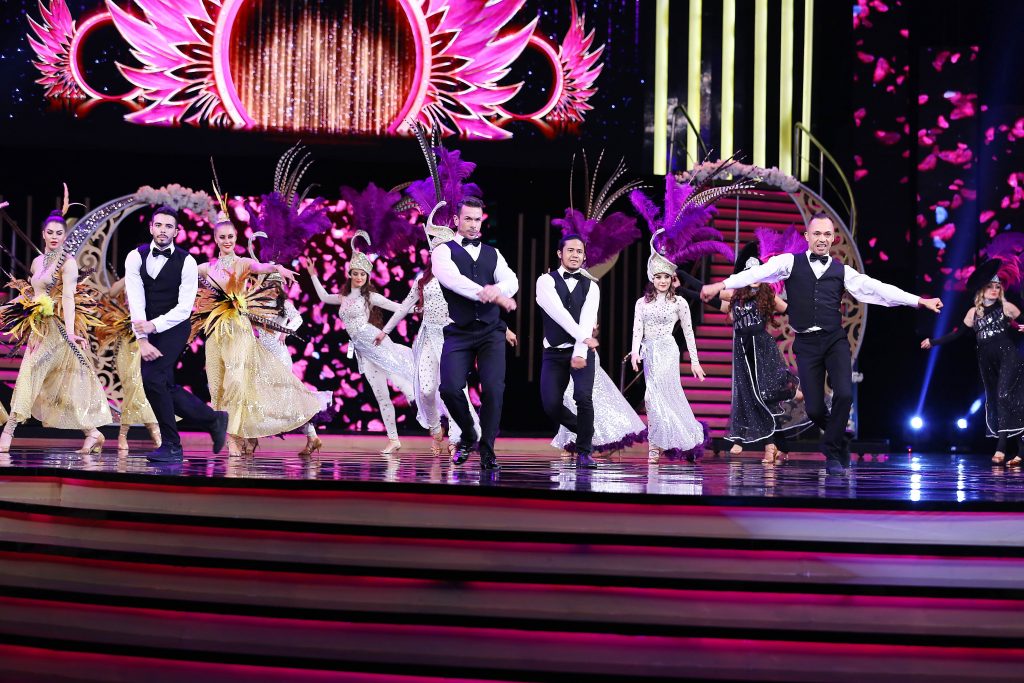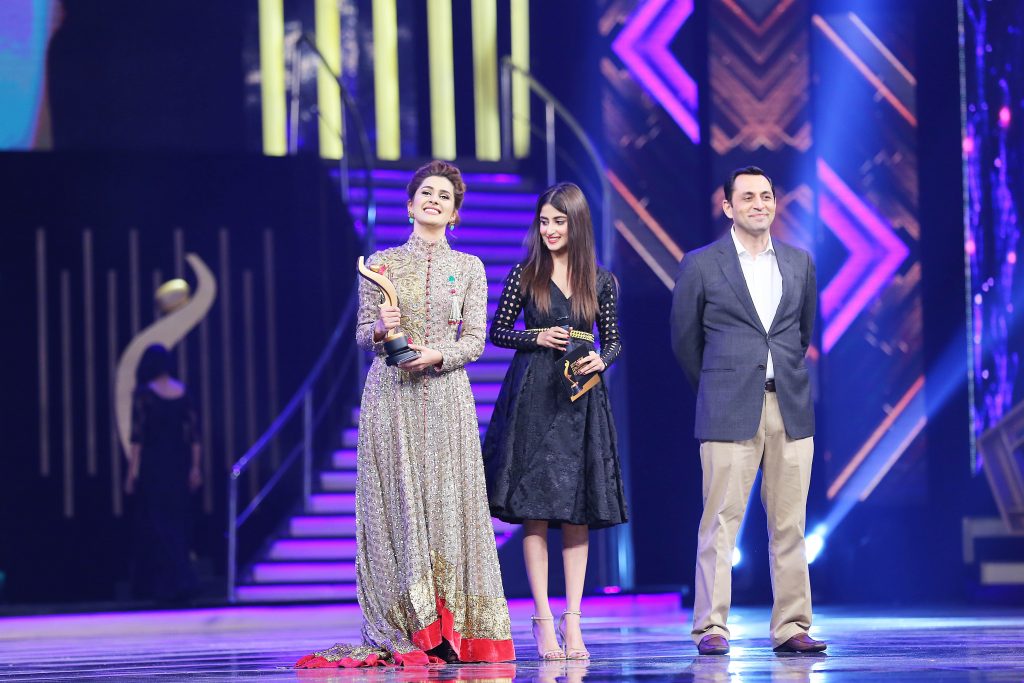 It was Reema Khan who provided the perfect finale to a selection of spiritual songs with her graceful moves.
Along with Hum TV President Sultana Siddiqi, Reema also presented the Lifetime Achievement Award to Farida Khanum. In a wheelchair now, Khanum regaled the audience by humming a few lines to remind her listeners of why she is still worshipped across the subcontinent.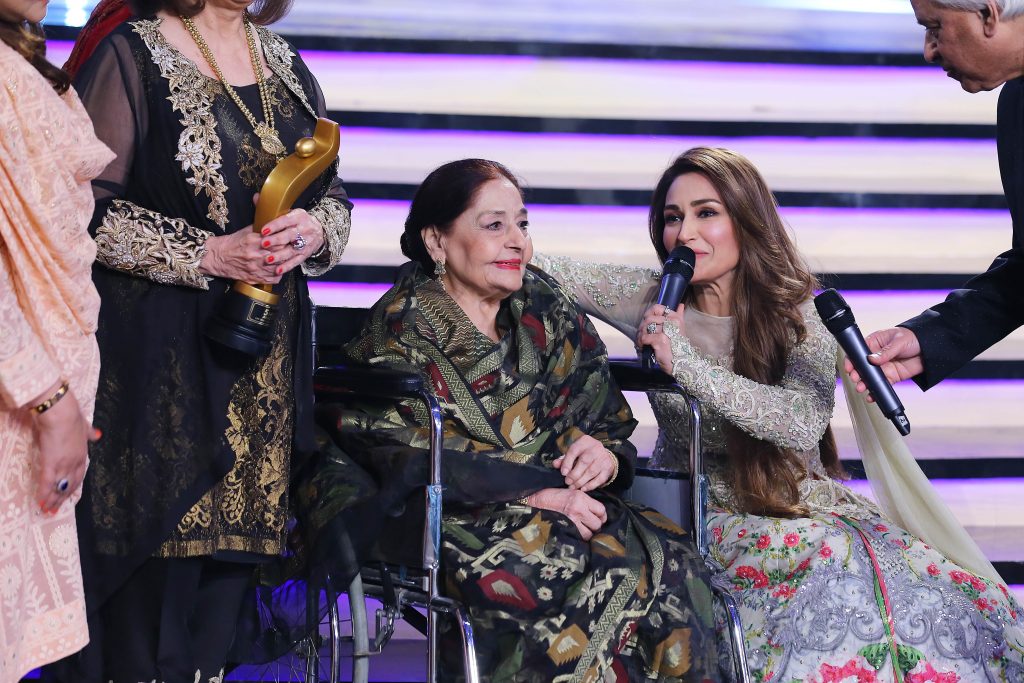 While Reema, with her New York-based cardiologist husband in tow, glowed in the limelight, her contemporary, Meera, sat silently in one of the back rows. Sadly, she was not even asked to be one of the presenters of the awards, which comprised current hotties Maya Ali, Feroz Khan, Hamza Abbasi, Shehzad Sheikh, Osman Khalid Butt, and golden oldies Bushra Ansari, Noman Ejaz and Sania Saeed.
Interestingly, Noman Ejaz instructed the audience to offer their prayers and fast this Ramzan, while Hamza Abbasi a la his 'Kaptaan' exhorted everyone to keep up their "fight against corruption — the root cause of all evil."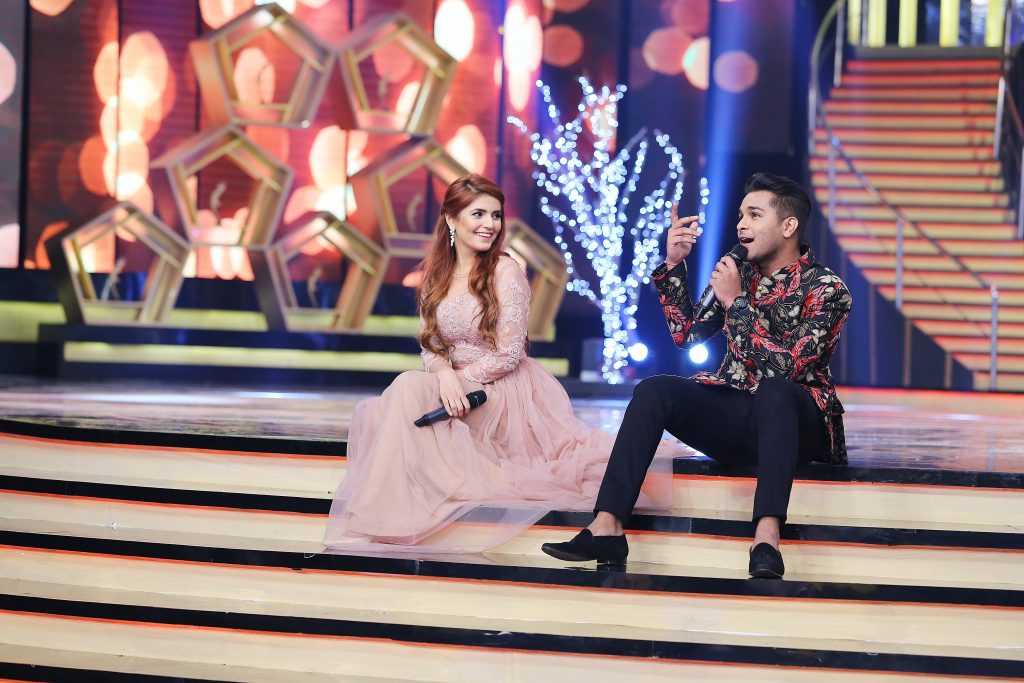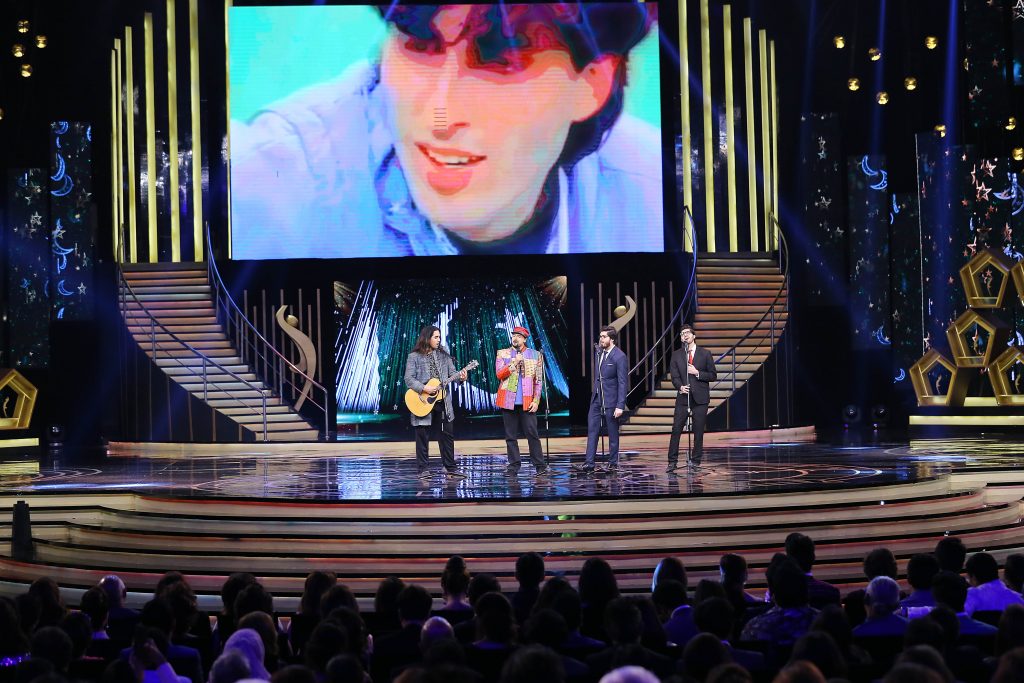 If Federal Information Minister, Marriyum Aurangzeb, sitting in the front row, felt uncomfortable, she didn't show it. She was invited to present the awards to the three best films of the year: Janan, Actor-in-Law and Mah-e-Mir, which incidentally bagged two awards — Best Film and Best Music — at the Dada Saheb Phalke Film Festival in India. "If only all the people who are present at the awards show tonight had come to see my film," lamented one of the film's producers, Badar Ikram, as he received the award.
The main battle for the awards was between two of Hum TV's finest serials on two critical themes: Udaari on the subject of child sexual abuse and Sang-e-Mar Mar on the tribal mores that sanction badla (revenge) and swara (the exchange of women to avenge murder). Sang walked away with several awards, but it was Udaari, a joint venture of the Kashf Foundation and Momina Duraid Productions, that walked away with the awards for Best Serial and Best Direction.
But the shine of Udaari's well-deserved win was tarnished by comedian Yasir Hussain's outrageously insensitive remark on rape to Ahsan Khan, winner of the Best Actor Award (in both the popular and jury awards category) for his powerful portrayal of a rapist in Udaari ("Such a handsome rapist. I wouldn't mind being a child.") The boorish comment sent the social media into overdrive. And, in the process, hurt the ratings for what was otherwise an impressive show.
Unfortunately, that was not the only faux pas of the evening.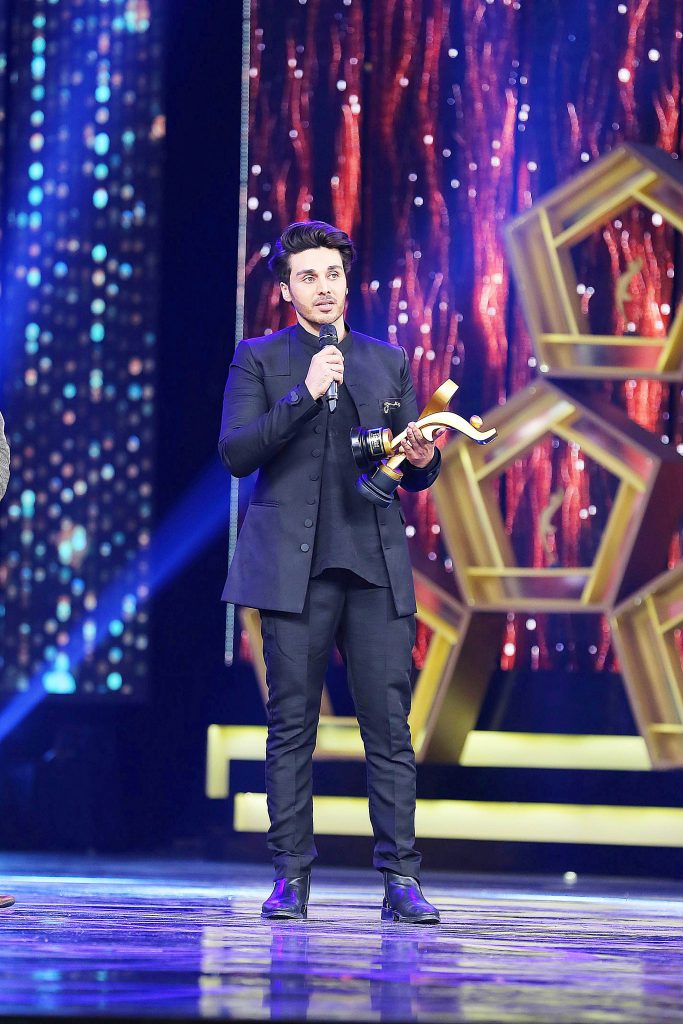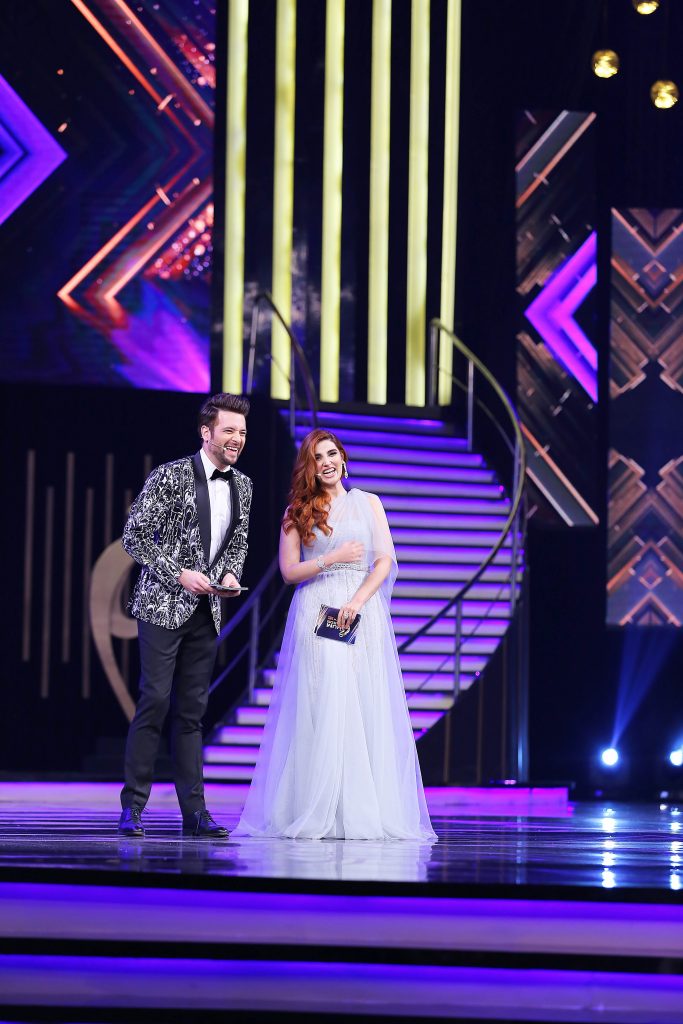 One of the anchors of the show asked Noman Ejaz, winner of the most impactful performance award, to deliver a "memorable" line from Sang-e-Mar Mar ("If a woman or a horse does not respond to your first call, it means you lack something.")
That may have worked well in the context of the play, but was it appropriate to zoom in on a line that equates a "woman" with a "ghori" before a live audience?
Which brings one to the question of how far anchors and comedians should be allowed to ad lib at shows, so that such mishaps do not occur. Comedy is a fine art that is best left to those with sensitivity and a certain sensibility — not hacks.
Unfortunately, even the other comic act by Ahmed Ali Butt, playing a cop, was below par. It was left to the stars to make up for these shortcomings.
All that notwithstanding, true to their reputation, the zinda dillan Lahoris stayed put till 3:30 a.m. when the show ended and the famished stars headed to Avari to grab a bite.