Pakistani citizens and peoples' social welfare initiatives — from the likes of Abdul Sattar Edhi, Dr. Adeebul Rizvi, and Perween Rahman, to Ayesha Chundrigar and countless, nameless others, to The Citizens Foundation, the Sailani Trust, Aman, etc are filling the gaps, dealing with some of the issues for which the state seems to have abdicated all responsibility.
The prime example is education. The number of street schools in Karachi bears witness that civil society cares. Like education and health facilities, libraries too are a fundamental part of society, and public ones are vital to provide spaces for learning, discovery, social and academic events — and for study. Sadly, at the Liaquat Memorial National Library — Karachi's largest — all 150,000 books lie behind locked doors for fear of theft or vandalism. Books can only be withdrawn by approaching the authorities with a written request, carrying the title of the books sought and submitting alongside it, a CNIC copy. Yet, hearteningly, despite this, the Liaquat Library is always packed with students. Downside: they are not all there for the pleasure of reading. According to a senior librarian, visitors are predominantly students preparing for exams and using the library for coursework. The concept of visiting a library simply for the pleasure of reading, or out of general curiosity, has been usurped by the internet and the fact that courtesy Google every answer is just a click away.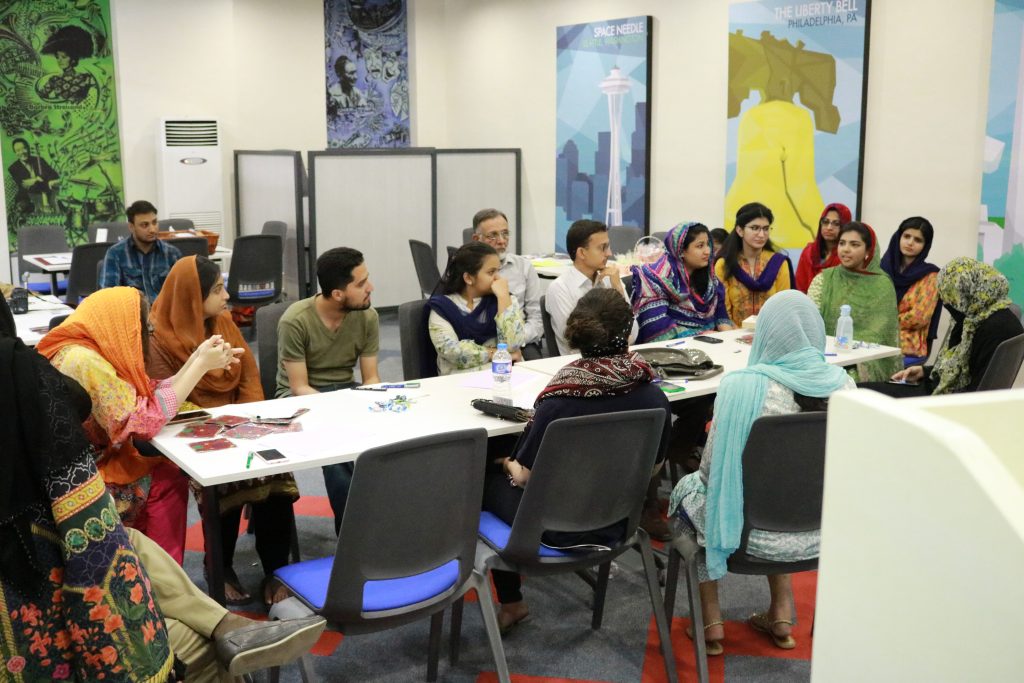 Enter two proactive idealists: Marium Rafique and Munaza Gulzar. Both knew that they wanted to work in the education sector, and as a starting point, decided to inspect the condition of public libraries in Karachi. They discovered that many libraries did not have proper equipment, such as computers or access to the internet, bookshelves were bare and the librarians were generally defensive and unhelpful. So they decided to do something about it.
Their initiative, The Karachi Public Library Project (KPLP) — which won the 6 Degrees Junior Fellowship, 2016, from the Institute of Canadian Citizens — plans to focus on providing a community area for the people of Karachi that is safe, resourceful and inclusive. This space will also be used to host interesting and educational events, mainly targeting women and children so as to enable their increased presence in public spaces. The duo had noted that, surprisingly, even in a seemingly gender-neutral place like the Liaquat Library, there are hardly any women present, either as staff or as students.
Rafique and Gulzar said that the library which they plan to set up, would also aim to launch literacy programmes, organise book clubs as well as counselling sessions; have a storytelling space dedicated for children under 12 and conduct workshops for life skills (such as writing official letters, constructing a CV, etc). The KPLP project opening was hosted at the Lincoln Corner at the Liaquat Library, attended by 16-20 people who knew of the event via Facebook.
In the discussion that followed, it was observed that local literature was not given the attention it deserved and that even the Pakistani writers who wrote in English did so with a foreign audience in mind. This made the general population view Urdu as a secondary or inferior language, which can only deepen rifts in society.
Gulzar emphasised that it was imperative for members of the KPLP to familiarise themselves with other public libraries in the city to understand what was needed. And Rafique pulled no punches about how the comfort level would deteriorate after the very well-equipped and plush Lincoln Corner (at the Liaquat Library), as they planned to hold future meetings at a different public library each time. The older attendees said that the library culture could be revived if reading, not simply for exams, but just for the pleasure of it, was encouraged in the family and people actually visited libraries.
The consensus was that libraries provide a connection with more humane values and could be a safe space that encourages diversity. Very much like the initiative that Sabeen Mahmud imagined and realised in T2F (The Second Floor) — muted whisperings of it being somewhat elitist notwithstanding. Rafique and Gulzar both said that the only way to avoid that trap would be to keep the community around the library engaged, involved and in charge.
Karachi needs an abundance of projects like KPLP and T2F, but because of the security threats, political turmoil and societal repression, many are unable to get off the ground, less last. However, Rafique and Gulzar are both resourceful and enthusiastic, so hope springs eternal.
Next