Book Review: An Unsuitable Boy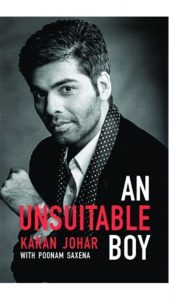 Karan Johar is known for storytelling, even if often those stories and the films they become, seem to aim at projecting the glamorous image of a shining India. And so, almost invariably, clichéd, glib storylines, that despite all the beautiful people and settings involved, usually leave one wanting more. But while that is the tale of his films, one expected more from his recently released autobiography, co-authored by Poonam Saxena, An Unsuitable Boy. Sadly, the book is little more than a self-aggrandizing ode to his achievements and his self-proclaimed great instincts, which he says have contributed to his success.
The book opens with a powerful sentence: "Today, I finally feel liberated," and goes on to explain the genesis of this freedom. In this journey we learn of how, from finding solace and comfort in food, Johar evolved and discovered the passion that was to overrule all else in his life: Hindi cinema — even though that was a time when Bollywood junkies were looked down upon.
The director-producer credits his friendship with Aditya Chopra of Yash Raj Films to be the guiding force with regard to his cinematic experience. "There was a subconscious, hysterical Hindi film fan in my large body, just waiting to come out. That happened when I met Adi, because his life was Hindi cinema." Assisting Chopra in the '90s classic, Dilwale Dulhaniya Lejayenge, gave Johar exposure to filmmaking, and led to his directorial debut: Kuch Kuch Hota Hai (KKHH), and in the process to Shah Rukh Khan (SRK) and Kajol, who he befriended, and who became an integral part of his life in one way or another.
However, of late, he has had a falling out with Kajol. Along with some mention of the struggles of his own life, Johar also narrates the inherent difficulties of life behind the camera: the unpredictability of box office numbers, the pressure filmmakers invariably need to exert on film critics and the even more overtly threatening 'Bollywood mafia.'
A case in point: Johar reveals how, a few days prior to the release of KKHH, his mother received a call threatening his life unless the release of the film was stopped. This incident was Johar's very first exposure to Bollywood's long relationship with the underworld, which was on the rise in the '90s. But he survived that, as he did his father's untimely demise from cancer, and lives to tell many tales.
While through Johar's book we learn of his bouts of solitude and despair, which led him to seek professional help, more pages are devoted to self-love, self-praise and his contribution to the changing dynamics of Bollywood. "Today, when I look back I think I set a certain precedent for things to come…I started that movement of bringing the director into focus," he writes.
A few chapters later, Johar quotes his father, veteran producer Yash Johar, saying "…Dev Anand once told me, 'It's your trumpet. If you don't blow it, who will?'" And that is exactly what the 44-year-old film-maker's autobiography seems to be — an ode to himself. Although he gives credit to his colleagues where it's due, whether it's to SRK for his persistence in pushing Johar to write his first movie, or Salman Khan for offering to play a cameo role in his debut film, and begins with anecdotes about his childhood filled with insecurities stemming from being bullied for being a "fatty," or a "pansy," and for often being characterised as "effeminate," the book soon becomes a tribute to his achievements, which, he seems to contend, lie parallel to the success of the industry.
There are, of course, some interesting snippets in the book about his relationships and fallouts. A chapter dedicated to the superstar SRK tries to clear the air about Khan and Johar's allegedly questionable relationship, and the subsequent distance in their friendship.
However, perhaps in deference to the increasingly intolerant country he lives in, Johar remains tight-lipped vis-a-vis any admissions about his sexual predilections, despite the rumours that linger. This, despite the fact that he has been amazingly explicit about sex in several columns he writes, and in the movies he directs. And he unabashedly takes credit for bringing homosexuality into mainstream commercial cinema. Certainly, his films have had portrayals of stereotypical homosexual men. But this has not always been welcome: his foray into taking the subject out of the closet has been criticised by conservative segments of Indian society.
But while his support for the gay cause is applauded, Johar's activism is seen as selective and hypocritical. When talking about women's issues, for example, Johar chooses to mirror society's privileged men who just can't seem to sympathise. An apparent closet sexist, he shuns even the concept of the objectification of women, because he says he can't "suddenly start being the moral police for the same things I grew up watching and loving." Johar does, however, make a valid, even if hard to accept, point.
Reminiscing about the past, he talks about a time when movies were "simple" to make because filmmakers worried less about what people said — in other words, they cared less about being politically correct than they are forced to be now.
That insight and a few others apart, the only thing An Unsuitable Boy really manages to do, is create a vicarious connection between his movies and the person reading his book. The detailed inside story of their making provides a first-hand look at the filmmaking process. Hence, the next time you watch Kabhi Khushi Kabhi Gham, you are likely to feel a sense of ownership.
Next