Classic Movie Review: Shanghai Express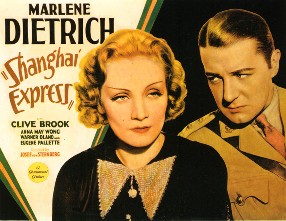 The year is 1931 and the Shanghai Express, a passenger train, journeys down its ordained route from Peiping (Beijing) to Shanghai, through a China embroiled in a civil war. During the voyage, the lives of a curious mix of passengers unfold before our eyes. Two of them in particular, a courtesan known as 'Shanghai Lily' (Marlene Dietrich) and an English officer named Donald Harvey (Clive Brook), have history together. As communist rebels seize the train, and some passengers are faced with matters of life and death, they are forced to rise above their differences.
It helps to know that the director of Shanghai Express (1932), Josef von Sternberg, and the heroine of the film, Dietrich, had been engaged in a tumultuous love affair ever since he had discovered her at a Berlin cabaret in 1930 and transformed her into an actress of international acclaim. Dietrich's sexual promiscuity had jarred Sternberg and the effects of this manifested themselves in the films he made with her. While in real life Sternberg found Dietrich to be unfaithful and hard to control, on the set of his films, he was infamous for being a control-freak and a tyrant, dictating every last detail.
In the film, Harvey is a scarred former lover of Lily's, their relationship having ended due to an insensitive attempt by Lily to test his love. Throughout the film, Lily highlights the importance of faith and trust in relationships — possibly a concept Sternberg often found himself struggling to reconcile with, in his relations with Dietrich. At the same time, the film challenges society's distrustful and critical attitude towards prostitutes. While all passengers aboard the Shanghai Express look down upon Shanghai Lily and her companion Hui Fei (Anna May Wong), it is these two who play the most heroic roles in protecting passengers when the train is hijacked. We learn that commonly perceived notions of 'respectability' are based on fickle foundations and posturing, while those who are outcasts in society can exhibit depth and substance. The concept of 'faith' is dissected further when Reverend Carmichael points out Lily's positive attributes to Harvey.
While the story is fairly simple and straightforward, it is Sternberg's signature atmospheric cinematography, of a German Expressionist kind, that makes its own subtle implications. To this day, viewers will find shots such as that of the train in motion, as soldiers sit on top of it and Chinese townsfolk look on, strangely appealing and advanced for their time. The conflict of cultures — of East and West — are powerfully captured as the train, a creation of the West, moves through an environment in which it looks almost alien and out of place. The play of light and shadows is intensified as some scenes take place behind sheer curtains, which inevitably serve as filters of sorts for the camera lens, lending a sinister element to the environment.
The film is testament to the fact that over eighty years ago, von Sternberg was creating works that were, arguably, far more atmospheric and impactful than anything coming out of Hollywood today.
The writer is a staffer at Newsline Magazine. His website is at: www.alibhutto.com
Next