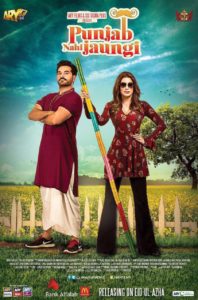 Nadeem Baig's confident, assured Punjab Nahi Jaungi succeeds because it knows what it wants to be — an entertaining, light-hearted romantic comedy — and does not try to be more than that. Larger than life, wildly passionate and recklessly illogical, the Urdu language Punjab Nahi Jaungi is a true Punjabi film — even if in Urdu.
Punjab Nahi Jaungi tells the story of two families, one in Karachi and the other in Faisalabad, that have been close to each other for generations, despite obvious differences of culture, education and manner. Shared values and a deep belief in love hold the families together. The bond is threatened when Fawad Khagga (Humayun Saeed), the scion of the family in Faisalabad, falls in love with Amal (Mehwish Hayat), the daughter of the family in Karachi. Fawad is a spoilt feudal landlord; Amal an educated, headstrong young woman. The former has a dubious degree in political science from a school in Lahore, whereas the latter holds a prestigious one in economics from a school in London. Fawad is immature and irresponsible. Amal is smart and socially conscious. Fawad's cousin, Durdana Butt (Urwa Hocane), is in love with him. Amal has an uneasy romantic relationship with Vassay (Azfar Rehman). Despite all the differences and complications, Fawad and Amal come together and get married in a colourful, massive wedding. Sadly, they do not find true marital bliss until after a lot of hearts have been broken, numerous people have been slapped, and many songs have been sung, in the second half of the film.
Punjab Nahi Jaungi delves into a large number of themes — love, friendship, feudalism, animal rights, corporate responsibility, female empowerment, sacrifice, and Sufism, to name a few — but never so deeply as to take away from the film's entertainment quotient. The glossy, superficial treatment of a number of serious issues is both apt and appropriate in a film that is determinedly entertaining. A little more ambition would, in fact, have ruined the film.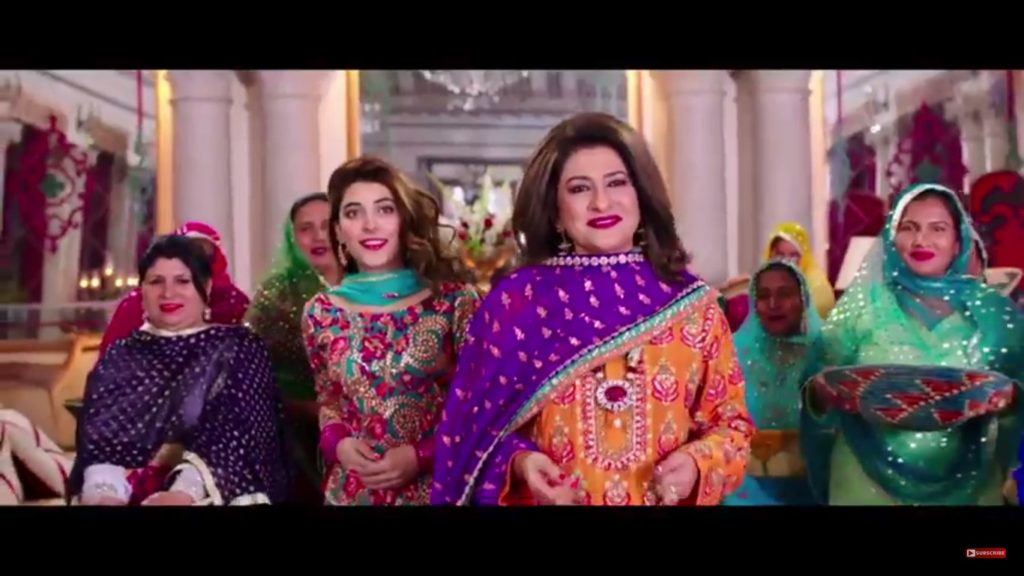 Mehwish Hayat and Urwa Hocane look truly gorgeous in Punjab Nahi Jaungi. Hayat does not pour sweat into her performance, but her natural, effortless handling of the role works because the film essentially requires her to be confident and beautiful — both attributes that the alluring actor is amply endowed with. The younger, and more radiant, Hocane acts well, but she too succeeds more due to her youthful good looks and less because of her histrionic abilities.
Two senior female actors, Saba Hameed and Naveed Shehzad, meanwhile, fill the good acting quotient — a requisite for any film to really register. The perpetually well-dressed Hameed plays Fawad's mother, Firdaus, with great flair and panache. She delivers a heartfelt performance and her sultry attractiveness adds a menacing sexiness to the role of the mother, giving it an edge. Veteran television and stage actor, Naveed Shehzad, plays the role of Amal's grandmother, Nighat Ara. Known affectionately as 'Bebo Ji,' she is the wise, loving and generous matriarchal head of the family in Karachi. A little older than other female actors in the film, she holds her own in the area of beauty and good looks as well. Over the years, Shehzad has cultivated an aura of elegance, sophistication and style that is sadly missing in most Pakistani actors today. Shehzad has tremendous screen presence and renders the role of a warm but strong grandmother with effortless conviction and grace. Her carefully calibrated performance gives the film some remarkable intellectual and emotional heft. Punjab Nahi Jaungi would be a lesser film without Naveed Shehzad's presence.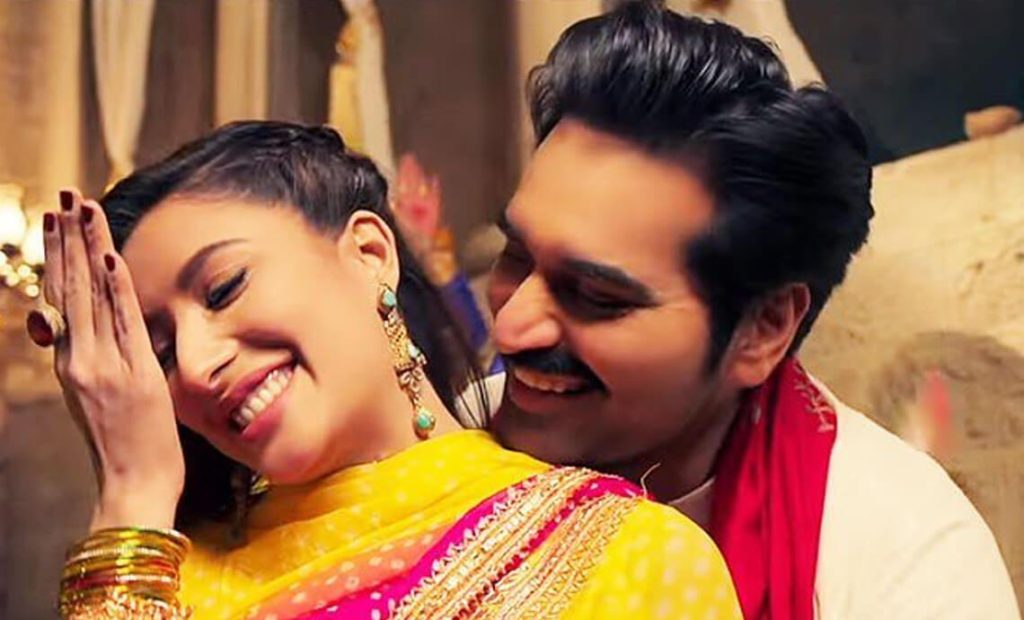 Ahmad Ali Butt as Fawad's friend, Shafique Ahmed, is genuinely funny. The young actor has good timing and the ability to render the simplest of lines comical. He adds humour and levity to a number of scenes in the film without taking away attention from the action.
And the talented Sohail Ahmed, as Fawad's grandfather Mehtab Khagga, renders an impeccable performance in Punjab Nahi Jaungi. The film, however, belongs to Humayun Saeed.
Arguably the biggest star of show business in Pakistan, Humayun Saeed proves that he may be an equally big actor with Punjab Nahi Jaungi. He jumps into the character of Fawad with both feet and completely embodies the character of the feudal landlord. Saeed cares more for the authenticity of the character than for his own star power in the film. He is not afraid to poke fun at himself and the character he so endearingly plays. He understands Fawad's many weaknesses — innate feudalism, lack of style, bombastic nature, and unbridled impetuousness, as well as his strengths — keen self-awareness, confident machismo, hopeless romanticism, and an intense focus on goals — and makes them real in a character that, albeit flawed, is both charming and lovable.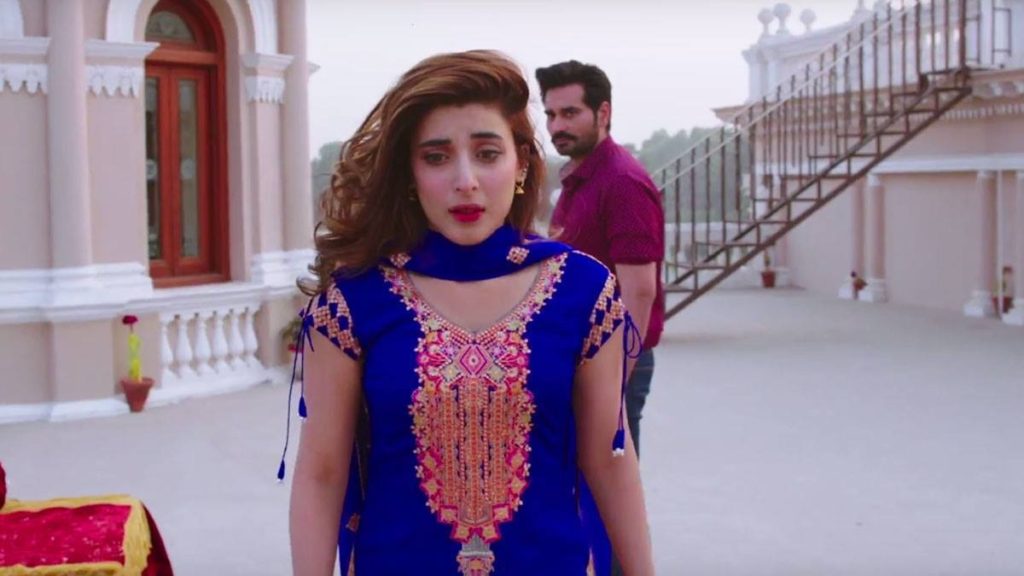 Acting, direction, cinematography, costume design and art direction are the key strengths of Punjab Nahi Jaungi. But alongside are the weaknesses — sloppy editing, Shakeel Sohail's lame lyrics, mostly mediocre songs, some truly ridiculous dialogue, and a shoddy climax — but none hurt the film as much as its uneven, frail screenplay. Tight and well-paced, the first half of Punjab Nahi Jaungi is structured well. Things start to come apart in the second half when the writer, Khalil-ur-Rehman Qamar, does away with the neat cinematic three-act structure and adds side stories and sub-plots, forcing the film to move towards a lame resolution in fits and starts. Qamar's screenplay lacks proper focus, speed and structure. A better one would have elevated the status of Punjab Nahi Jaungi from a good to a great romantic comedy.
Next