Film Review: Lipstick Under My Burkha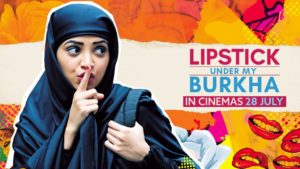 Alankrita Shrivastava had to fight India's Central Board of Film Certification for five months to get her feature film, Lipstick Under My Burkha, released in the country. The board initially refused to certify the film for release because "the story is lady oriented … there are sexual scenes, abusive words, audio pornography and a bit sensitive touch [sic] about one particular section of society."
The board's reasons for refusing certification, written in particularly poor language and full of grammatical errors, are both deceptive and misleading. The government body is neither concerned about the feelings of Muslims in India, nor worried about profanity and pornography. There really isn't any in Lipstick Under My Burkha. The board's real issue is with the film's ruthless assault on oppressive patriarchy that pervades Indian society. The film's effective depiction of India's patriarchal traditions, misogynistic beliefs and deep-rooted sexism scares government bodies committed to maintaining the status quo. Thankfully, the film's female producer eventually prevailed in her battle with the censors. It is a positive sign that the first stones against regressive patriarchal mores are being cast in India. Despite its sad theme, Lipstick Under My Burkha is bold, colourful, audacious, passionate — and film is a true pleasure to watch.
It is the story of four women who are forced to fight, lie, deceive, cheat, fantasize and steal to secure what should be available to them without any effort. They live in a poor neighbourhood in Bhopal. Each one of the four women fights a battle to gain agency over her body, life and destiny, every single day of her life.
The 55-year-old Usha (Ratna Pathak Shah) is the oldest of the four women. Affectionately known as Bua Ji, the widow has the love and respect of the people in the neighbourhood, but not the freedom she needs to lead a fulfilled life. Things change when she meets a young lifeguard, Jaspal (Jagat Singh Solanki), at a local swimming pool and falls in love with him. The relationship forces her to rediscover and explore her sexuality in a manner that her image as the revered auntie of the neighbourhood had, heretofore, never allowed.
Beautician Leela (Aahana Kumra) is an aspiring businesswoman in love with Muslim photographer Arshad (Vikrant Massey), but engaged to Manoj (Vaibhav Tatwawaadi). Her fiancé wishes to make her home so comfortable that she never has the urge to leave it. Sexually emancipated, and at ease with her raging libido, Leela has a ravenous appetite for sex. She uses sex for both pleasure and control. Yet, she unwittingly allows both Arshad and Manoj to debase her in wildly different, but similarly cruel, ways.
Shirin (Konkona Sen SharmaI) is a talented saleswoman unable to tell her husband, Rahim (Sushant Singh), about her successful career and great prospects in sales. The abusive, unemployed and cheating Rahim sees his wife as a sex object. He subjects her to painful, loveless sex on a regular basis. Her successful career is the only bright spot in an otherwise colourless life full of sexual abuse, scared children and unwanted pregnancies.
The youngest of the four women, college freshman Rehana (Plabita Borthakur), is the daughter of a conservative Muslim tailor. Forced to cover herself in a burkha and stitch burkhas all the time, Rehana secretly desires a modern life full of western music, dance, makeup, clothes and parties. A shared love of music binds Rehana to her boyfriend Dhruv (Shashank Arora).
The loosely connected stories of the four women unfold as Usha reads pulp fiction paperback, Lipstick Dreams, in the background. The heroine of the book, Rosy, represents each one of the four heroines, alternatingly. The women rebel against the stifling cruelty of society which assigns carefully defined roles for each one of them. They eventually end up together for a depressing dénouement on Diwali, to face the disastrous consequences of their rebellious actions. The climax unfolds against the backdrop of the sound and light of Diwali fireworks, which initially seem to represent the lives of the protagonists going up in flames but eventually become a symbol of the crackling energy that will keep the women going.
Lipstick boasts a wonderful screenplay, a delightful soundtrack, brilliant cinematography and excellent editing. The performances of the entire cast — Probeen Borthakur and Vikrant Massey, in particular — are precise, and intense. Art direction and lighting is excellent. The film does not have a dearth of areas of strength. It is, however, the force and optimism of the narrative that keeps the film going and makes it work.
The film leaves one inspired, disturbed and hopeful — but with one nagging question: why does Lipstick Under My Burkha equate the freedom of women with only sexual freedom?
Next