Masters of their Universe
(Photo courtesy K-7 Academy)
On Karachi's avenues of road-rage, if Jamil Chandio is confronted by a man in an SUV trying to pick a fight, he will not engage. Instead, he will choose the avenue of restraint. This is what sets him apart from most people on the street. As a Master (Black Belt 6th Dan) of Kyokushin Karate and a former national champion, Chandio has the mental fitness and self-confidence required to dodge blows from his ego. Being a Master of martial arts means being a master of self-control. But Chandio is not like any other Master — or Grand Master for that matter — in Pakistan. He trains members of the Elite Force of the Sindh Police and has designed a training and fitness centre for them called 'The House of Warriors,' in Razzaqabad.
"We have trained the best guys in the Elite Force of the Sindh Police," says Master Zain Iman, President of K-7 Fitness and Kickboxing Academy, of which Chandio is Founder and CEO. "They, in turn, will train the rest of their force," he continues.
The Sindh police had been facing hurdles in the discipline of unarmed combat and approached the K-7 Academy for assistance. The former SSP Elite Police Training Centre, Pir Muhammad Shah, wanted to carry out a complete overhaul of the system of training within the police and elevate its standards. Both, Masters Chandio and Imam, emphasised to him the importance of the environment in which one trained. It formed the foundation for everything. There was a need for a fixed venue — a temple of sorts — where all members of the force could congregate and undergo the learning experience. This was how the Elite Force's state of the art training centre came into being.
The K-7 Academy created a programme of 48 training sessions conducted by their senior coaches, Kamran Anser and Aneel Khokhar. Zain says it will take time for the newly acquired skills of the elite force to trickle down to the level of the police patrolling the streets.
Being trainers of the elite force is not the only trait that distinguishes Chandio and Zain from Masters — or ustads — across the country. Their K-7 Academy has trained the first-ever female kickboxing coach in Pakistan, Rameesha Shahid, who is now the academy's kickboxing instructor for women.
But it has not been an easy ride for Master Chandio and his team. Chandio's own journey towards earning his revered title began before he was even aware of it. He grew up watching his brother, the late Shakeel Chandio, turn into an internationally recognised martial artist and national champion. Chandio attended his first training session in 1986 at the age of 14, at the Pakistan Kyokushin Karate Organisation, located at the time in Gizri, Karachi. He became a Black Belt in Kyokushin Karate in 1990 when he was ranked fifth in the All Asian Karate Championship in Tokyo. Thereafter, he represented Pakistan in the UK, Russia, Canada, Nepal, Sri Lanka, Tokyo and Iran. He remained undefeated in national championships until 1994.
Chandio founded K-7 in 2002 and was later joined by Imam, with whom he has been friends for 30 years. The academy first opened its doors in Punjab Colony, Karachi, with limited facilities. But issues in the locality forced them to move out of their humble abode, with nowhere to go. Six months later, K7 relocated in a tiny basement in Phase VI. Chandio had to sell his car to finance the venue. Last year, the academy moved to Zamzama and has reported a major increase in customers.
Commenting on the methods of training at K-7, Chandio specifies, "We use mats, not machines." Emphasis is placed on bodyweight exercises, while machines have been removed from the equation altogether. The academy offers training in kickboxing, judo, karate and self-defence techniques. It also offers cross-fit training for those who are not interested in MMA. In December 2015, K-7 organised a martial arts event titled 'HBL and K-7 Redemption: International Fight Night.' According to Imam, the academy also trains children who have psychological problems, as martial arts teaches discipline and provides them grounding.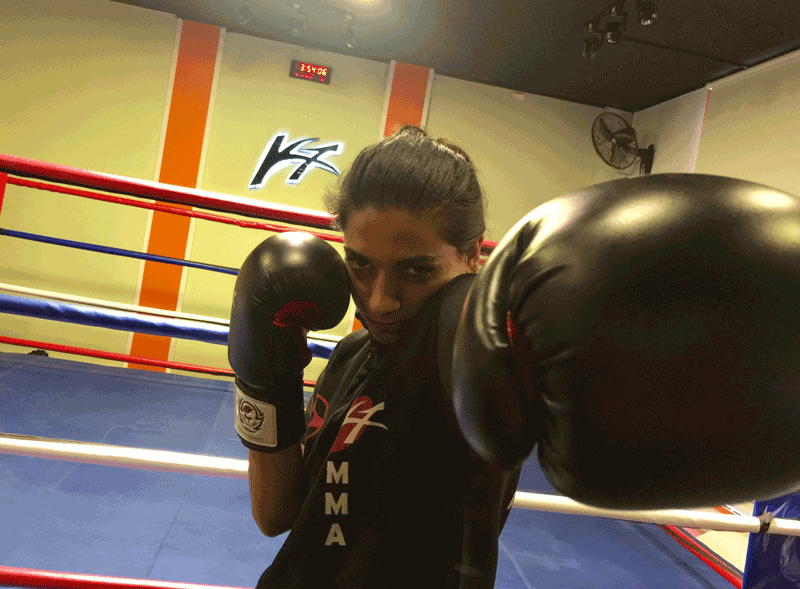 Chandio laments that combat sports continue to remain a "grey area" in Pakistan. He says that various people call themselves 'Grand Masters' but have never organised a single competition. "It is easy to promote yourself on social media, but being professional is a different thing altogether," he adds. Commenting on the various fitness fads that sweep through Karachi, Imam acknowledges that while they do inspire people, they are only temporary solutions. "We provide a sustainable choice of a lifetime," he says.
Apart from receiving sponsorship from HBL, Chandio says that K-7 has never received any support from sponsors, despite having applied for it. "We organise the funds ourselves." He is now, however, trying to get in touch with the Sindh government as well as private sector organisations for sponsorship.
The writer is a staffer at Newsline Magazine. His website is at: www.alibhutto.com
Next