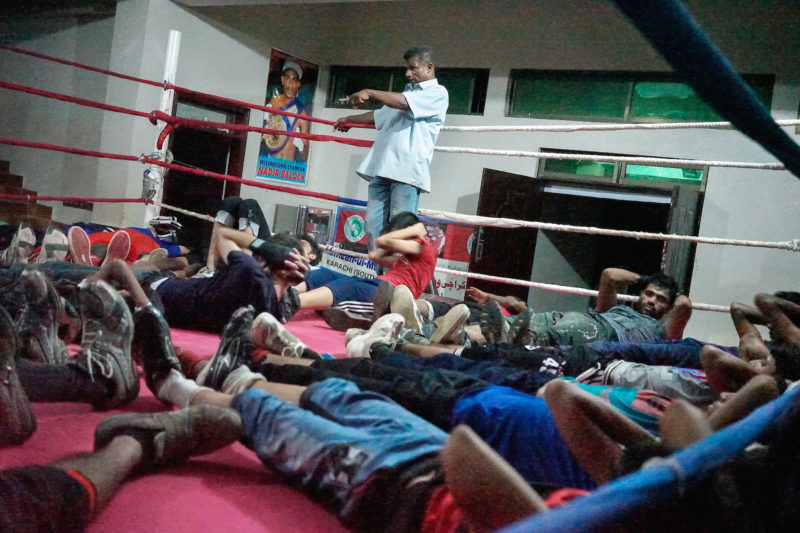 Faqir Colony, an informal settlement in Orangi Town, has all the traits that are the hallmarks of Lyari. It is dominated by Baloch Sheedis, most of whom moved here from Lyari in the '70s, after their families grew too large for their homes. The extended families moved to new settlements in Baldia Town and Orangi Town in District West.
The Baloch who moved here brought with them all the characteristics of Lyari and its popular culture. The small, decorated paan shops at street-corners; tuckshops in narrow residential alleys, run by women and their children; and women dressed in traditionally embroidered Balochi attire.
The main road running through Faqir Colony is named after a woman social worker, Hajiani Noor Bibi. Faqir Colony Chowk is buzzing with life late into the night. It has a range of small stalls selling tea and cheap food items such as burgers and fried fish.
It is particularly popular among the young, who can be seen roaming there on their bicycles and motorbikes, wearing loose multi-pocketed trousers and shirts of popular European Football clubs and names of South American players inscribed on the back. In the evenings, the elders can be seen sitting on cement platforms outside the closed shops, or the wooden benches of the tea stalls, playing cards or Ludo. Laughter and Balochi slang fills the air. All these characteristics make it a typical Baloch neighbourhood — an extension of sorts — to Lyari, the oldest Baloch settlement in Karachi.
The vibrant sports culture is the icing on the cake. The locality has half-a-dozen registered football clubs, and two boxing clubs — one, 20 years old, and the other established more recently.
The Faqir Colony Boxing Club has existed for the last two decades. It is run by a highly revered former professional boxer-turned-coach, referred to as "Ustad" (The Master) by locals.
The club is situated in Umer Mohallah, 400 meters away from the main Faqir Colony Chowk. Walls of houses are inscribed with directions to the club.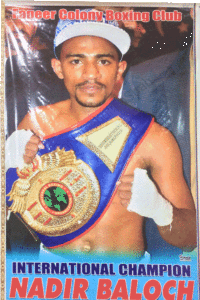 Fida Hussain, known as Fida Ustad, a respected character in Faqir Colony is the third generation of a family of professional boxers. His maternal grandfather, Qadir Buksh, participated in tournaments in Bombay and Dhaka. His maternal uncles represented Pakistan at the international level. Karim Buksh, alias Karim Bilal, was the sparring partner of Olympian Hussain Shah. He and his sons are professional boxers, while his grandsons are currently undergoing training. Ustad has been running the club for the last two decades. The reason why he is highly revered within the community, he explains, is because "Three out of every 10 young boys in Faqir Colony are either boxers, footballers, or cyclists, while others are no longer athletes and doing different jobs." He says that at some point, they would have been his disciples.
Anyone can walk in and join. "We don't have any criteria such as age limit, or other restrictions, for getting registered as a trainee at the club." People come, express an interest, and are asked to join. "We know, not all of them will become boxers," he says. "Not everyone who approaches us wants to be a boxer; many do it for fitness." Ustad explains that his doors are open to all, whether they are footballers or cyclists. "Only those who are passionate about it will last."
There is no fee charged for training; but the interns must buy their own boxing accessories — gloves, protective guards and a kit.
For the last 18 years, all training drills, practice sessions, mock fights and contests were conducted at the roadside near Shahjahan Chowk, as the club had no building and no ring of its own. Recently, however, the club has been allowed to use the ground floor of a newly built community centre for training. The space, provided by a female lawmaker of the PPP, contains a boxing ring and a seating arrangement around it, and is named Begum Nusrat Bhutto Boxing Club. It was inaugurated in February this year, by the Sindh Sports Minister.
Ustad Fida narrates the story of the idea behind the club. He lines the tale with anecdotes and one-liners. "It was back in 1998," he laughs, "when I participated in a boxing event and realised that I no longer wanted to be humiliated in the ring by those who had once been my trainees." That was when he decided to retire and open a retail shop near his home, where he would spend his time after his office hours at the Sindh Press. But it was not meant to be. "When Ustad Yaqoob Qambrani, my boxing guru, came to know of this, he was very upset," recalls Ustad. "He rode his bicycle all the way from Lyari to my home at Faqir Colony." Qambrani was upset that his efforts to train Fida as a boxer had gone to waste, and asked Ustad to pay him back. The repayment he demanded was that Ustad train young athletes and produce two boxers as great as Fida himself had been, and only then would he be free to go."I obliged," says Ustad, "and established this club, on the roadside." That was two decades ago. Ustad's search for the two boxers continues to this day.
Inside the club, two large portraits hang on either side of the exit. They are of 28-year-old Nadir Baloch, the boxer who has represented Pakistan in international contests. In March this year, he won the Universal Boxing Organisation (UBO) title in the bantamweight category. In one image, he is holding the title belt, and in the other, posing with gloves, ready to deliver a punch. He also represents the Pakistan Rangers in boxing contests.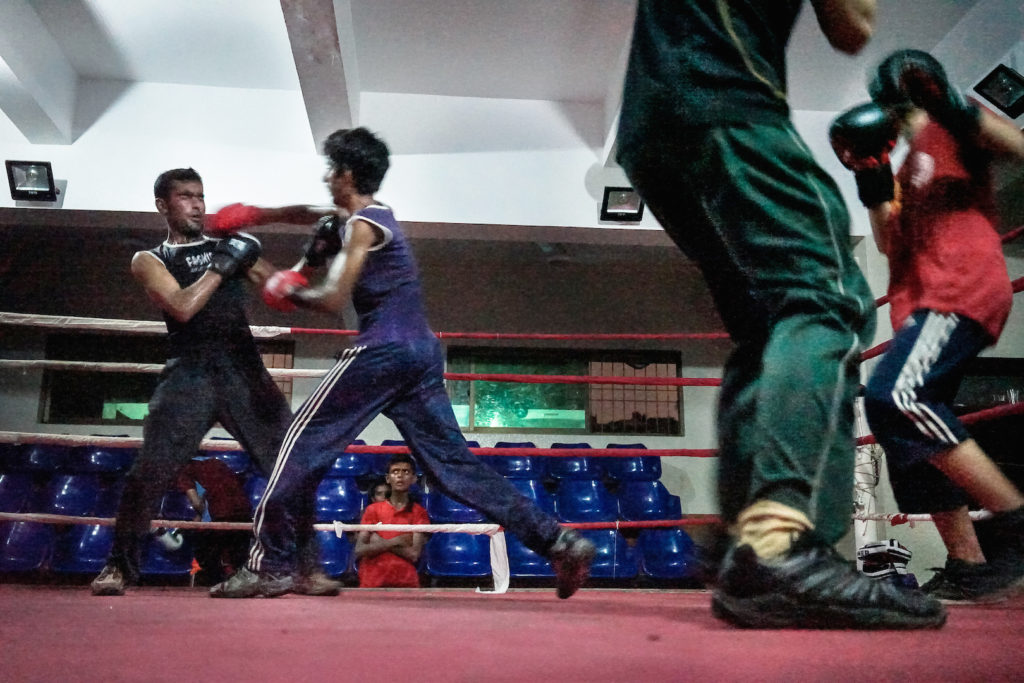 Nadir lives in Faqir Colony, and regularly visits the club to practice and motivate young players, many of whom idolise him. In the coming month, he will defend his title against a challenger from the Philippines.
The club has a long list of alumni, who are now in various teams and institutions. But Ustad Fida complains that the prospects of getting hired are vastly reduced. He laments that ever since Pervez Musharraf's regime had changed the rules of employment, there was a labour surplus. Workers were hired on contracts, players' quotas were eliminated, and entities that were privatised lost their teams. Ustad explains that K-Electric (KE), had the best boxing squad, but when the entity was privatised, thousands of workers were forced to leave, among which were boxers and soccer players. In the years when organisations were hiring players, joining armed forces teams was their least preferred choice, due to many restrictions. Now, however, there are not many job options.
Ustad Fida's eldest son, Hasnain, is also a professional boxer, and has joined the Pakistan Army. Young boxers — family members and disciples — are in the Pakistan Navy, Rangers, and the police.
Most of the young boys drawn to boxing turn into impressive athletes. They participate at club, city and province level competitions, and usually win. However, it is not long before they become disillusioned. Once they turn 18, acquire an NIC and are eligible for employment, they are pressured by their families to bid adieu to their dreams of going professional.
Fida refers to many such heartbreaking cases. One of his disciples, Salam Baloch, demonstrated real talent, and participated in provincial contests, but he had to quit and start a job.
In another case, Ejaz, a Pashtun boxer, a gold medallist in Sindh, had to retire to help his father run a shop. "Now, the gold medallist spends all day at his father's shop selling animal fodder," complains Ustad.
Ubaid Baloch, another boxer who fought in a tournament organised by the Rangers and Aamir Khan, became disheartened and quit. He saw no future in it for himself. He is now a mechanic of hydraulic machinery.
Ustad laments that he had, on several occasions, requested his friends in the media to cover their competitions, but none did so. When the provincial sports minister visited in March this year, to inaugurate the community centre and the club's new building, he was accompanied by reporters. Ustad had told them, "You will write about this, but few may take any notice. Perhaps it will reach the ears of the provincial government. Perhaps it will do something for these young players — even if it is a fraction of what they have been doing for cricket."
The Baloch of Lyari and Karachi as a whole, went through a difficult period during the reign of politically-backed criminal gangs. This is not restricted solely to Lyari. Every Baloch neighbourhood, and every Baloch family suffered during those years. But since Lyari was the epicentre of warring gangs, other areas received little mention.
The overriding image of Lyari and the media coverage given to activities within it — both positive and negative — overshadows developments in other neighbourhoods. For instance, members of the Faqir Colony Boxing Club would not be able to participate in boxing events restricted to Lyari. In such an event, they enter the contest through the club's Lyari wing — the Green Flag Boxing Club. Its players have been winning the title since 2013, and the club has remained undefeated for the last four years.
The Unbroken Ustad

Boxing careers are cut short by gang violence. 

Samia Baloch, a 16-year-old girl from Faqir Colony, was one of the finalists in a boxing competition in the 4th Pizza Hut Karachi Games 2017, organised by the Karachi Sports Association (KSA), in collaboration with the Sindh Boxing Association (SBA). She won the fight and became a gold medallist. Her associate, Taj Gohar, another finalist who came from Faqir Colony, earned a silver medal after conceding her fight in another weight category. Both the girls were representing Janbaz Boxing Club in Faqir Colony, and were the disciples of former international level boxer, Ustad Sher Muhammad Baloch.

Sher Muhammad Baloch is not a familiar name in Faqir Colony, having barely lived there for two years. The club he has established is but a year old. In boxing circles, however, he is a respected name due to an illustrious career spanning the eighties and nineties, and is referred to as 'Ustad Sheru.'

Janbaz Boxing Club is situated in a desolate and abandoned building of a public dispensary that has yet to be assigned medical staff by the health department.

The space had previously served as the office of Union Council 2 Orangi Town, but has remained vacant for several years. Thieves have stolen the doors and windows of the building while drug addicts have taken over the rooms. An open area is used by children to play cricket. The boundary wall collapsed during the recent spell of rains.

When Ustad Sheru had the name of Janbaz Boxing Club inscribed on one of the walls of the destitute building, residents of the vicinity sighed in relief. It meant the place would be used for healthy, constructive activities and their kids would receive free training. But the Ustad faces hurdles. For instance, the boxing accessories cannot be left there unattended. Moreover, the training of girls cannot be conducted out in the open, due to cultural sensitivities. And so, Ustad trains girls at his own residence.

Ustad Sheru has spent most of his years as a boxer, and later an instructor, in Singulane, Lyari, running the Green Flag Boxing Club with his brothers and nephews. However, due to the deteriorating law and order situation, their family had to move to Mawach Goth, another Baloch locality on the Hub River road in Baldia town. He lived here for seven years, and established Janbaz Boxing Club.

But an incident occurred on March 10, 2010, that forced them to move once again, this time to Faqir Colony. Politically-backed criminal gangs of Lyari inflicted terror on his family for their alleged familial ties with a gang leader who was a rival of Uzair Jan. Faiz Muhammad, alias Lala Orangi, who was a distant relative of Ustad Sheru and Ustad Fida, was a former boxer who chose the path of crime and went on to earn notoriety. He became a trusted aide of Noor Muhammad, alias Baba Ladla. After a split in the Peoples' Aman Committee (PAC), when Uzair and Baba Ladla turned on one another, they sought to inflict pain on each other's relatives. Shiraz Comrade, Uzair Jan's deputy, exacted revenge on Lala Orangi by killing five of his distant relatives, who were pursing careers in boxing and had nothing to do with this tug of war.

"I was on duty with K-Electric in Hub Chowki," recalls Ustad Sheru about that fateful day, "when I got the shocking news, and was told not to return to that area. Around 50 armed militants came to the vicinity where our houses were located. My relatives were lined outside and each one was shot with a single bullet to the head." Sheru explains that "since none of the five deceased had been linked to any gang activities, they were not expecting such treatment, and did not take any precautionary measures."

It didn't end there. "The gangsters forced the women to step outside their homes and then set all the houses on fire. Everything inside was turned to ashes." His 80-year-old mother and the dead bodies were put in a Suzuki pick-up and sent away. This was how his family was forced to move from the area.

Ustad Sheru says his mother wishes that she too had died after witnessing these execution-style murders of her son and grandsons. The only thing that kept her from falling apart was her concern for the dead bodies, which she feared would be set on fire, just like her home. She delivered the deceased to Faqir Colony for burial. The remaining members of their family have lived here ever since.

Ustad Sheru remembers his 19-year-old son, Shoaib. "He had returned from Lahore after participating in an intra-provincial contest, and was very pleased with his career progression," he says. "He called me from the airport when he was boarding his first flight, and said it all felt like a dream. I told him 'soon it will be a routine in your life, my son'."

Shoaib couldn't live out his dream and fell victim to a horrendous war in which he had no part. "Not a single photograph of my son remained," continues Ustad. "Everything had been burnt." He says he then collected photos of him from the Facebook accounts of him and his friends.

Abidabad cemetery is located at a distance of 1.2 kilometres from Faqir Colony Chowk. Muhammad Shoaib and three other boxers are buried there, while the fifth was taken to Orangi Town number 11. It was not easy to find the graves in the densely occupied graveyard. But the grave-digger still remembers the sad affair, and points to the four graves, covered in green grass and basil plants, the fragrance of the latter lingering in the air.

All four graves have "Shaheed" and "Boxer" engraved on their tombstones, along with the names. Forty-nine-year-old Taj Muhammad, the eldest among them, was a professional boxer and a well-known name in the nineties. Muhammad Ismail, 39, was a former champion at the Sindh level in 1996 and was with K-Electric. Javed Hussain, 42, was a boxer at the club level, while Shoaib, Ustad Sheru's son, had two months left until his 20th birthday. Shah Faisal, 28, who is buried in Orangi Town number 11, was a club-level boxer and a body-builder. He assisted Ustad Fida when he opened another club in Orangi Town number 11.

Most of the people involved in inflicting the violence on Sheru's family that day, such as Nasir Baloch and Mulla Arif, were killed, along with their accomplices, in encounters with Rangers and the police. Two other perpetrators, Kamran alias Kamu and Asif alias Lamba, have fled abroad — most probably to Iran.

"We have left it all to Allah. We don't care about the fate of the culprits; all we know is that we cannot get our loved ones back by taking more lives," says Ustad Sheru. "We didn't commit any crime. We have done nothing except focus on boxing, and continue to find solace in it." He explains that boxing teaches a person to respect others as individuals, as well as practice self-discipline. "I think it was boxing that helped us overcome the tragedy."

"We train people, and share their pleasure when they succeed. We do not ask for any payback. All we expect from those at the helm of the affairs is to support our efforts," continues Ustad. "Look at this place," he says, pointing to the dispensary building. "If a part of this could be reconstructed and repaired, we could store our accessories here, and not worry about theft."

Ustad says that their doors are open to anyone and everyone. One of the trainees is a 12-year-old thalassemia patient, who requires regular blood transfusion. Ustad realises that he may never be a professional boxer, but the satisfaction he derives from training him is worth the effort. His opponents are usually asked to let him win, says Ustad, just so that we can see him smile and boast about how he knocked out a boy healthier than him.
Generation Next
Enter Nadir Baloch: aka 'Chota Sheru'
Nadir Baloch, Pakistan's professional boxer, who holds the international title at the Universal Boxing Organisation (UBO) in the super bantamweight category, is a prominent name in the new generation of boxers produced by Faqir Colony Boxing Club. He is the proud disciple of both Ustad Fida Hussain and Ustad Sher Muhammad.
Nadir is the grandson of Qadir Buksh, nephew of Karim Buksh alias Karim Bilal, Ustad Sher Muhammad, and a cousin of Ustad Fida. He recalls the days when he began his boxing training at the age of seven, and entered the ring for a fight when he weighed only 17 kilograms. "I won the fight," he says, "and got a towel and a packet of juice as my reward, but I was ecstatic over the win, and it prompted me to seek further training to sharpen my skills."
In 2002, during a boxing match, Nadir and his opponent were told that people in the audience had placed bets on them. Both then fought extremely hard to come out on top, and were given cash rewards by the audience.
Due to his personal fighting style, which resembled his first trainer Ustad Sher Muhammad aka Ustad Sheru, he was named 'Chota Sheru' (Sheru Junior) after him.
Nadir remembers the days when he would enter the ring, and people would start cheering, 'Chota Sheru agaya' (Sheru Junior has arrived). Later, he moved to Faqir Colony with his family and started training with Ustad Fida at his club. In those years, he represented Pakistan in national and international events.
On March 23 this year, on the eve of Pakistan Day, the Pakistan Boxing Council (PBC) organised the first-ever professional boxing match in Pakistan, at Ayub Stadium, Quetta. Here, Nadir sparred against former UBO International and World Champion, Juma Fundi from Tanzania.
It was Nadir's first international pro-boxing fight, and second professional fight. Before this, in November last year, he was challenged by another Pakistani boxer, Rameez, for the PBC National Challenge Belt. Nadir knocked him out in the eighth round, in a match in Gwadar.
Nadir's opponent, Juma Fundi, had 46 international fights under his belt, with 29 wins, 14 losses and three draws. He captured the UBO International Flyweight title in July, 2010, and went on to win the UBO World Flyweight title the following November. Nadir was appearing in international pro-boxing for the first time. The UBO declared the fight a "sink or swim" for Nadir, as the Tanzanian opponent was highly experienced. It was said that a victory in this would prove that the Pakistani was one to look out for on the world stage in the coming years. It was thought that holding the event in Pakistan would be a massive boost for the professional boxing scene, which is still in its infant stages in the country.
Surprisingly, Nadir knocked Fundi out in the second round, with a combination of straight punches and an upper-cut supported by a right hook. He bagged the UBO super bantamweight title and prize money of Rs 50,000.
But Nadir received little attention for his victory, and is still struggling to get a sponsor to support his professional career, despite the PBC's support. More money and government support need to be poured into the sport.
Nadir thinks that if he could get a sponsor, he would be able to contest in more professional fights and advance his career. He referred to Muhammad Waseem, the World Boxing Council (WBC) Silver flyweight champion, who has managed to get a South Korean promoter and is climbing the ladder of his professional career.
The day Nadir Baloch was fighting for the UBO title, Waseem was presented the Pride of Performance award by President Mamnoon Hussain, in the Pakistan Day ceremony.
But Waseem too, while speaking to the media, lamented that the government did not spend enough on boxing or football, despite huge talent. He said all the focus was on Cricket, and its players were showered with prizes and accolades.
Nadir was also approached by a private media group after his win, and was promised that he would be sponsored for his next bouts, but they have yet to deliver on their promises.
He had to make the first defence of his UBO title on September 24, and was taking on Ralph Jhon Lulu from the Philippines, in an event at Ayub Stadium Quetta. But the event was postponed and is yet to be rescheduled.
Nadir thinks that if he could find a sponsor among the many business enterprises and multinational corporations in Karachi, future bouts could be organised here.
Ali Arqam main domain is Karachi: Its politics, security and law and order
Next