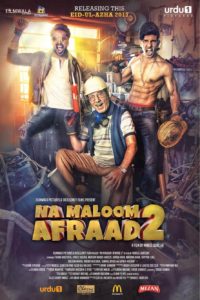 If you can swallow the premise of a film revolving around a pot of solid gold, Na Maloom Afraad 2 may be the film for you. If not, you may have opted out of watching the sequel, even though you enjoyed the trail-blazing original film.
Sequels do start out with a handicap, especially if the boots they're trying to fill were oversize to begin with. For a film industry struggling to remake itself, Na Maloom Afraad — Nabeel Qureshi and Fizza Ali Meerza's maiden venture — was a great showcase. It was gritty, painting a true to life picture of the struggle to survive, if not thrive in the city of Karachi. That said, it was by no means a moral tale and had plenty of fun and fast-paced action.
Perhaps because they couldn't compete with their own debut film, the director-producer team of Nabeel Qureshi and Fizza Ali Meerza moved the sequel to a locale not just outside the city, but outside the country.
Shot on location in South Africa, Na Maloom Afraad 2 has its memorable desi moments, but it loses more than it gains by the change in locale.
At the close of Na Maloom Afraad, Farhan (Fahad Mustafa), Moon (Mohsin Abbas Haider) and Shakeel ( Javed Sheikh) had hit the jackpot. At the start of the sequel, Farhan and Shakeel have run into bad luck, and are penniless once more. Moon has moved to South Africa and the other two eagerly accept an invitation to visit Cape Town, to attend his wedding. Enter Sheikh Baklava,
(Nayyar Ejaz), a Middle Eastern potentate who travels with his own commode, made of solid gold, on a visit to Cape Town. There are diamonds too, a heist and some twists and turns before the story reaches its fairly predictable climax.
Fahad Mustafa turns in a convincing performance and Mohsin Abbas Haider as the all brawn but no brains Moon is a perfect foil. Urwa Hocaine doesn't have much to say for herself but Hania Aamir — Moon's fiancée Pari — is an actor to watch out for.
Rana Kamran's cinematography is once again superb, with its impeccable sense of frame and lighting. Production values are slick and the film is well-paced. Where the sequel loses out may be in a bow to the box office as it entertains without engaging with a meaningful subtext, as the original film did.
With their second film, Actor in Law, the Qureshi-Meerza duo proved they were more than a one-film wonder. After Na Maloom Afraad 2, however, one can only hope there are better things to come. For their next venture, the duo could consider a clear departure in plot and technique, instead of banking upon a tried and trusted formula.
Next