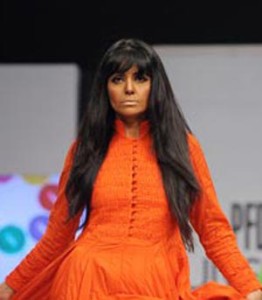 Pakistan Fashion Design Council (PFDC) kicked off their fourth fashion week showcasing some of Pakistan's most celebrated designers' Spring/Summer 2012 prêt-a-porter collections last month. Taking place at a venue like Expo Centre meant that glamour and elegance aside, the show also meant business. Foreign buyers present at the event included Nalini Aubeeluck from Mauritius and Maimona Tahair, a Middle Eastern buyer representing Anotah boutiques, which are a chain of stores across the Gulf that has already been retailing Indian and Turkish fashion brands for 30 years.
The four-day fashion event began on October 20, with two main acts every day and three shows per act, showcasing the work of 23 of Pakistan's recognised and highly talented designers.
Designers Akif and Adnan Pardesy made use of colours to impress the viewers. Akif's basant-inspired collection displayed varying shades of yellow, orange and blue in an attempt to capture the joyous feel of the festival. The palette made the collection appear both playful yet chic at the same. However, Adnan Pardesy triumphed with his line titled 'Coquetry,' which was a kaleidoscope of shades of yellow, purple, green, orange, pink and teal among many, many more colours. The collection displayed an exceptional detail to construction and texture.
Designers Nickie Nina and Nida Azwer used nature as their muse. Nida Azwer's womenswear line called 'Foliaceous' consisted of fabrics such as cottons, linens, silks and organza and explored traditional techniques such as cutwork along with lace in the earth-inspired tones of green and blue. Nickie Nina, on the other hand, had turned to the richness of underwater life for inspiration in their collection titled 'Sous-Marine.' Regulars at the PFDC Fashion Week, the duo Nickie and Nina used raw silk, traditional organza and crepe de chine, clean and minimal cuts along with chains and pearls for embellishment.
The collection by Pakistan Institute of Fashion Design (PIFD), the work of final year students who graduated in July 2011, was nothing short of bold and incredibly daring. Using traditional embroidery and complex tailoring techniques, the line displayed an array of skilful design talent and perhaps even a preview of what may lie ahead for the future of Pakistani fashion.
Among the new designers featured at the show were Hammad-Ur-Rehman, M. Irfan Ali, Zonia and Batur. Batur's collection 'Entrapment,' consisting of a mix of soft yet bold contours, stood out. His line, in fact, raised more than a few eyebrows as model Iraj paraded down the catwalk swathed in an edgy red patent leather, lace and frill dress, paired with gravity-defying shoes, to the even edgier rock tune "Counting Bodies like Sheep." Following Iraj, came along other models in an interestingly juxtaposed mixture of demure and daring as the designer mixed crimson red and light grey for the next few pieces.
While the collections displayed were predominantly womenswear, a few designers such as Omar Farooq (Republic) and Yahsir Waheed displayed menswear. Omar Farooq's Republic made a deeper impression out of the two collections.
As the male models began to strut down the runway in tailored jackets and trench coats, one thing was obvious: they were dressed to impress. Omar's collection showcased a stylish men's line that included everything from formal suits and coats to shorts. It was something you would find on London's high street. Maybe well tailored suits and loungewear are no longer a skill mastered just by European brands?
However, one cannot help but be utterly mystified by why Omar chose to display a line of coats and jackets in his spring/summer collection.
Finally, among the more expensive and well established designers at the show were Hassan Sheheryar Yasin (HSY), Ayesha F. Hashwani's line under the brand name, AFH, and Muse. AFH displayed women's formal wear and the audience was completely floored when Mehreen Syed paraded down the catwalk in a floor-sweeping, elegant, white silk number. AFH followed it up with gowns in black, purple and blue with embellishment that was ornate and plentiful. As always, the AFH line was chic and exquisitely well-crafted. Muse's Collection, described as "relentlessly modern," used beading and sequins and an interesting combination of beige and white with blush and coral. Designer extraordinaire HSY showcased his much anticipated­ — as was obvious from the hooting from the crowd — spring/summer collection and it did not disappoint. The designer displayed his trademark design of pairing eastern, contemporary clothing line with touches of western style through pieces such as a peshwaz with a hoodie and a sari paired with a jacket. Navy blue and pale yellow seemed to have been the predominant colours chosen by the designer for his collection.
The most exceptional part of the four-day show was the finale, the 'Red Dress Show,' inspired by the international event of the same name where celebrities and models come together in an effort to raise funds for causes such as heart disease in women.
The show at PFDC presented outfits by 24 designers including Sana Safinaz, Nomi Ansari, Ali Xeeshan and Fahad Husayn, to name just a few. In keeping with the practice at the international Red Dress Show, the designers were not allowed to use any embellishment — a tall order, considering the fact that embellishment constitutes an integral aspect of most Pakistani clothes — and the designers managed to pull off the feat with flying colours. The dresses are being auctioned off in the next few weeks, with the proceeds going to Sindh's flood victims.
The fashion show was managed by PFDC, produced by Frieha Altaf of Catwalk Productions with Event Coordination by the R Team, styled by Sabs Salon for Women and Khawar Riaz for Men with Designer Management and Buyer Sourcing Consultancy through The Little Black Book and Public Relations by Lotus.
Next