A Better Life: Treating Mental Illness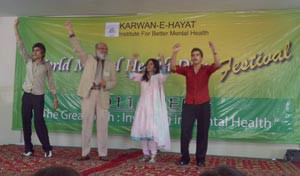 October 10 is World Mental Health Day­­­ — a day dedicated each year to raising public awareness about mental illness. The World Federation for Mental Health, which came into existence in 1948, has celebrated this event every year since 1992.
Karwan-e-Hayat Psychiatric Care and Rehabilitation Centre is an NGO in Karachi that considers its mission to "raise public awareness about mental illness and to foster behavioral change in society," says Qaisra Saleemuddin Ahmed, a social worker at Karwan the and editor of their newsletter.
Karwan-e-Hayat held its own commemoration of World Mental Health Day on Saturday, October 15, at their rehabilitation centre located near Dr Ziauddin Hospital in Keamari, with the global theme for 2011 entitled "Investing in Mental Health."
The event included over 70 guests, including reporters, social workers, previous patients and their families, as well as others looking to learn more about the facility. After a welcome address by Mr Masrur Ahmed, the president of Karwan-e-Hayat, consulting psychiatrists Dr Ajmal Kazmi and Dr Tabbassum Alvi held an open discussion with the families of their current patients to discuss their experience with the rehabilitation centre. Among the seven family members of various patients present for the exchange, one view seemed to prevail: their faith in Karwan-e-Hayat's ability to treat patients. Several families had previously hesitated at the idea of enlisting their loved ones into a psychiatric facility. However, Karwan-e-Hayat's devoted method of treating patients and successfully rehabilitating them gave them hope for the future.
Dr Ajmal Kazmi spoke of Karawan-e-Hayat's efforts to help those people in Pakistan who struggle with identifying or understanding mental illness, and to simultaneously find a helpful solution in treating them. In a country with little knowledge on the subject, the organisation has dedicated itself to treating mental ailments with the same kind of importance that is given to physical ailments.
The centre has treated 65,510 patients between 2005 and 2009. Over 13,000 indigent mentally ill patients visit the facility annually, out of which over 80% are treated free of charge. The facility has an ongoing state of the art programme in Psychiatric Rehabilitation underway, in collaboration with The University of New Jersey, USA.
This article first appeared in the November 2011 issue of Newsline under the headline "A Better Life."
Next