Begum Nusrat Bhutto: March 23, 1929 – October 23, 2011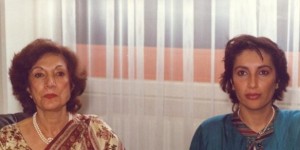 On the afternoon of October 23, 2011, in a hospital in Dubai, the life of Pakistan's former first lady Begum Nusrat Bhutto came to a quiet end. After struggling with Alzheimer's disease for the last few years, not to mention facing tragedy after tragedy since her husband, Zulfikar Ali Bhutto, was executed in 1979, Nusrat Bhutto died at the age of 82.
Bhutto was born in 1929 in Iran to the wealthy Esphahani family. She was of Kurdish descent. She remained Pakistan's first lady from 1973 to 1977. And while she is often described as being "a political hostess" during that time, Nusrat Bhutto became a prominent figure in politics after her husband's execution during the regime of General Zia-ul-Haq. She became her husband's successor as the chairman of the Pakistan Peoples' Party (PPP) from 1979 to 1983. She bravely led the PPP's campaign against the dictatorship that had overthrown the ZAB government, a cause for which she was arrested numerous times: placed under house arrest and put in prison. Once, the police attacked Nusrat Bhutto with batons while she was attending a cricket match at Gaddafi Stadium in Lahore, when the crowd began to chant pro-Bhutto slogans.
Tragedy struck again when in 1985 her son Shahnawaz Bhutto was found dead in his apartment in France under mysterious circumstances. The Bhutto family firmly believed that he had been poisoned. Nusrat Bhutto struggled to keep her family together when her children Murtaza and Benazir Bhutto began to argue about the operation and future of the PPP – Murtaza Bhutto was critical of Benazir's PPP government (BB was twice the prime minister of Pakistan), and it is alleged that he was unhappy with Asif Ali Zardari's influence within the party their father, ZAB, founded. Nusrat Bhutto supported Murtaza in this family feud, and her position caused her to become estranged from Benazir. Their estrangement came to an end when Murtaza was murdered in 1996. Murtaza's daughter, Fatima Bhutto, has written that she blames Benazir and her husband, Zardari, for the death of her father.
After Murtaza's murder, Nusrat Bhutto withdrew from public life. Party sources suggest that this may have coincided with the time she began to show symptoms of Alzheimer's. Her disease eventually progressed to such an extent that she was not cognisant of the assassination of Benazir in 2007. Nusrat Bhutto is survived by her youngest daughter, Sanam.
Abdullah Hussain Haroon, Pakistan's UN Ambassador, called Nusrat Bhutto a woman of "extraordinary character, forbearance and fortitude," as she endured numerous tragedies with strength and resilience. The Pakistan government marked one day of mourning following her death. She was buried at Garhi Khuda Bux near Larkana, the site of the Bhutto family burial grounds. May she rest in peace.
Nudrat Kamal teaches comparative literature at university level, and writes on literature, film and culture.