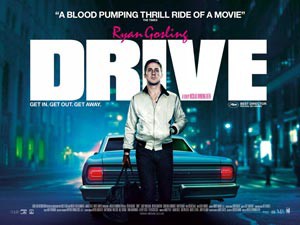 The past year has showcased a couple of films with cars in the foreground, such as Asif Kapadia's breathtaking documentary Senna about Brazilian Formula One racing driver Ayrton Senna, or Pixar's less breathtaking Cars 2.
The latest in this genre is edgy Danish director Nicolas Winding Refn's Drive, an action-thriller set in Los Angeles, California, brimming with tenderness and brutality, whose tagline "There Are No Clean Getaways" promises a tension-filled movie-watching experience.
Drive stars Ryan Gosling — who is making waves in several movies this year — as a reticent but talented Hollywood stunt man. Whether he offers his services to films or heists, almost everything Driver (Gosling) does puts his life at risk. The first car chase early on in the film introduces us to his expertise — police helicopters hover above, there are police cars at every crossing, but Driver is too cool to panic and escapes expertly.
Shannon, (Breaking Bad's Bryan Cranston), his boss at the garage he works for part-time, wants Driver to become a professional racer; he even convinces Bernie Rose (Albert Brooks), a businessman and gangster, to invest in him. Meanwhile, Driver meets his neighbour Irene (Carey Mulligan) and sparks fly between the two, but eventually when Irene's husband Standard (Oscar Isaac) is released from jail, the film takes a drastic turn and veers towards a bloody denouement.
While the film's plot is hardly novel, it's the execution and the little details that make it a fun watch. Driver's character provides necessary drama in the movie; he is the ultimate toughie, and only speaks when necessary; his actions are louder than words and he conveys many emotions through his eyes. An interesting dynamic is also created when Driver is pitted against Bernie Rose (Albert Brooks), who is probably twice his age.
Nicholas Winding Refn won a well-deserved Best Director Award for Drive at the Cannes Film Festival in May this year. A couple of years ago there was supposedly talk of a Taxi Driver remake/sequel. While the seminal Martin Scorcese 1976 classic might be hard to top, even by Scorcese, it's safe to say that Drive is definitely a modern-day interpretation, especially with Albert Brooks gracing the cast, as he did in the Scorcese thriller.
This movie review first appeared in the November 2011 issue of Newsline under the headline "Road Rage."
Schayan Riaz is a film critic based in Germany
Next