Photo Gallery: Imran Khan Through the Years
Princess Diana meets Imran Khan and ex-wife, Jemima Khan, at the Shaukat Khanum Memorial Cancer Hospital, dedicated to the ex-cricketer's late mother.
A man of the people: Listening attentively to a woman in the Shaukat Khanum waiting room.
A hero to generations: Khan signs a cricket bat for a young fan.
Father figure: Imram Khan with sons, Sulaiman and Qasim.
The mighty Khans: The cricket hero hangs out with Bollywood king Shahrukh Khan.
Pakistani icons: Imran Khan rubs shoulders with Nusrat Fateh Ali Khan.
Imran Khan rubs shoulders with another sporting hero, squash champion Jehangir Khan.
Once friend, now foe: Imran Khan with Nawaz Sharif.
In his cricket days: Khan receives a trophy from Asif Ali Zardari.
Previous
Next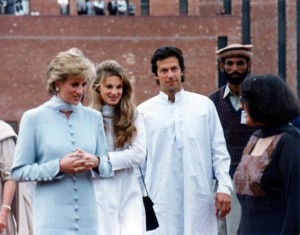 Imran Khan. The ex-playboy, cricket hero, hearthrob — with the looks and charisma to match — continues to leave an indelible impression on the hearts and minds of his fans. His persona is multi-faceted: from chequered past to current political respectability, Imran has reinvented himself from hero-hearthrob to pristine 'saviour' of the people.
Newsline takes a look at the many faces of politics' new rage.
Next