No Trivial Matter: Getting Pakistanis to Treat Domestic Abuse Seriously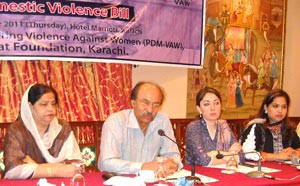 The Aurat Foundation, in collaboration with the National Commission on the Status of Women (NCSW), held a dialogue on the Domestic Violence Bill at the Marriott Hotel in Karachi on October 13. The chief guests were Nisar Khuhro, speaker of the Sindh Assembly, Tauqeer Fatima, provincial minister of Women's Development and Sharmila Farooqi, advisor to the Sindh chief minister.
Previously, a Domestic Violence Bill was passed unanimously in the National Assembly but the Senate failed to approve it in time and the Bill eventually lapsed. The only way to move forward with this Bill is to now get it approved at the provincial level. The Bill is currently with the respective law ministries of Balochistan and Punjab waiting to be vetted, but has yet to make any progress in Sindh. The guests were in agreement that many Pakistanis do not consider domestic violence a serious issue. Maliha Zia, a lawyer who helped draft the Bill, shared how judges often advise victims of domestic abuse to solve their problems privately and female legislators in attendance revealed that their male counterparts often dismiss domestic violence as a trivial issue.
The Bill addresses not only physical and sexual abuse but also recognises emotional abuse, such as stalking and trespassing, as a serious crime. In a sense, the event was preaching to the already converted since all the attendees were in agreement over the importance of passing this Bill. The main hurdle in adopting it, as pointed out by both Nisar Khuhro and Tauqeer Fatima, is getting the provincial law ministries to approve it. Said Tahira Noor of NCSW: "We are presenting this bill based on our research, but the ultimate decision to implement it is in the hands of the legislators."
This article first appeared in the November 2011 issue of Newsline under the headline "No Trivial Matter."
Zehra Nabi is a graduate student in The Writing Seminars at the Johns Hopkins University. She previously worked at Newsline and The Express Tribune.
Next