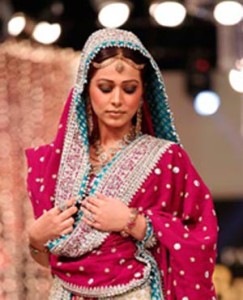 The designers of the first day comprised relatively new labels whose offerings ranged from the attractive to the mediocre. Mona Imran opened the first segment with a flowing ivory and biscuit collection and moved on to heavily worked colourful lehngas with diamantes and appliqué. Ayyan was the showstopper; she was brought to the ramp in a doli carried by bare-chested male models attired in dhotis.
Next came Kosain Kazmi whose collection of colourful lehngas was marked by the use of dabka. She was followed by Hijab, whose collection included saris, chatta patti ensembles and fusion wear, along with long jackets and string-back shirts.
The last design label of this segment was BNS Couture, which showcased both formal wear and a bridal collection. With a stress on velvets and mirror-work, the bridal collection featured eastern wear with western styles and the formal wear featured double-shaded kurtas worn over dhotis.
The second segment opened with Mehdi, who immediately caught the audience's attention by sending out Wasim Akram, resplendent in a silver-grey sherwani, as his show opener. His bridal ensembles largely comprised saris, churidars and lehngas, and were elegant with an attractive mix of colours, while his formal wear included worked kurtas. Iman Ali, his show-stopper, wore an off-white ensemble with self-coloured embroidery.
Fahad Hussayn showed next with a creative collection which set him head and shoulders above the other designers of the day. Opening dramatically with female models standing behind a screen draped with sheer curtains and then sashaying down the catwalk with brightly coloured net veils over their ensembles, the collection was riveting. The colourful tie-dye turbans donned by the male models, clad in churidars and long, pleated shirts, complimented the female line.
Gulzeb closed the show with a collection that boasted a mix of bright colours and heavily worked kameezes. A few pieces stood out in the collection for their tasteful combinations. The show-stoppers were Adnan Siddiqui in a smart suit and Nazli, a socialite, in a shimmering Gulzeb outfit.
The next day, the first segment opened with Shaiyanne Malik who paid tribute to her workers from Dera Jatta with ethnic ensembles comprising layered lehngas with a mix of colours, textures and fabrics.
Saira Rizwan followed next, paying tribute to the Mughal era, with Mughal miniature appliqués on the hemlines of long dresses. The models carried batwas and were dressed in velvet and sheer fabric with churidars. Resham, the show-stopper, wore a striking beige ensemble.
Sadaf Arshad was next with a collection comprising gowns with trails, embellished with stones and Swarovski crystals and long dresses worn with pants and saris. Shazia Kiyani of Shazia's Gallery closed the segment. Her collection included shaded gowns with stonework embellishments, and heavily embroidered bridal wear.
Show 2 opened with Indian designers Rabani and Rakha, who not only had a very different collection from that shown by local designers, but also a very unique one. With gowns in western cuts and saris basically dominating the collection, there was no embroidery in their glittering ensembles which mostly incorporated stonework, pearls or diamantés. Hadiqa, their show-stopper, wore a shimmering crimson sari.
Crimson showcased its collection next, which was also by and large tastefully done. Opening dramatically, with both male and female models, the bridal attire ranged from ivory ensembles accentuated by greens or reds, to heavily worked lehngas, while the formal wear included white kurtas worn with elaborate, colourful turbans and yellow and jamawar churidars with anklets made of gaindas.
La Chantal surprisingly closed the show bringing oomph and glamour to the ramp. From an elaborate stage décor, complete with candelabras and couches to seat the 'bridal party,' to a live tabla and sitar performance on stage, to show-stoppers Reema and Shaan, La Chantal certainly pulled out all the stops. Her outfits consisted of layered, bellowing gowns with gota trimmings, lots of frills and heavy stone work.
The entire event was choreographed by Hasan Sheheryar Yasin (HSY), who did a remarkable job infusing drama on the ramp, giving each designer a distinct segment. One must mention that of the 33 models on the ramp, some were completely raw talent but Sheheryar succeeded in preparing them to sashay down the ramp quite confidently.
As in any wedding event where entertainment is as important as the ensembles donned by the attendees, BCW didn't just concentrate on the clothes displayed on the ramp, but also offered some enthralling performances for their guests. Without doubt Hamada, who performed the 'Tanura,' an Egyptian Sufi-inspired dance, stole the show on the performance front with his electrifying performances. Other entertainment segments included performances by dancers Marium and Fia, as well as a rendition of a song by Quratul Ain Baloch which was interspersed through the show.
A vote of thanks by the president of HUM Network Ltd, Sultana Siddiqui followed the bridal show. Finally a line-up of all the designers of the BCW, each with a model attired in one of their ensembles, brought the evening to an impressive close.
The writer is a freelance journalist based in Karachi. She also works at Hum television.
Next