Classic Movie Review: The Sure Thing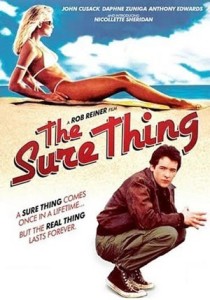 Long before Nicolette Sheridan became a household name as Edie Britt on Desperate Housewives, Tim Robbins received kudos for his role in Shawshank Redemption and John Cusack became known for his touching romantic comedies, there was The Sure Thing. This movie will take you back in time to look at some celebrities before they made it big in Hollywood and abroad.
The year was 1985, people were still sending postcards rather than e-cards, cordless phones were the invention of the time and California was still the happy, sunshine state it is today.
The Sure Thing is the fourth movie of John Cusack's early career, just a few years after his role of Anthony Michael Hall's best friend in Sixteen Candles. For Sheridan on the other hand, The Sure Thing was her first movie following her role in the TV serial, Paper Dolls, the previous year.
The movie begins with a young, tan and blonde Nicolette Sheridan walking along the beach. The scene then shifts to Walter 'Gib' Gibson (Cusack) and his friend Lance (Anthony Edwards), who are off to college at opposite ends of the country — Lance to California and Gib to New England.
After a long and dry spell with women in New England, Lance convinces Gib that his fortunes would change in California, and that he had "A Sure Thing" (Sheridan) ready and waiting for him. Down on his luck, Gib is quick to jump at the opportunity and decides to travel cross-country with a few other students during his Christmas break.
The plot takes a little twist as the journey begins and Alison Bradbury (Daphne Zuniga) also comes along for the ride. As the chemistry unfolds between Alison and Gib, their road trip takes a few unexpected turns, with several comic moments thrown in for good measure.
One of the best scenes in the movie is when Alison and Gib are stranded in the middle of nowhere, with no food or money, and it begins to rain. Gib tries to break into a trailer home when Alison discovers a credit card in her bag. Upon her reluctance to use it, since it was only meant for emergencies, Gib sarcastically remarks, "Maybe one will come up!" The lovable and endearing Gib provides ample comedy throughout the film.
A truly memorable '80s movie, The Sure Thing is bound to appeal to anyone who is going off to college, or has just graduated and has a serious case of nostalgia.
While most viewers may be more familiar with recent college movies such as The Social Network (2010) or Legally Blonde (2001), The Sure Thing remains timeless in its genre.
This movie review first appeared in the November 2011 issue of Newsline under the headline "A Surely Funny Thing."
Next