Bejewelled Nostalgia: Jewellery Exhibition at Koel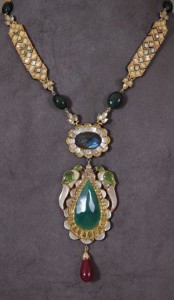 Lahore-based jewellery designer Amber Sami held an exhibition at Noorjehan Bilgrami's Koel Gallery in Karachi (October 6-7). Sami draws her inspiration from Hyderabad Deccan and her handcrafted pieces are reminiscent of jewellery once worn by the Mughals. The exhibition, entitled "Golconda," was fittingly named after the historic Golconda Fort in Hyderabad, which was once home to the Kohinoor and Hope diamonds. However, instead of diamonds, Sami used semi-precious stones and the jewels were set in high-quality silver that was later plated with gold. This was a deliberate choice by the designer to ensure that the prices were relatively reasonable.
A graduate of the Parsons School of Design in New York City, Sami's work revives tradition and her designs highlight the labour and talent of local craftsmen. Women streamed through the doors of the gallery as soon as the exhibition began and while many were in awe of the ornate necklaces on display, most opted to purchase the more wallet-friendly pieces such as the earrings and bracelets.
While browsing through the exhibition, visitors feasted on dhoklas and cardamom tea catered by Koel's in-house café. The proximity to Koel Café proved to be ideal since many women who had come for lunch discovered that the exhibition was taking place and left Koel with an unplanned purchase in hand.
This article first appeared in the November 2011 issue of Newsline under the headline "Bejewelled Nostalgia."
Zehra Nabi is a graduate student in The Writing Seminars at the Johns Hopkins University. She previously worked at Newsline and The Express Tribune.
Next