The Correspondence between Faiz and Alys during the former's first stint in jail is powerfully and poignantly depicted in an Ajoka Theatre production.
By Deneb Sumbul.
Drama enthusiasts were given a treat on March 7-8 when the visiting Ajoka Theatre staged the play Rozan-e-Zindan Se at the Karachi Arts Council. The ensemble cast brought to life the long-distance, four-year love-letter relationship between the country's jailed legendary poet, Faiz Ahmed Faiz and his fiery Anglo-Saxon wife, Alys Faiz. Rozan-e-Zindan Se was first performed in Lahore for the Faiz centenary celebrations in 2011 and took five years to come to Karachi due to a lack of funds. Thanks to the Karachi Arts Council forgoing their hall charges, those celebrating International Women's Day were able to enjoy a truly unforgettable slice of history.
The aptly titled theatrical production, Rozan-e-Zindan Se (From the Prison Skylight) refers to all the letters and poems that Faiz penned during his incarcerations. Ten years into their marriage in 1951, Faiz was arrested for his alleged role in what is called the Rawalpindi Conspiracy, that supposedly threatened Prime Minister Liaquat Ali Khan's government. He was sentenced to four years imprisonment after being tried by a military court and was relocated thrice to different prisons. During his confinement, Faiz and Alys remained devoted, giving each other strength, and remained true to themselves as well as their ideals, despite adverse circumstances.
Madeeha Gauhar's imaginative direction stitched together an eloquent tapestry through the reading of selected letters from this time between Faiz and Alys, and punctuated it with symbolic visuals, dance sequences, songs and poetry. The poignant correspondence between 1951-55 was articulated by veteran actors and real-life husband and wife duo, Naeem Tahir and Yasmin Tahir. Narrated as if in conversation with each other, the letters convey a gamut of emotions, including their loneliness, thoughts and anecdotes of the lives they were leading without each other.
The letters are from the first time Faiz had been imprisoned for his revolutionary thoughts as a journalist, trade unionist and leader of the Progressive Writers Association, which had raised alarm among the ruling elite. The fact that the couple belonged to Pakistan's Communist Party, did not endear them to the establishment either.
Faiz was said to be a man of a few words, but he penned his thoughts, vision and emotions with such powerful imagery that some of the poems he wrote during his incarceration became anthems during times of political resistance. Some of them remain popular even now, such as "Hum dekhain gay." The play enacted Faiz's intense, inspirational poetry with audio recordings sung and recited by Tina Sani, Zia Mohyeddin, Noor Jehan, Nayyara Noor, Firdousi Begum, Iqbal Bano, Radhika Chopra and Runa Laila.
Alys Faiz's letters to her husband were equally moving. Her husband's first prison sentence had left her in a financial crunch and she was raising their two young daughters alone while working as a journalist for The Pakistan Times. Her letters show her resolve and indomitable spirit during even the most adverse circumstances.
Through it all, she tolerated endless CID surveillance of her house and her letters and the agency's total disregard for her family's privacy. All of this she shared with her husband in her letters — totally ignoring the CID's intrusion, no matter how personal the matter. At times, she would even address the censors, telling them to try and avoid leaving beetle juice stains while reading their correspondence.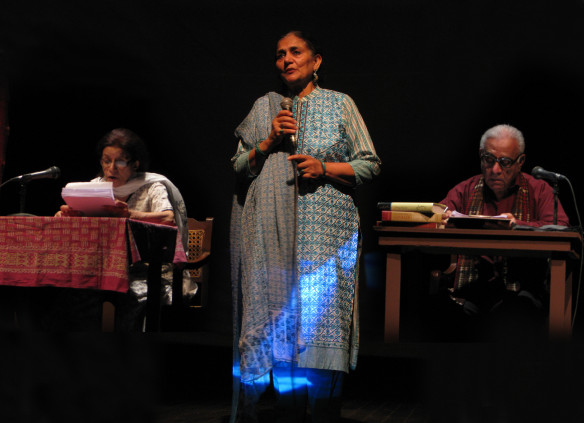 Alys kept Faiz informed about their family, the prevalent political atmosphere, the status of the charges levelled against him and about their circle of friends and comrades. Both fearlessly discussed their mutual disdain for an oppressive state, knowing fully well that the CID censors were aware of their opinions. One learns from the play — especially those who have been schooled in distorted versions of the country's history — that intolerance for both, political freedom and freedom of expression, began very soon after the country's independence.
The couple shared a unique bond and devotion, despite Faiz's partiality towards women he found interesting — even when he wrote odes to their beauty. Alys kept him informed of his 'girlfriends' activities, and would even convey their regards to him, doing so with a wry sense of humour.
The production was further enriched by exquisite dance sequences by Suhaee Abro and Wahab Shah. Both dancers beautifully interpreted all the emotions in the Faiz-Alys's letters in a wonderful mix of modern and classical dance — with shades of ballet and jazz dancing thrown in. Wahab Shah had skillfully and with sensitivity choreographed the sequences depending on the mood of the letter and together, he and Suhaee Abro, moved with perfect synchronicity and enthralled the audience with their soulful performance.
The poignant Faiz-Alys correspondence that translated into the play is a selection of letters first published in English as Dear Heart. Later, Faiz himself supervised the translation of the letters into Urdu, and published the collection under the title Saleebain meray darichey mai. The production, powerful in its simplicity and illuminated through dance and poetry, reflects a significant part in the life of a literary giant and his exceptional wife — whom the CID called, 'Faiz Ahmed Faiz: female.'
This review was originally published in Newsline's April 2016 issue.
The writer is working with the Newsline as Assistant Editor, she is a documentary filmmaker and activist.
Next