T2F still hums with life as Marvi Mazhar vows to carry on with Sabeen's mission.
By Deneb Sumbul.
April 24 of 2016 will bring us to Sabeen Mehmood's first death anniversary. The brutal murder of the creator/director of T2F — a prominent personality at many forums — left a loss felt deeply by civil society. Uncertainty prevailed after her passing and there was talk of having to close down T2F — one of the city's favourite gathering spots for the creative and the eclectic.
After Sabeen's death, activities at T2F were suspended for a while. That's when Marvi Mazhar, an architect and heritage consultant, stepped in, volunteering six months of her time to try and keep T2F going until it could find another director. She strongly felt that the closing of T2F would be like another death in the city. Compared to Sabeen's various long associations, Marvi Mazhar was a recent friend. In a matter of three years, they had forged a friendship that was to bear through the darkest time to see Sabeen's vision continue to flourish after her demise.
Tragedy struck while Sabeen was working on the project Dil Phaink, for a South Bank event scheduled to take place in the UK right after April 2015. Marvi was engaged as a consultant to design a streetscape set of the Saddar area for the project.
Sabeen's sudden death left the project team in a quandary, but the work had to be completed and Marvi recalls it was a very difficult time, trying to cope with the loss while carrying on with the work. Thankfully, she feels it turned out to be exactly as Sabeen would have wanted and muses that she may even have been watching over as it was being done.
Once a decision was taken to keep the T2F doors open and to go ahead with Sabeen's mission, Marvi's own professional architecture work slowed down as she put her heart and soul into working on events. After June 2015, the T2F calendar started filling up. She narrates how from June to November she silently went about her work. As she welcomed people to assorted events at the T2F, most people thought she was either a family friend or a family member.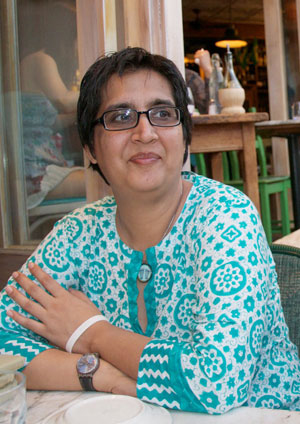 It was only in November 2015 that she felt confident enough to accept the offer of becoming T2F's new Director. She shifted her architectural office into T2F so that she could continue to give it attention, in addition to her career as an architect.
As a heritage consultant, Marvi's work includes saving old buildings by resolving issues between the government and owners of structures of historical value.
Being multi-faceted, Marvi describes herself as a traveller by choice and storyteller by default, exploring histories and finding out the stories behind various built environments and localities. Another dream Marvi hopes to fulfill is the digital mapping of Karachi that she and Sabeen had discussed at length.
After graduating from IVSAA, Marvi had joined architect Yasmeen Lari and was involved with research and heritage preservation. She is currently associated with the Pursukoon Karachi project on conservation of Karachi Cantt Railway Station. Other projects include documenting the intangible heritage of Thatta, and documentation of Karachi's Historical Old Town Quarters with private stakeholders and Sindh government. She also does visual ethnography of the places she travels to and posts it on Instagram by the name of Master_MM.
Marvi has presently designed a lecture series as part of the outreach programme of the forthcoming Karachi Biennale 2016-17, with the lectures scheduled to take place at T2F. Once or twice a month, artists will talk about city art, contemporary art, the economics behind it and legislation for protecting the rights of artists, etc.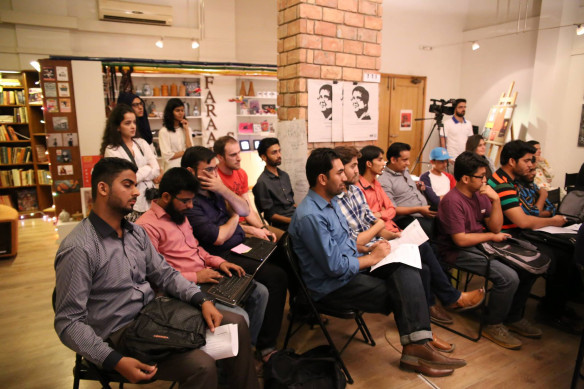 Her T2F agenda for 2016 is making it more interactive, with a multi-disciplinary approach. She plans to use the under-utilised ground floor for workshops with a give-and-take kind of relationship. For example, if a photographer exhibits his work at T2F, in return he would hold one or two-day workshops free for the community. It becomes a multi-disciplinary space on other levels as well — a journalist can come to learn about science, for instance.
Another priority is sustainability of T2F and finding the funds for it to carry on. She says that while a discreet notice says any small donation to support the effort is welcome, nobody seems to notice. 70 per cent of T2F events are free but eight air-conditioners are running at every event which builds up a cost of Rs. 4,000 per event. If an audience of 20 put a hundred rupee into the donation box, it would cover half the cost. In order to keep the doors of T2F open, says Marvi, the community must play a part.
While Marvi jealously guards Sabeen's underlying philosophy for T2F, she also thinks of T2F as a public space that has to evolve. She expects that whoever becomes the next director will bring a different perspective to the space, because as she says, "that's how organisations evolve and make exciting contributions to the city."
This article was originally published in Newsline's April 2016 issue.
The writer is working with the Newsline as Assistant Editor, she is a documentary filmmaker and activist.
Next