Going by the number of education policies announced in Pakistan since 1947, the volume of reports produced by commissions on this issue of direct concern to human development and the statements issued by government dignitaries pledging their commitment to universalising education, one would have thought that by now  Pakistan must be heading the world  education league.
What is the reality? The UNDP, which compiles the Human Development Index using schooling as one of the criteria, tells us another story. In its 2015 report, Pakistan is categorised as a Low Human Development country and ranks 147th out of 188 states. The mean years of schooling for children is 4.7 years and only a third of the population above 25 has had some secondary schooling.
At home, the Annual Status of Education Report (ASER) for 2015 is even more damning. Although Article 25-A of the constitution that was enacted in 2010 makes education free and compulsory for children between five and 16 years of age, nearly 20 per cent of those who should be in school are not. The performance of those who are enrolled is also a matter of profound concern. According to ASER, which focuses mainly on the rural areas, its surveyors found that 45 per cent of grade five children could not read a grade two story in Urdu, Sindhi or Pashto. They were worse in English; 51 per cent of the same students could not read English sentences of grade two level.
What explains this dismal state of affairs? Basically it is the absence of political will in the rulers to invest funds and expertise in a sector that is important for the uplift of its citizens. This attitude of indifference has existed traditionally since the early years when the importance of education was not recognised and it received minimal attention. The Macaulay mindset carried into the post-colonial state. A handful of educated people were considered to be enough to run the government machinery and for the management cadre in business and industry. A highly educated population was never regarded as an asset. Consequently, it was not felt necessary to spend on this sector. On an average, only 2.5 per cent of the GDP has been spent on education in Pakistan over the years, with substantial amounts coming from the private sector.
Politically, an uneducated population has suited the powers that be. People who cannot think do not ask uncomfortable questions. They are unaware of the modern concepts of human rights and the working of democracy. Remaining mired in poverty, such a population has to struggle to eke out a living and make ends meet.
The establishment found it enough to pay lip service to education while doing nothing about it in practical terms. Setting up commissions, issuing reports and drawing up education policies that were never implemented were enough to keep up appearances while maintaining the status quo. Since December 1947, when the first education conference was held in Karachi, 10 initiatives have been taken to introduce new guidelines for education. Some took the form of reports by commissions, while others were formal policies — at least four of them in 1972, 1992, 1998 and 2009.
However, what is remarkable is that nothing changed on the ground except for the restructuring caused by the nationalisation of schools and colleges under Z.A. Bhutto in 1972 and the pronounced thrust towards Islamising the curricula, first under General Zia-ul-Haq and later his protégé, Nawaz Sharif. Both these moves proved to be detrimental to education in Pakistan.
It needed 9/11 and pressures from outside to force the government in Islamabad to take measures to reform education in the country. The general belief was that lack of education and the prevalence of the madrassahculture had made Pakistanis extremist and militant. General Musharraf's 'enlightened moderation' was supposed to counter this trend. In 2006, the curricula were revised and supposedly re-designed to make Pakistanis more tolerant — not more educated.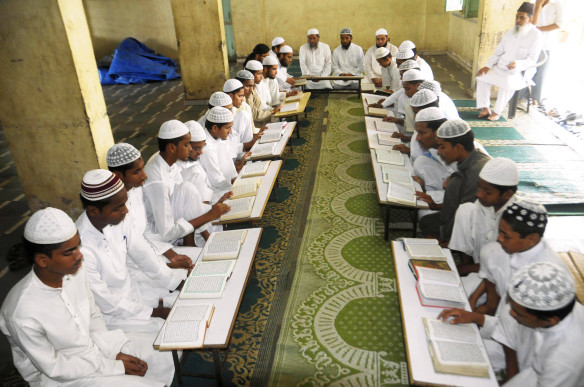 The last policy announced in 2009 could not be acted upon, as it was overtaken by constitutional developments. The 18th Amendment adopted by the National Assembly resulted in the devolution of power to the provinces. Unfortunately, the provinces have proved to be equally tardy in addressing the issue of education. A right to education law had to be adopted to translate the provision for free and compulsory education into practice. The provincial assemblies — beginning with Sindh in 2013 — proceeded to do that, but dragged their feet when it came to enacting the rules of business  to make the law effective.
Seen against this backdrop, the disclosure in August 2015 that Islamabad was working to formulate a centralised approach to education evoked mixed, though limited, reactions. One school of thought welcomed the move on the ground that the provinces will be shaken out of their lethargy. Others feared that this was a device to bypass provincial autonomy and give education the ideological complexion Islamabad has generally favoured. The route adopted was that of the Inter-Provincial Education Ministers' Conference (IPEM-C) which is working on a new education policy that will be applied uniformly across the country. It had been promised that the new education policy would be announced in January 2016. It has yet to be announced. What was worrisome was the direction the new policy would take. As the textbooks of the different provinces show, the "ideological" content of education varies starkly from province to  province. While Khyber Pakhtunkhwa (KP) has a minister from the Jamaat-i-Islami and its books are blatantly anti-India and pro-Islamisation in character, Sindh's textbooks have been revised in an attempt to somewhat cleanse them of their hate and war content. However, Sindh has not been too regular in attending the IPEM-C and one cannot be sure if the Islamist elements will get a walkover in policy-making.
As the nation waits with bated breath for the outcome of this exercise, what has come as a breath of fresh air is the timely intervention by Idara-i-Taleem-o-Agahi (ITA), under the dynamic leadership of Baela Raza Jamil. Consequently, the government agreed to give civil society a voice in the policy-making process. It was thus that ITA, along with the Pakistan Alliance for Independent Schools (PAIS), ASER and Right to Education Teams, got involved. ITA arranged a number of consultations all over Pakistan to allow people to articulate diverse opinions.
ITA has compiled its recommendations in a report titled, National Education Policy 2016 Pakistan: Voices of Citizens and Youth. Some significant measures suggested are worth taking a look at.
The report says that Early Childhood Education (ECE) should be made compulsory for children at the ECE age and specialised teachers must be trained for it. The importance of media campaigns to create awareness has also been emphasised. The "catch 'em early" approach may be controversial but in our situation, where as many as 80 per cent of the mothers have no education, it might pay if children are brought under the tutelage of trained teachers to provide them early guidance. The moot question is: Can we train a sufficient number of teachers in the right methods to be followed? This could prove to be a tall order.
Similarly, the recommendation for upgrading all primary schools to accommodate all children between five and 16 years may not be easy to do right away  since the physical facilities are already in short supply. The sharp drop in the number of middle and secondary schools as compared to the strength of primary schools is, to a great extent, responsible for the exorbitant drop-out rate after grade five. Again hiring trained teachers — and subject teachers for secondary classes — as recommended may, at best, be defined as a goal for which the government should strive in the coming years.
Another important recommendation is in respect of mainstreaming madrassahs. It speaks of monitoring and regulating these institutions and introducing in them life-skills based education imparted by trained teachers. Given the failure of earlier efforts to bring the thousands of madrassahs in Pakistan under a uniform system, any skepticism expressed on this count is not misplaced.
Another important issue that has been taken up is that of language and medium of instruction. The recommendations speak of Urdu/mother tongue being the medium of instruction at the primary level and English being the medium at the secondary level. Still having doubts on this score, the authors write, "The chronically unresolved issue of language and medium of instruction can only be resolved through a national commission on languages."
A beginning can thus be made on this complex issue. It has a direct impact on the quality of education and has social implications as well. A valid question asked at the Teachers' Literature Festival in February was, "Will this policy apply to private schools too?"
The problem lies in the stratification of society and language has emerged as a key marker in this discourse. If quality education has to be imparted to all, it is important that it should also be pegged to equity. If good quality education in private elitist institutions is to be provided to the rich while dismal quality education is to be the lot of the poor, the basic purpose of education will be defeated.
 This article was originally published in Newsline's April 2016 issue.
Zubeida Mustafa is a senior journalist. She writes on a variety of subjects but her interest has mainly been in the social sector which she has covered extensively. She has investigated in-depth issues such as education, health care, women's empowerment, children's rights and the lives of ordinary people.
Next