Movie Review: Knight of Cups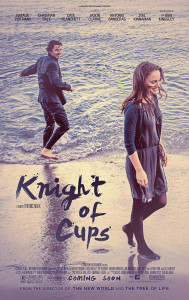 Terrence Malick, who has made only eight films (with two more in the pipeline) in his 43-year career, is a directorial genius. A rather eccentric and unorthodox director, he often leaves his stars baffled during the filming process.
According to the Hollywood Reporter, Malick's latest film, Knight of Cupsis no exception, as lead actor Christian Bale stated during a press conference. "I never had any lines to learn, but I'd see other people, and they'd have pages. I'd always look over their shoulders to see what it was that I was going to be told," he said. "I never knew what I was going to be doing each day."
Further, the director is known to shy away from interviews and press conferences. He has been nominated for the Oscars, but has never shown up at the prestigious award ceremony.
In Knight of Cups — which has a gorgeous and talented cast starring Christian Bale, Natalie Portman and Cate Blanchett — the acclaimed director brings to screen the complexities of everyday life. The film is interspersed with dialogues and questions about life. How to deal with grief, or to gain love ("You don't want love, you want a love experience"), or to question how one got to the point where they are at today, what went wrong etc.
It begins with a narration from The Pilgrim's Progress by John Bunyan, setting the mood for what will be the everlasting search for meaning in life. Bale plays a screenwriter named Rick, who is often partying at glitzy parties and hotels, broodily staring up at skyscrapers, engulfed in relations with beautiful women, or walking along a beach or rugged terrain. He has a complex relationship with his father, brother, his ex-wife played by Blanchett, and the many beautiful women around him — one of whom includes Portman.
There is very little dialogue in the film, and the story is delivered mostly through the means of narration. The film makes you feel as though you are in the middle of a lucid dream, weaving through experience after experience, with a lot of focus on the ordinary sounds that you would normally take for granted. And as in dreams, the sounds in this film are loud, in fact, the main focus. It could be the air through a tunnel, the wind, the sound of the earth shifting during an earthquake, or a person being submerged in water. The sound effects in the film have a trance effect and as you continue to watch, you actually feel the movement of the story.
As always, Malick brings together a beautifully picturised film, with visuals that draw you in completely. While it may not have the same appeal his previous film, The Tree of Life did, especially in terms of the plot and storytelling, it is impressive with its visuals and narration.
This review was originally published in Newsline's April 2016 issue.
Raisa Vayani is an Editorial Assistant at Newsline
Next