With a solemn face and grey hair, in walks Hari Narayan, a 65-year-old fisherman from India. Last month, the boat he was on with six others drifted to the Pakistani border and was apprehended by the Maritime Security Agency (MSA) in Karachi. Hailing from Junagadh, a small district in Gujarat, Narayan says he did not see the risk coming. "Our boat was stationary and started moving towards the Pakistani waters. Before we knew it, we were caught."
Narayan leaves behind two sons and a wife. "I am concerned that my wife will single-handedly have to look after our sons who go to school." He says he awaits the Indian Consulate to contact him and send him back home so he can resume his job at sea and be with his family. But would he venture close to the Pakistan borders again? "Yes, I would," he asserts. "This is what I have been doing for 23 years and the only way I know to earn a livelihood." Although anxious to return home, Narayan does not feel intimidated being imprisoned in Pakistan. In fact, he looks at the superintendent, shrugs and says he will return to India whenever he is meant to.
This is because every year, hundreds of fishermen along with their boats are caught in both India and Pakistan for crossing a border that cannot be identified. There is no well-defined demarcation of the maritime border in the Arabian Sea that separates India from Pakistan. Many of the boats lack the technology to trace their precise location and without any warning, many are caught, remaining in prison for months and sometimes years, before being repatriated.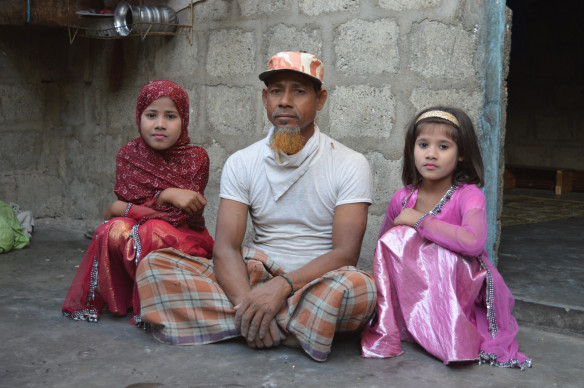 Once seized at sea, the fishermen are brought to the District Prison Malir (Landhi Jail) on the outskirts of Karachi. Deputy Superintendent (SP) Shakir Hussain Shah signals the translator to take Narayan away and says that most of these men are aware of the proximity to the border but the "pressure and greed for catching more fish," blurs their judgment.
"Once the fishermen are brought to us, the Sindh government detains them for 30 days and then the Interior Ministries of both the countries get involved," states Shah. "They usually have no identification papers so verification is done by the Indian Consulate. Once our Interior Ministry sends us a list of those who can depart, they are sent back to India through the Wagah border in Lahore."
Currently, 711 fishermen are imprisoned in Landhi Jail, out of which 536 are Indian, 118 Afghani, 26 Bengali and five from Tanzania. The jail has the capacity to accommodate 1,800 prisoners, but presumably over 3,000 are confined here.
The translator brings in Raju Kara, another Gujarati who cannot comprehend Urdu, to the SP's room. Aged 23, Kara has been fishing since six years. "I get paid in advance and then sell the fish to dealers after catching it. We have to target and catch whatever we can," says Kara.
His parents and two siblings have already written to him, concerned for his well-being. "They want to come and meet me but will never get the visa for Pakistan, nor have the monetary means to."  Kara was caught along with his uncle, who was on the same boat. He makes about 15,000 Indian Rupees a month, as do most of the fishermen. This is the only skill they've acquired over time. So in the middle of the Arabian Sea, whether angling or back-trolling, they yank the rod, throw the net and take the bait.
With months and, at times, years to spend in jail before they can return home, fishermen from Gujarat engage in what SP Shah alludes to as 'bead craft.' He displays striking pieces of ornaments made with colourful beads that the fishermen from Gujarat have produced — an art they've been teaching their Pakistani counterparts. "The prisoners purchase beads on loan from a shop inside the jail, make decorative objects and sell these to fellow inmates or people outside. When they leave the jail, they take their earnings with them," claims Shah.
He adds that the environment in the jail is conducive to engaging in work like bead craft because these men are not treated as criminals. Those who have committed serious crimes are taken to the Central Jail in Karachi, so there is no need to be harsh to men crossing unidentified boundaries inadvertently.
The longest residing fisherman currently in the Landhi Jail from India is Rangeela. Aged 30, he has been in Pakistan since February, 2013. Shah says that Rangeela claims to be Indian but as proof of nationality lies with the Indian Consulate, his identity is not yet confirmed and thus he remains here. Shah discloses that, at times, some men provide incorrect information intentionally so they are not sent back to their country. He relays the story of an Irani prisoner who gave incorrect personal details as he used to sell drugs in Iran and knew he would be executed the minute he landed there. "When we managed to send him, this is exactly what happened. He was shot dead," he adds.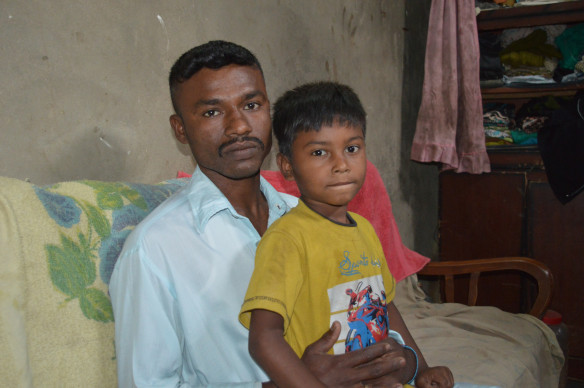 About seven km driving distance from Landhi Jail is Ibrahim Hyderi. This is an old fishing harbour in the neighborhood of Bin Qasim Town, with a population of about 150,000 people. The unendurable stench of rotten fish in the neighbourhood serves as a reminder that fishing is the primary livelihood of its residents. Women walk barefoot as they carry pots of water on their shoulders. Children play in small alleys, oblivious to the filth and odour damaging their lungs.
In one of these backstreets resides Mohammad Mian. He was caught by the Indian Navy in the summer of 2013 and was taken to Jumnagar Jail in Gujarat, India. "It took us one night and one day to reach Jumnagar by boat," claims Mian, who returned home to his wife and seven children in Ibrahim Hyderi, after two-and-a-half years. Mian says people from the Pakistani Embassy visited him twice in jail. Using mobiles to make phone calls was not permitted, so he wrote two letters to his wife but she received only one. His wife, Leila Begum, cannot read nor write. She would ask one of her seven children to read for her. When she received news of her husband's detention by the Indian authorities, she felt "as if the sky fell on me." Mian had taken a loan from someone for his daughter's wedding and thus the liability fell on Leila Begum to return it. She was compelled to sell the plot adjoining her modest home to make ends meet. "I became a patient of blood pressure in the last two years due to incessant stress," she says. Their son took a loan and started running a rickshaw. 107 men were caught along with Mian, who spent one year in jail digging and, the rest of his time, sweeping, while his wife single-handedly looked after their seven children back home.
'Men who returned from India' seem to be well known in the community. Frolicking children lead the way to Mohammad Hussain's humble abode. He spent 10 months and 10 days in India along with 29 other Bengalis. Hussain says he was allowed to make a phone call to his wife after two months of imprisonment when he was being taken to the Pakistani Embassy in Jaipur. He asked his wife, Mehmooda, to prepare the paperwork to offer as proof of his identity. Reluctant to talk, as it would bring back painful memories to her, Mehmooda says, she just tells her husband not get too close to the border any more after the agony she endured for 10 months.
The lure for more fish, shrimps,  lobsters, crabs and all they can find, sucks these men farout into the sea and they get caught in a web of pressure and greed for more.  Again, this is prevalent on both sides of the border.
Praveen Swami, National Editor, Strategic and International Affairs at The Indian Express says that there is pressure on the captains to ensure a good return, since their remuneration depends on the catch.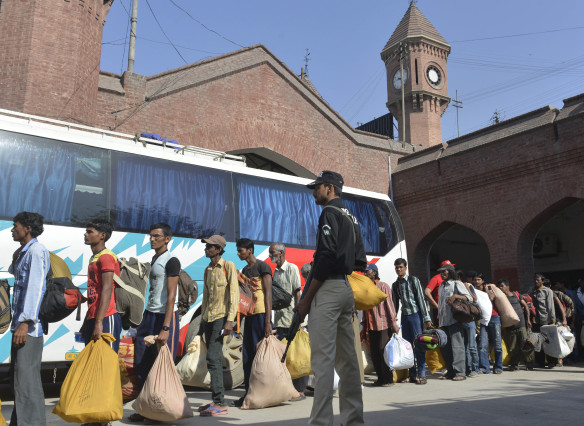 "All Indian boats are fitted with GPS systems now that tell them precisely which side of the maritime boundary they're on. If you speak to boat owners, they'll claim that the illiterate boat crews don't know how to use these GPS sets," he states. "However, I've seen first-hand that this isn't true — captains are great at using GPS to navigate to good fishing areas."
Swami adds that the Indian captains take the risk of crossing the boundary quite regularly as a lot of the best fishing areas in the Indus estuary are on the Pakistani side.
He observes that the Indian Coast Guard does patrol the line, along with the Pakistani Coast Guard, but while at times they manage to warn away the crew through announcements, many disappear only to re-emerge later.
"In some seasons, when the catch is better on the Indian side, Pakistani crews do exactly the same thing, for the same reasons," adds Swami.
Major Zafar Ahmed, spokesperson of the Pakistan Coast Guards, corroborates this claim. "The greed for fish takes them farther," he says.  "Boats that go into the open seas first have to cross the Maritime and Coast Guard check posts and display their identity cards. After a certain point in the water, when it is not clear whether it is India or Pakistan, the men are vulnerable to getting caught."
Mohammad Ali Shah, Chairman, Pakistan FisherFolk Forum adds that the small boats that accommodate about six to seven men are not equipped with any tracking system like GPS but the big boats that can hold up to 16 people do contain such systems. This is why most Pakistani fishermen who cross the border by sea are usually caught in the small boats. "We have to wait for the Indian Embassy to give us a list of names of our men who have been caught and then we need to identify them," he says. "But even if the men have fulfilled their terms, they cannot come back till both the ministries agree to an exchange of prisoners."
This exchange of prisoners is often halted by political tensions between the two countries. In January, the attack on the Pathankot Air Force base not only disrupted the dialogue process between Pakistan and India but has also delayed repatriation of Indian fishermen from Pakistan. Once the deadlock ended, the exchange of prisoners resumed. On March 17, nine Pakistani fishermen were released from Jamnagar Jail in the Indian state of Gujarat. On March 20, Pakistan released 86 Indian fishermen languishing in Landhi Jail, Karachi. This was in addition to the 87 fishermen released earlier in the month.
Many human rights activists and organisations in both India and Pakistan try to get these men repatriated to their countries on humanitarian grounds.
"By law, you cannot put a prisoner in jail after completion of his sentence. But many remain in prison even after completing their sentence," says Ansar Burney, a human rights activist.
He adds that, "The painful part is that these men take loans on interest for diesel, net and other things they need during fishing but after their arrests and release, the governments never return their boats."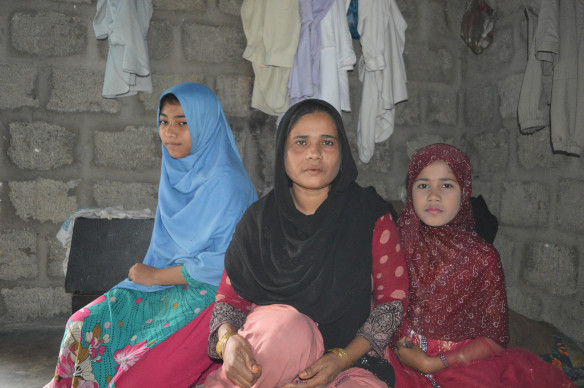 The boats captured in the process are mostly owned by boat-owners or by the fishermen themselves.
According to the PFF, currently about 150 Pakistani fishermen remain in Indian Jails, while over 300 Indians are held in Pakistani Jails. Those who have returned from India have resumed their work at the Sir (Kajhar) Creek, often exposing themselves to similar risks as before, because this is the only means to a livelihood they know. Those fishermen currently suffering in jails in both the countries will serve their sentences and be repatriated within months but if political tensions escalate, the fishermen will remain hostage to strained relations between India and Pakistan and probably remain in prison for years to come.
This article was originally published in Newsline's April 2016 issue.
Next