Editor's Note: April 2016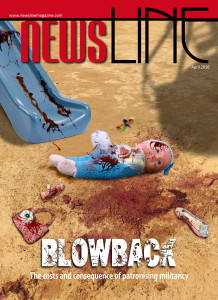 Predictably, the Mumtaz Qadri chapter has not been laid to rest. Feeling threatened by Qadri's execution, the passage of the Punjab Protection of Women Against Violence Act and the ongoing Zarb-e-Azb, assorted religious extremist groups have decided to band together and play politics over his dead body to gain political space and mileage.
And they appear to be in a tearing hurry. Qadri's chehlum was held 12 days in advance. That it was intended to whip up trouble in the capital and challenge the writ of the state was obvious from the word go.
After giving an undertaking to the Punjab government that they would disperse peacefully after the chehlum at Liaquat Bagh and not cross the red line, they crossed many lines. They vandalised the newly constructed metro station, torched several private vehicles and injured at last 42 security officials and 16 ordinary citizens, then proceeded to the Parliament building to stage a dharna.
Given the massive congregation at Qadri's funeral earlier, anyone could have predicted what lay in store post thechehlum, which was announced through huge billboards across the country. Incidentally, who allowed the mug shot of a murderer to be displayed so prominently?
Why couldn't the authorities have pre-empted the sinister motives of the mourners and stopped them in their tracks? Why were they allowed to proceed to the Red Zone, unchecked and unhindered, and destroy public property worth millions.
To add insult to injury, they presented a list of outrageous demands to the government. Foremost among them was the demand to officially declare Mumtaz Qadri a 'shaheed,' and convert the cell in Adiala Jail where he was incarcerated into a heritage site and set up a library there(!!!). Further, they wanted all those Sunni ulema and workers, who were arrested on charges of terrorism etcetera, to be released.
And that's not all. They demanded that Ahmadis in top positions in government and
other institutions be sacked.
By their reckoning, all minorities should be banished from Pakistan.
It was a similar mindset that drove a suicide bomber to target Gulshan-e-Iqbal Park in Lahore on Easter Sunday, when many Christian — and Muslim — families were out celebrating. Among the 72 dead, were several children and women.
What's shocking is Punjab Law Minister Rana Sanaullah's statement post the Gulshan incident, challenging anyone to prove that safe havens for militants existed in Punjab. It is common knowledge that the Punjab government has always been reluctant to take any action against the vipers it has reared in its own backyard — for fear of blowback.
Now that the army has conducted some intelligence-based operations in the province, the Sharif government is beginning to look uneasy.
The devastating Gulshan-e-Iqbal Park incident is a glaring reminder of the fact that terrorism is still alive and kicking, despite Zarb-e-Azb and despite the National Action Plan. And unless the sources that are providing cannon fodder to the extremists — the madrassahs — are brought under the radar, militancy will not die down.
Further, the concept of the good Taliban and the bad Taliban must end once and for all, and Pakistan should stop any cross-border terrorism against Afghanistan and India. Finally, the army and the centre have to stop working at cross-purposes and thrash out a joint strategy to counter extremism if they wish to see an end to the cycle of violence in Pakistan, and realise Prime Minister Nawaz Sharif's dream of a liberal Pakistan.
This article was originally published in Newsline's April 2016 issue.
Rehana Hakim is one of the core team of journalists that helped start Newsline. She has been the editor-in-chief since 1996.