The Establishment Alternative
Mustafa Kamal's dramatic re-entry into the cauldron of Karachi's politics seemed almost without precedent. Here was a popular MQM figure who fell out of favour and was cashing in on his name by wedding himself to the Malik Riaz empire in Dubai. The inorganic nature of Kamal's return, which he was almost certainly put up to by the establishment, may be new but his formation of a new party, unoriginally named Pak Sarzameen Party, is yet another episode in the storied MQM history.
The MQM was born in 1984 out of the All Pakistan Mohajir Students Organisation, which was formed by Altaf Hussain in 1978, and was known since its inception for its ability to draw crowds in Karachi. For electoral relevance, though, it was reliant on the patronage and support of military dictator Zia-ul-Haq. Ever since, it has continually fallen in and out of favour with the military.
The first inclination that the MQM may possess violent tendencies came in 1985 when Bushra Zaidi, a Mohajir student, was killed, allegedly by a Pakhtun bus driver. Her death triggered the Mohajir-Pakhtun conflict, punctuated by regular riots and murder, that continue to this day.
After Zia's death and the overthrow of the first Benazir Bhutto government, the MQM entered into an alliance with Nawaz Sharif and formed the provincial government in Sindh. That alliance did not last and it was the PML-N, in connivance with the army, that is believed to have facilitated the splintering of the MQM and the formation of the Haqiqi group.
In June 1992, the Rangers, under order from the establishment, launched what would prove to be a long and bloody operation, named Operation Blue Fox, in Karachi that almost exclusively targeted the MQM. Hundreds of MQM workers were killed in 'encounters' and those taken alive languished in prison. Among them were Amir Khan, Afaq Ahmed, Bader Iqbal and Mansoor Chacha — the founders of what would become the MQM-Haqiqi group.
By the time they were arrested in Lahore, all these figures had already parted ways with Altaf Hussain, much as Mustafa Kamal had left the MQM a few years before the formation of his new party. The point of arresting them seemed to be to use them as leverage. Those in power, including the army and then prime minister Nawaz Sharif, had them released and almost immediately afterwards the Haqiqi group was born.
Mustafa Kamal is seen as a technocrat who concerned himself with building flyovers and collecting garbage during his tenure as mayor of Karachi, but some of the men who surround him, like Anis Qaimkhani, have a long and violent history. The MQM-Haqiqi, whose influence extended to certain districts in Landhi, Korangi, Malir, Shah Faisal Colony and Liaquatabad, almost exclusively dealt in violence.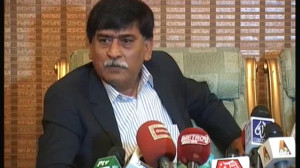 That violence was preplanned, as then IG Punjab Police Sardar Muhammad Chaudhry narrated in his book The Ultimate Crime. He talked about how both, then army chief Asif Nawaz and Nawaz Sharif, colluded to form the Haqiqi group: "He [Asif Nawaz] went beyond failing to punish indifference; he even protected criminals. During the army action in Sindh in 1992, he made MQM his only target…Some gangsters in MQM fled to Lahore. Helped by timely intelligence, the police were able to arrest all of them. General Asif Nawaz wanted me to release all of them…He said, 'You are not fully aware of the situation in Karachi. I want to release these thieves to catch even bigger thieves.'"
Chaudhry says the ultimate order to release what would become the founders of MQM-Haqiqi came from Nawaz Sharif, although clearly there must have been army pressure to do so.
From its formation in 1993 till 2002, the MQM and the Haqiqi faction fought constant turf battles which led to the establishment of what were colloquially called "no-go areas," where civilians dared not tread. Yet, during this period, the Haqiqi leaders and workers faced no threat from law enforcement agencies while MQM leaders were targeted. This, again, strengthened the belief that the establishment was behind the group.
The final proof that the Haqiqi group was a creation of the military and its allies came in 2002 when Pervez Musharraf allied with the MQM in Karachi. Suddenly, cases were registered against all Haqiqi leaders and it only took the re-emergence of democracy for the leaders to be freed.
Musharraf's alliance with the MQM unleashed the next bout of unvarnished violence in Karachi during the infamous May 12, 2007 episode. The recently-deposed chief justice Iftikhar Chaudhry arrived in Karachi to hold a rally, but the MQM unleashed an orgy of violence on the city, using Chaudhry's visit as an excuse to target the ANP and its other political rivals. Kamal was mayor of Karachi at the time and has been unsurprisingly mute about his and the establishment's role in the violence on that day. But he shouldn't fool himself into thinking that it may not be brought up at a later date when he is no longer needed.
This is the lesson here for Mustafa Kamal and those who are allying with him: They will only be useful as long as there is need for an anti-MQM force and will be discarded once they have outlived their value.
This article was originally published in Newsline's April 2016 issue.
Nadir Hassan is a Pakistan-based journalist and assistant editor at Newsline.
Next