March Issue 2010, March Issue 2019
A History of the World in 21 Women
Author: Jenni Murray
Publisher: One World Publications
304 pages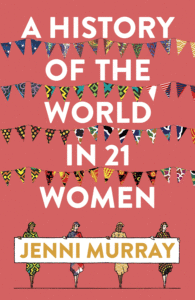 British journalist Jenni Murray is best known for presenting Women's Hour on BBC Radio over the past three decades. She has written several books centred around women's issues, ranging from how to raise progressive-minded boys to challenging orthodox ideas of the 'dutifulness' of daughters, in addition to literary takes on her radio show, which itself has been oft-cited in contemporary feminist literature.
In September, Murray came out with her latest book, A History of the World in 21 Women: A Personal Collection. The disclaimer that is a part of the title was, of course, not present when she wrote A History of Britain in 21 Women in 2016, suggesting that shortlisting 21 women to define human history could not have been done without acknowledging one's bias.
Local readers would be especially interested in the inclusion of Benazir Bhutto in the list, which has been presented in a chronological order.
The book opens with Hatshepsut, the fifth pharaoh of the Eighteenth Dynasty, and how the author is fascinated by Hatshepsut's self-belief that led to her rule over the Egyptian empire. Next is Joan of Arc, whose bravado in the Hundred Years' War has been immortalised in literature and art, and whose death penalty for wearing men's trousers is taken up by Murray as a rallying cry for women to "wear yours with pride."
At number 3 is Isabella I of Castile, who makes the list – despite the author seeing her as an "anti-Semite and Islamophobe" – on the grounds that she was a trailblazer of a queen, who laid the foundation of the political unification of Spain and opened up the 'New World.'
Italian painter Artemisia Gentileschi follows, with the author appreciating "the way she painted other women as she saw them: courageous, resourceful, rebellious and strong." Then comes Catherine the Great, Russia's longest-ruling female, "a woman of great intelligence, with ambition to match."
German musician Clara Schumann is at #6, and is lauded as much for her virtuosity as she is for the way in which she dealt with various domestic and social challenges. She is followed by Chinese empress Dowager Cixi, who effectively ruled the Qing dynasty for almost half a century, in complete contrast to the gender disparity exhibited in the power corridors of the People's Republic of China today.
Marie Curie, the first woman to win the Nobel Prize, is an obvious choice for "leading the way in science," and Coco Chanel for doing the same in the world of fashion and fabrics. At #10 is the Israeli Prime Minister Golda Meir, who established that "it was possible for a woman who had not inherited her role from her father or her husband to lead her country," and did so as the leader of a state perpetually at war.
Mexican artist Frida Kahlo is next, for her constant refusal to depict the female body as an "embarrassing secret that should be hidden away." Sri Lanka's Sirimavo Bandaranaike, as the world's first female head of government follows.
Pulitzer and Nobel Prize-winning writer Toni Morrison is #13 on the list, followed by Margaret Atwood, owing to her "absolute commitment to the feminist cause," as epitomised by The Handmaid's Tale. Wangai Maathai, the first African woman to win the Nobel Peace Prize, comes in next. 
Benazir Bhutto at #17 is sandwiched between two political heavyweights of the time: Hillary Clinton and Angela Merkel. They're followed by the 'Queen of Pop' Madonna, murdered Russian journalist and activist Anna Politkovskaya and Australian sprinter Cathy Freeman.
Jenni Murray begins the chapter on Benazir by recounting their first-ever meeting on April 3, 1986, as the Pakistan People's Party leader was bracing herself to return to Pakistan: "She was thirty-three years old, nervously buried in her aunt's substantial but dingy basement flat in Chelsea, in London. I have never met, before or since, a young person with such a heavy weight of grief, fear and duty weighing down on her back; she seemed almost physically bowed under the burden."
Later on in the chapter, Murray continues: "It was clear that Benazir had suffered terribly in recent years; in and out of prison, exile in London and hearing of the death of her brother, who died in the south of France as a result of taking poison. Benazir was convinced he'd been murdered. But martial law had been lifted and she was determined to return to Pakistan. Not, she insisted, because that was what her father would have wanted, but out of her own ambition and sense of duty." 
After Benazir became the first elected female Prime Minister in the Muslim world in 1988, she sent a Christmas card and a signed copy of her autobiography to Murray. The two would meet on multiple occasions for interviews and documentaries until Benazir's death.
"She was brave, unquestionably well-intentioned, but faced an impossible task. She will always have detractors, but perhaps the most significant supporter she continues to have is Malala Yousafzai, the Pakistani schoolgirl who was shot by the Taliban for believing girls must be allowed to be educated. When Malala addressed the United Nations in 2013, she cited Benazir Bhutto as her personal idol and wore a white shawl that had once belonged to her hero," writes Murray.
Next