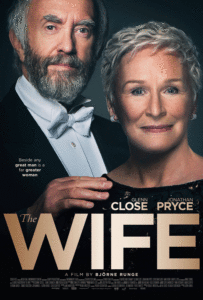 Adapted from Meg Wolitzer's novel, The Wife is a big-screen adaptation of a drama that unfolds the troubled relationship of a literary couple behind closed doors. After many years of marriage, matters start unravelling soon after the husband, Joe Castleman (Jonathan Pryce), a celebrated novelist, receives a call from Sweden announcing that he has won the Nobel Prize for Literature. The couple celebrate with their family and friends but Joan (Glenn Close), the caring, ever-smiling wife appears self-effacing, despite Joe's attempts to include her in the celebrations.  
Joe's celebrity status has knocked off then President Bill Clinton from the cover page of a magazine. On the couple's flight to Sweden with their son, David (Max Irons) and publisher, the first hint of Joan's coldness appears when a pretty airhostess tries to engage her husband in a conversation. 
Joan becomes increasingly tense once they arrive in Stockholm. However, she continues to be like a veritable baby-sitter to her husband and, alongside, restrains him from having verbal altercations with their son. When introduced to the Nobel organising committee, they suggest that she use her spare time to shop and get a beauty treatment. Her coldness towards her husband increases by degrees, especially after Joe remarks to the other Nobel Laureates that his wife is not a writer, but she maintains the demeanour of a charming wife. 
Joan starts having flashbacks; she recalls a young Professor Joseph Castleman, who in 1958 praised a story she wrote for a creative writing class that he taught at the Smith College for Women. Joan agreed to babysit his daughter, while he was married to his first wife and ended up having an affair that culminated in him leaving his family and marrying her. While attending the book launch of a female author, who had not attained fame despite her talents at college, Joan recalls following her advice not to pursue her passion for writing. 
Back in the present in Stockholm, the constant bickering between her husband and son keeps escalating mainly because David, an aspiring writer, does not get the encouragement he seeks from Joe. Meanwhile Joe, a narcissist for all the 40 years of their marriage, starts flirting with the attractive personal photographer his publishers have assigned to cover his stay. That does not escape Joan's eye and she decides to step out by herself for some fresh air. On her way out Joan crosses paths with Nathanial Bone (Christian Slater), a smooth-talking biographer who wants to write a tell-all book on Joe. Over drinks Nathanial tries to fish for her reactions on Joe becoming a Nobel Laureate, having correctly surmised her resentment towards him, despite her outwardly loyal façade. Nathanial speaks of being privy to Joe's various indiscretions, and of having found Joe's earlier short stories in obscure literary journals. He also confesses to an offer by publishers to write Joe's biography, with or without his permission. Nathanial also hints that he had researched Joan's written work in the archives of Smith College.
A viewer may very well guess the fundamental premise of The Wife early on in the film. Nevertheless the notable Swedish director, Bjorn Runge adapts it for the big screen with intelligence as an engaging suspense-drama. Jonathan Pryce gives an outstanding performance as the narcissistic, selfish husband but Glenn Close's portrayal of the long-suffering, self-effacing spouse is a cinematic tour-de-force. She has already earned several accolades as Best Actress for this role, including the Golden Globe Award, the Screen Actors Guild Award and the Critic's Choice Movie Award and is also nominated for an Academy Award. Nominated for the seventh time, Close has yet to win an Oscar, but she is one of the strongest contenders in the race.
–
The writer is working with the Newsline as Assistant Editor, she is a documentary filmmaker and activist.
Next