The Unbearable Difficulty of Being
Eleanor Oliphant is Completely Fine 
Author: Gali Honeyman
Publisher: Penguin Random House
352 pages
Price: Rs. 850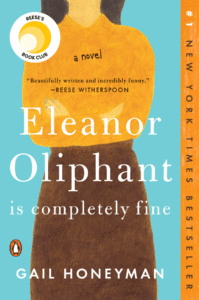 What gives us our identity, what gives us the feeling of 'self,' what gives us the feeling that we belong on this terra firma? There are many, many theories on this eternal question, but one of the ways we know we exist is our relationships with others, how we relate – or don't – to people, our interactions with the world of people.
Eleanor Oliphant has a better understanding of animals, their behaviour and grooming patterns and uses this as a reference point on how to proceed. She describes herself matter-of-factly: "I was healthy and my body was strong. I had a brain that worked fine…I had hair, eyes, ears and a mouth.  I was a human woman, no more and no less."
Socially awkward, clueless about fashion or fast food, she seems to be oblivious of the nuances of social interaction even with colleagues. In a safe, if somewhat dead-end accounting job, friendless and sans family, 30-year-old Eleanor is locked in her own mind, her own rigidly controlled, routine existence, that includes zoning out with two bottles of vodka each weekend.
Gail Honeyman's debut novel, Eleanor Oliphant is Completely Fine –  winner of the Costa First Novel Award and on The New York Times' bestseller list for several months – is a frightening, completely believable portrait of an intelligent, highly educated, erudite woman living alone with her demons, scarred in face and soul and yet outwardly functional. No one ever visits her, except for service professionals and caseworkers. 
At one point she wonders, "I do exist, don't I? It often feels as if I'm not here, that I'm a figment of my own imagination." 
In a  first person narrative format, Honeyman has created a unique character, weird and unknowingly witty, always somewhat out of sync with other humans, partly because of the range of her vocabulary which is beyond the comprehension of most people – "oozingly oleaginous (distastefully complimentary)," "hamartia (fatal flaw)," "mirabile dictu (marvelous to relate)" – and with a blurred recall of her past, seen only in tantalising, if disturbing, glimpses, when the fog lifts for a second.
Eleanor is meticulous in habit and precise in speech; not rude, and yet she gives offence. She says exactly what she thinks, when she thinks it; she has no filter. A witness at a road accident along with a colleague, Raymond, she is very reluctantly pulled in to help. Later, she feels obligated to visit the accident victim in hospital and that is the beginning of her initiation into normal human interaction. It's been a long time coming.
A beautifully crafted story, you get screen shots of something sinister just below the surface, slipping in and out of view – 'mummy,' familiarity with pain, fire, a blurred face. The weekly Wednesday evening calls with mummy are a mix of exhortations by mummy on the 'correct' way of dressing, eating, speaking and doing, interspersed with vulgar, derogatory comments designed to demean and to remind Eleanor of the punishment she has received – and can expect to again. Even though it's only a phone call (from prison?), you can palpably feel the fear, the desperation to find a 'suitable boy' who meets mummy's exacting standards and that, or so she hopes anyway, will get her mother off her case.
She finds the perfect fit – a musician she sees on stage who fits the bill in every respect. And thus starts a self-improvement campaign, with Eleanor taking her cue from how animals groom. With no reference point except that gleaned from magazines, she opts to update herself physically and sartorially, with somewhat mixed results. The object of her adoration – who has no idea she even exists – is researched, and after weeks of agonising and preparation she is finally right in front of him while he is performing. He doesn't even notice her. And it's over. 
Her world comes crashing down. 'Fire tests gold…and adversity tests the brave,' is Eleanor's favourite quote by Seneca. And she is tested. Close to death, she is rescued and finally gets the help she needed to face her horrors. This part of the narrative, understated, unemotional, is gut-wrenching. It is a difficult journey, but she finally realises the judgemental voice in her head was never her own and that there is still some place in her scarred heart for a little affection to get through. It is a beautiful ending, much like the slow unfurling of a petal. And it relates to a much wider social phenomenon that has only been aggravated by technology and social media. The intimate face-to-face connections are still missing. As the author quotes from Olivia Laing, "Loneliness is accretive, extending and perpetuating itself. Once it becomes impacted, it is by no means easy to dislodge." It is a life-sapping disease.
Eleanor Oliphant is completely fine – or getting there anyway – by the end of the book. The denouement is, frankly, completely unexpected. It is a book truly worth reading. And will soon be on celluloid, produced by Reese Witherspoon.
Next