"The Kashmiris will not rest till they have achieved independence." – Masood Khan President, Azad Jammu & Kashmir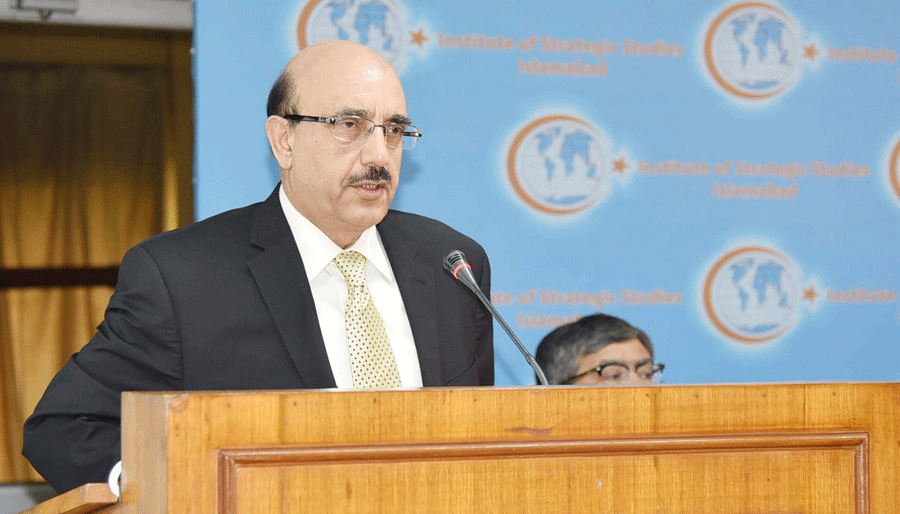 Following the Pulwama attack, Pakistan-India hostilities are at their peak. India has launched an even more aggressive crackdown in Occupied Kashmir, while increasing the pressure on Pakistan. Against this backdrop, how big is the challenge for Pakistan and for Kashmir's independence struggle?
 The actions taken by India in Kashmir and the way they have engendered the hate of citizens as a result, is a challenge not just for Pakistan and the Kashmiris, but also for the whole world. The Indian government and (Hindu) extremist groups are systematically instigating a hate campaign against Kashmiris, Indian Muslims and Pakistan. This wave of extremism will consume India – and will have serious consequences for the rest of the world. We haven't seen this kind of fundamentalism and extremism that is being nurtured under the Modi government in recent history.
 You had a long career in the foreign service. Did you, in all those years, ever witness as much Indian aggression as is evident now?  
 Hindu extremist sentiment has existed from 1947 to the present time, but it became state doctrine after the BJP government came to power in 2014. After that they convinced the nation that because Hindus are in the majority in India, they can force their narrative through majoritarianism on the minorities and even on the lower Hindu castes. It's a new form of imperialism that is emerging, and it is being expressed in various forms against Kashmir, and Muslims living in India and Pakistan. 
Is Pakistan's response at the diplomatic level politically adequate, or are there other areas that need attention?
India wanted Pakistan to react aggressively. Instead, Pakistan has issued honest, straightforward and reasonable statements, and expressed its readiness for independent investigations [on the Pulwama incident]. 
Pakistan has also exposed the reality of how India wants to divert attention from its crimes in Occupied Kashmir… [including] the thousands the Indians have murdered, the women they have violated, the enforced abductions, the torture of people, the way they have confined the Hurriyet leaders, and the culture of impunity they have promoted with the support of black laws for the permanent occupation of Kashmir. 
I would say that the unintended consequence of highlighting Pulwama was that the issue of Kashmir got highlighted. 
After the Pulwama incident, India took on an extremist stance. Muslims were pulled out of their homes in Jammu and beaten. Kashmiri students all over India have been persecuted. Similarly, Kashmiri traders have been targeted. 
In Jammu in October-November 1947 the extremist Hindus, the Dogra force and the Indian Army killed 237,000 Kashmiris. This was the second holocaust after WWII. Now the fanatics are roaming free in Jammu. These (Hindu) extremists have formed village defence committees and been given arms licenses. They contend that they will repeat what they had done to the Kashmiris in 1947. That's the extent of their hate. This time around, however, the Sikh community has stepped forward, saying that if needed, they would protect Muslims.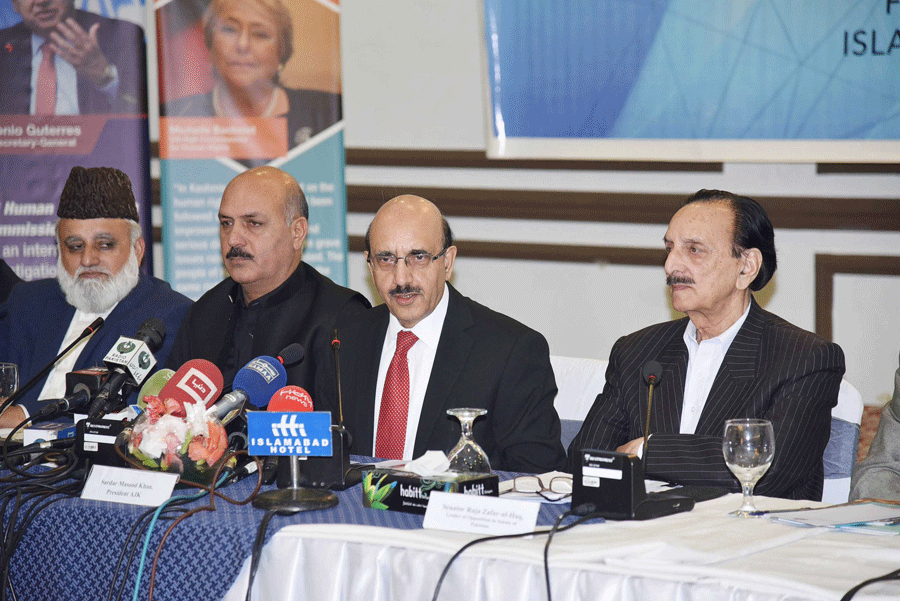 In Pakistan, many believe that the Indian belligerence owes to India's domestic compulsions and the upcoming elections. What is your take on this? 
This is the height of short-sightedness because the Indian leadership can't see beyond the elections. Narendra Modi's party is facing a great challenge [in the coming elections]and their extremist rhetoric has raised expectations. Many Indians say that Modi is a radical and aggressive leader and the kind they need for a strong India, that can confront Pakistan. But he may not get enough seats to defeat Congress. That's the reason Modi is using the card of religious extremism and fanaticism. This religious fanaticism has enveloped all the Hindus in India… They are all targeting Muslims, wanting to erase their history, their heroes, etc.  
Do you see internal conflicts in India intensifying? 
No country can become strong on the foundation of extremism. There are fissures in India… Violent extremist forces can tear India into pieces. They have [an oppressive and discriminatory] caste system and there are minorities. There are several [separatist] movements going on there. [Extremist Hindus] consider Muslims, Christians, Buddhists and Sikhs as their enemies along with Pakistan.
In your view, does the Modi government aim to change the status of Kashmir? 
They want to make their occupation of Kashmir permanent. During the 2013 election campaign, the BJP said that it would repeal Article 370 which gives slight autonomy [to Kashmir]. It also wants to repeal Article 35A which gives Kashmiris special privileges. 
To change the demographics in Kashmir, the BJP has formulated a policy to habilitate Hindus from other parts of the country. They are allocating separate areas for pundits – similar to the way it is done in Israel. They will do the same for ex-servicemen as well…Indian industrialists are being invited with the incentive that they will be given lease lands for 40 years to start businesses. 
Even pro-India Kashmiri leaders like Farooq Abdullah are now saying India must not hold Pakistan responsible for Pulwama-like incidents, but accept they are a result of their atrocities…
They have declared Mehbooba Mufti (a former CM of Occupied Kashmir) a traitor. Farooq Abdullah and Umar Abdullah are also now facing intense criticism. The National Conference or the PDP – and all those who supported India and trusted that the promises made to them would be kept, are now regretful. They have, in fact, been entrapped. Now they can't do a thing…They are perplexed because now they are being abused by their own people, and India is not willing to own them. 
The UN Security Council issued a statement in support of India after the Pulwama incident and appealed to the world to cooperate against terrorism. How can a legitimate freedom struggle like that in Kashmir be equated with terrorism? Surely the military personnel of an occupation army remain a legitimate target for freedom fighters.   
It's a complex problem. Following 9/11, the Security Council releases a statement whenever there are acts of terrorism anywhere in the world. The Security Council issued a statement when the Peshawar Army School incident took place in 2014. As a UN member, India must have raised the (Pulwama) issue for the Security Council to release a statement. India has made several efforts to hold Pakistan accountable and blame it for having links with Jaish-e-Mohammad, which it wants to be declared a global terrorist group.  
 In the 1960s and 1970s, the world recognised the right of self-determination and freedom struggle movements. But now states have stopped recognising and publically acknowledging them – which is a tragedy for the movements in Palestine and Kashmir.         
 There are UN resolutions that permit people to legitimately struggle against an occupying force…
 Article 51 of the UN Charter says "peoples" whose political status has not been determined, have the right to defend themselves. This right was established, and on the basis of this right all the colonised countries became independent. A concern that surfaced in the large federations was the question of how they would differentiate between the freedom movements or the right to self-determination and secession, because there are federations where thoughts, if promoted, could lead to partition within their countries, such as the case of Sudan and South Sudan or East Timor. 
But Pakistan's position has been expressed openly: people who are protesting in Occupied Kashmir do not fully fall into the category of terrorism. The Kashmiri struggle, which Pakistan supports, is a struggle through diplomatic and political channels. 
However, according to India's own admission, it has killed around 250 "militants" and 230-240 more indigenous militants still remain active. 
Ironically, India has repeatedly stated that with all the security measures, including fencing and surveillance it has put in place, for anyone to cross the LoC from Pakistan to India is out of the question. [So, by this admission] India is afraid of 230 alleged 'militants,' [it claims are currently in Kashmir], some of whom who don't even have arms nor any kind of help or supply chain, though it has 700,000 troops stationed there and more are being sent. They are afraid of the millions of Kashmiris who come out on the streets whether when someone is martyred or otherwise, to demand an end to Indian occupation.   
There have been studies that India is among the very few countries, who after 9/11, tried to crush the freedom struggle in Kashmir under the pretext of terrorism.
But this situation should not disappoint us. Despite making so many sacrifices and after the passage of 71 years, the Kashmiris have still not tired. Half a million people have been martyred and thousands of women violated, and yet they have not given up their struggle. They will not rest till they have achieved their independence. The UN Security Council and the Human Rights Council will have to pay attention to them.
Amir Zia is a senior Pakistani journalist, currently working as the Chief Editor of HUM News. He has worked for leading media organisations, including Reuters, AP, Gulf News, The News, Samaa TV and Newsline.
Next