Champa, of the mendicant community, sits a short distance away from the stage at the Zero Carbon Cultural Centre (Z3) in Makli, Sindh. She dons colourful richly embroidered and ethnic Sindhi garb, and nods in silent acknowledgement as her entrepreneurial achievements are lauded in front of a crowd of government officials, international experts in architecture and the environment, members of the press and university students. This, at the three-day Makli International Heritage Workshop, where the audience was taken through the journey that is Champa's life: from begging for a meal, to making and training others to use zero carbon eco-chulahs… from once living in destitution, to now owning her own car and over Rs 80 lakhs in her bank account, Champa embodies a true-life success story.
None of this would have been possible were it not for the fact that the CEO of the Heritage Foundation Pakistan (HFP), Yasmeen Lari, was invested in her and the other women in the community. The first female architect of Pakistan, Yasmeen Lari has had a long career in social justice and architecture, and her most recent project involves the preservation of Makli, the world's largest necropolis, and the people who live in the adjoining community. 
The Makli International Heritage Workshop, held in October 2018 — a collaboration between the Sindh Government, the Department of Antiquities and Culture and the Pakistan Council of Architects and Town Planners (PCATP) —  invited people from different industries, alongside community representatives, to spread awareness of the work they had been doing specifically in Makli, and to engage with people outside the community.  Shanaz Ramzi, the CEO of Starlinks PR and a trustee of the HFP, introduced the key players involved in the community restoration, and invited speakers on stage to share their part of the journey. The workshop also featured other speakers, consultants on the project such as architect Asad I.A. Khan and internationally renowned Iraqi architect, Dr Salma Samar Damluji, who was brought in specially to analyse the model used for the project. 
Once the site of diverse structures comprising the royal tombs of princes and kings, and domed pavilions and buildings with the most intricately detailed bricks and kashi (glazed tiles) — the damage wrought by the vagaries of time and official apathy had rendered the site a forlorn reminder of a glorious past. That is, before the HFP stepped in and launched their conservation efforts.  Beginning with 'Damage Assessment Missions' followed by assorted documented efforts aimed at conservation, the HFP, supported by the international Prince Claus Fund, has been able to slow down the deterioration and restore some of the kashi through a slight variation of the same construction techniques used to first create them.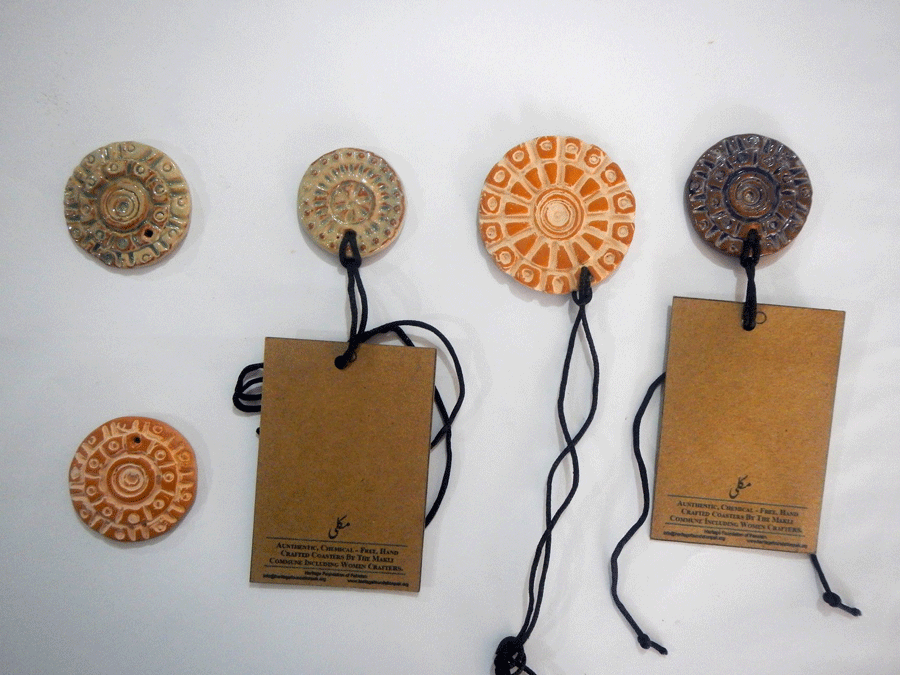 However, only safeguarding the Makli heritage was not enough for Yasmeen Lari. She learnt of the mendicant community, a settlement near the tombs consisting entirely of beggars, who were suffering from a lack of water, sanitation, malnutrition and thereby any chance for growth. It seemed antithetical to her that while so much care and such major efforts to preserve buildings were being carried out, people in such close proximity were living in devastating conditions.  
And so, with the support and financial backing of Safeeyah Moosa, the Founder and CEO of Spiritual Chords — a South Africa-based NGO — and UNESCO, Yasmeen Lari helped establish a thriving model for sustainable living and work under the PCATP. They employed the residents of the community to help create zero-carbon, disaster relief compliant (DRR) huts. This in turn had a threefold result: It instilled a sense of ownership among those involved, trained them to acquire useful skills and finally, to be self-reliant and fix their own homes if necessary. 
The Makli Heritage Workshop provided a guided tour of the LOG (LariOctaGreen) Shelters, which are huts made of mud, lime and bamboo —  all local materials and  constructed using local techniques. They do not add to climate change, as there are no carbon emissions, and are resistant to harsh weather conditions and most natural disasters, including flooding and earthquakes. Green eco-toilets, raised earthen platform water pumps — separate ones for washing clothes and for drinking —and fuel-efficient earthen chulahs  were made for the community to use and monetise. These eco-chulahs have double stove combustion chambers with an air regulation pipe, so no carbon emissions escape. Additionally, there are washing areas and space for utensils storage. 
Saad Khan, the CEO of Pakoswiss — an inclusive business that pioneers home water-testing kits, affordable disinfection systems and community-based water treatment systems — supplied the community with the SwissPak water filter, which merges a traditional earthenware pot with chlorination and carbon filtration. The women were taught how to use the filtration system, and the water, from then on, was fit for consumption. During the tour, the resident women and young girls wore tags with their names and their vocation, and handed out biscuits and homemade biryani in carefully constructed recycable newspaper boxes, and tea in deep-glazed ceramic bowls to the visitors.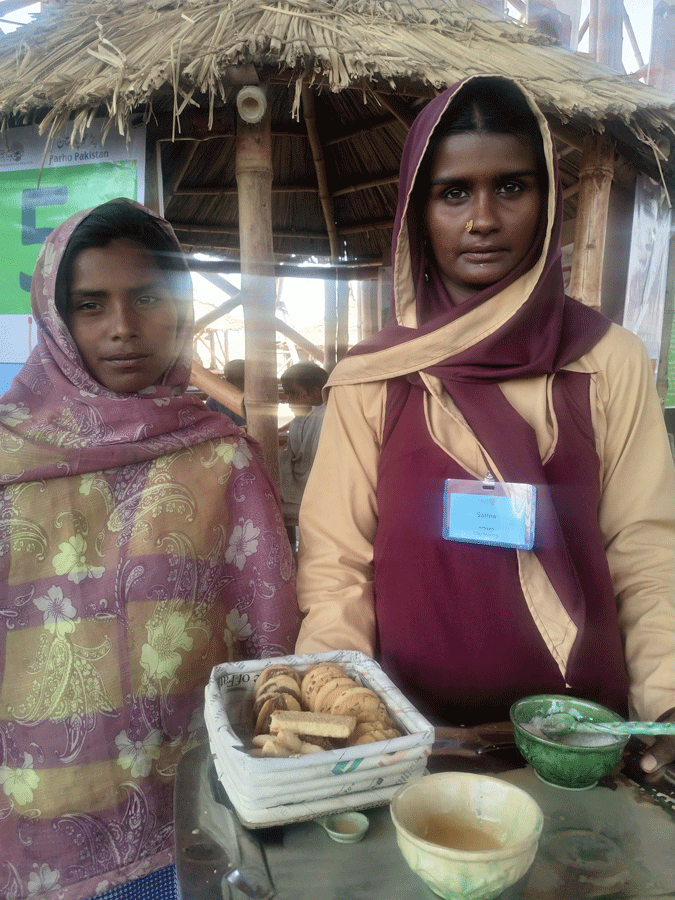 The guided tour led to communal gardens, where  people were encouraged to  cultivate vegetables, fruits and flowers. "Yasmeen Lari's ideas for rural development are trailblazing," said Safeeyah Moosa. "We need to be mindful of the sectors and areas in the country that are falling behind while the rest are developing, and this active stakeholdership engagement, is one way to involve children, women and men." 
Once the project got underway, there was a recognition of one more crucial need that remained: literacy. And so, the ZC3 where women and children are given primary education and taught vocational skills. The centre is a large architectural marvel made out of polished, curved bamboo, kashi and strategic cut-outs to allow for ventilation, and cool air to come through, without trapping heat. Classes are held daily to teach craftsmanship, artisanal jewellery, tile-making, stitching and many other skills, alongside basic reading and writing, ethics and civic responsibility. 
By teaching the inhabitants how to operate the many low-cost technical additions to the village, and how they can monetise these skills by teaching them to people from other villages, Yasmeen Lari has created viable and sustainable alternative methods for a productive livelihood. Kareema, another success story, is one more living example of this. She runs her own artisanal jewellery-making business, and has taught eight other families how to make and sell the jewellery. "I had never done anything like this before, but Madam Lari taught me, and so I learnt this craft and began to teach others. I also stitch clothes and take Rs. 200 for each item I sew," said Kareema. "I can now do any work."
And that is real empowerment.
Next