Profiles: Expat High Achievers
Success doesn't come by accident. The individual desire to excel or sometimes just to make a positive difference in society is what builds nations. Newsline profiles five exceptional and talented women of Pakistani origin who are doing Pakistan and Pakistanis proud in their adopted countries. And our moment of pride was when we had to short-list and choose these women from a diversified pool, as there was no shortage of individuals who fit our criteria: expat female Pakistani high achievers.
                                      *      *      *
Curry Queen
Patricia Forbes was born and raised in Karachi in an Anglo-Indian family, including an Irish grandfather. She went to Britain in the '60s and trained as a chef, working in several London hotels. "In England, I missed home cooking terribly. Having come from a family that prided itself on good fresh food cooked twice a day, it was a shock to the system when I realised that [in England] people had no time to cook and depended on convenience foods!" In 2001 she formed Bombay Authentics, a brand for British Curry Company, retailing ready-made curry in a jar. "A good curry in a hurry was a cry from busy mums — and I decided to make it. My motivation was simply that no good curry is found in a bottle. I first started making the sauces in my kitchen on a very small scale. I felt there were so many products on the shelves in the ready-made section that tasted nothing like the good curry that we are used to. There was no choice. So I brought out six basic sauces followed by three unique pickles and one generic paste." Now they market luxury curry sauces: Vindaloo, Tikka Masala, Madras, Jalfrezi, Rogan Josh, Korma and luxury chutneys and paste as well as sausages.
British Curry was launched on a small scale, targeting fine food stores, county fairs, fetes and consumer shows like the BBC's Good Food Show. However, the plans for a small cottage industry soon changed when demand for the products took off. A small online store was developed to cope with repeated orders but even this soon became swamped. The products are now sold nationally in the UK through a top retailer, Waitrose, and in a string of independent fine food stores such as Harrods, Whole Foods, Booths, Costco et al. Their export market covers North America, Middle East and Europe — a total of some 15 countries in all, including the US, Australia, UAE and Bahrain, and they are constantly adding new export partners. Patricia says she treats all customers the same and will even go as far as driving to an individual farm shop to do a delivery. In 2006, they won the Best New Exporter award from Food From Britain. For a small company with just five employees that sure is a big achievement. Patricia herself handles product development and sales.
Before launching British Curry, Patricia worked at the Flemings Hotel on Half Moon Street London, The Royal Trafalgar Hotel in Leicester Square and The Londonderry Hotel as well as The White House Hotel in the Channel Islands. She also ran a hotel on Herm Island in the Channel Islands for six years with her husband, whom she met at university and later married at the Karachi Holy Trinity Cathedral in 1974.
She explains that Indian food in the West refers to the entire Indian subcontinent, which includes Pakistan, India, Bangladesh and Sri Lanka. "Indian shops can be run by Pakistanis or Bangladeshis but are still called Indian. Bombay is a universal word that people from all over the world associate with curry. Even someone from a small island like say Bermuda or the Dominican Republic will immediately associate it with Asian food. Dad came from Bombay so I felt comfortable with the name." She adds, " If people ask me, I tell them I am Pakistani and that the food there is just too amazing! The first indication I had of the popularity of Indian food was when I was catering at school and was asked to prepare a lunch for all the university lecturers. I wrote to my mother in Karachi who came up the idea of a fantastic three-course lunch. She even sent me tablecloths from Bohri Bazaar. It was a sell out. I always believe you are never too old to follow your dreams. After bringing up my children, I needed a distraction, and I have never looked back!"


*      *      *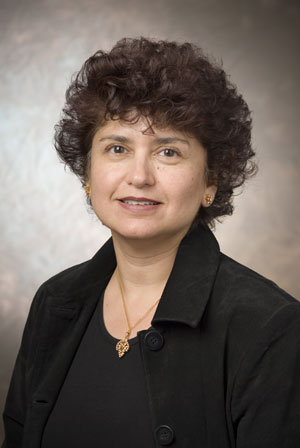 Breaking the Stereotype
It is difficult to highlight Dr Lubna Pal's achievements from her resumé simply because there are just too many to list and it seems unfair to choose one over the other. Daughter of renowned senior gynaecologist Dr Jehan Ara Pal, Lubna has been the recipient of various awards and honours throughout her illustrious career. She is currently an assistant professor at the department of obstetrics, gynaecology and reproductive sciences at the Division of Reproductive Endocrinology and Infertility at the Yale University School of Medicine. Her teaching and administrative experience also includes a stint as an instructor at Harvard Medical School. She says American and non-American colleagues alike are pleasantly surprised when they find out her heritage. "I personally believe (and hope) that I and other Pakistanis in the US are chipping away — in a positive sense — at the stereotype of Pakistanis in the international press."
Growing up in a family with parents who were not just physicians but also educators, Dr Lubna feels she was privileged to have the opportunity and flexibility to pursue her dreams. "At a subliminal level, I just remember knowing that medicine was the career for me. My mom has been an inspiration and a role model that I have strived to emulate in all facets of my life despite her earnest encouragements to consider alternatives. During my growing years, our lunch/dinnertime conversations invariably gravitated to interesting clinical presentations and riveting vignettes, much to my younger brother's (the only non-medical person in the family then) chagrin! Medicine, in general, and ob/gyn, with all its agonies and ecstasies in particular, thus seemed not just a career but a passion!" So it was with "open eyes and arms" that she embraced obstetrics and gynaecology and has not looked back since. "The career choice has been all that I had hoped for and more."
Having completed her house job at Civil Hospital, Karachi, Dr Lubna Pal proceeded to the UK for postgraduate training and hence did not get the opportunity to practice medicine in Pakistan beyond the training phase. She says she is embarrassed to acknowledge that the biggest challenges she faced in the initial months after shifting abroad were unrelated to the changing professional scenario but centred on learning simple lessons of life, like arranging food for herself. Life in the US held no big surprises but bringing up a family away from home and their extended family has probably been the biggest challenge she faced. "Career-related challenges pale in comparison to those faced by us as a professional couple with no social supports. I cannot acknowledge enough my husband's commitment and contributions in helping me achieve my goals."
We like to believe that the Pakistani doctors community is a powerful body in the US and Dr Lubna agrees that is the case. Pakistani physicians are not only contributing to the well-being of their local communities, but acting as intellectual think tanks by getting involved at the level of local legislative bodies. "They are reaching out and participating in initiating inter-faith dialogues and attempting to clarify misconceptions relating to Islam and are at the forefront in generating funds to support various causes within Pakistan. I believe that each one of the Pakistanis settled/working abroad is representing our country/society as an ambassador. As a Pakistani woman pursuing a career in academic medicine I am able to explain to those I interact with that Pakistanis are far from the intolerant, suppressive, aggressive and militant people that the press has made them out to be and that Pakistani society is no more oppressive against women's progress than any other. The idiosyncrasies of a handful must not be perceived as the norm for any community!"
Dr Lubna is also a visiting faculty member at Dow University, Karachi. Given that her affiliation with her alma mater in the capacity of a visiting faculty is very recent, she feels it would be premature to comment on similarities and differences between the American and Pakistani systems just yet. She was, however, heartened to witness the strides the institution has made since she was last here in 1988. "The streamlined infrastructure and well laid out curriculum shows huge progress since my medical school days at DMC. I had the opportunity of speaking to the postgraduate students and faculty at Dow and was heartened by the intense attention and interest exhibited by the trainees. This visible quest for knowledge is not always readily apparent in trainees at premiere institutes in the West."
*      *      *

In the Line of Beauty
The Rosemead Beauty School, located in Rosemead, California, is known for its programmes in beauty and cosmetology. The school is a private institution with a large minority student population, many of whom are over 40 years old. It provides high-quality education in cosmetology, manicuring and skin care that prepares students for the California state licensing exam, which they need to pass in order to be eligible for entry and employment in the field. Munni Alvi Irone ran the school for over two decades with her husband Anthony Irone, but sold it about two years ago when her husband got sick and their son decided he did not want to take it over.
Munni says there were 25 students on board when she joined but the enrolment expanded to over 200 in a short while, which is the maximum number of students they would take at a given time. "It was a model school for the United States so much so that we never had to spend too much money advertising it because we were always full."
She also founded Munni's Advanced Academy which she describes as a mobile school for holding national and international seminars on various topics. "I have been working five days a week for the last 30 years and have been a vegetarian for 27 years." As a result, she has maintained the same body size she had when she was 18. "I eat healthy and preach the benefits of exercise and diet and their effects on mental, physical and emotional maturity."
She says she was the first person to write the 20 cardinal rules for hair-cutting and, while working with her students, participated in 75 different competitions of which she won 74 in various categories like hair-cutting, hair-colouring, nails etc. She says she was a California champion and has trained the Korean team for the Hair Olympics. Her students have also competed in and won countless other competitions as well as the Hair Olympics four times — something that she says has never happened with any training school in the US. "I work hard because I don't like to fail. My kids have labelled me a classic prototype for a type-A personality!" The training of a student without legs was the highlight of her career. "When the student got her license on the first attempt and Channel 7 gave it coverage on the news, I was very proud of my achievement. I have also trained several dyslexic students," she says.
Munni speaks fluent English, French, Spanish and Urdu and has also written extensively on health and beauty for various publications. She has written a guide on taking the cosmetology exam for national and state testing and an aesthetician exam review as well as a textbook on nails — The Ultimate Nail Guide. These are lesson-planning books and are available in Spanish and English. With the proceeds of her new book she plans to open a shelter for battered Muslim women in Glendora, her hometown, because it is a topic close to her heart. As a teenager in Pakistan, she was married at 19 to a man who abused her violently. Finding strength from her work and books by Krishnamurti, whom she idolises as a saviour, she gathered the courage to run away from the brutal relationship with only her kids in tow and the car she was driving. "It was one of the best decisions of my life; otherwise my kids would have been destroyed by the home environment."
Munni's formative education was in Karachi and she feels lucky to have been raised in Pakistan as she strongly feels that the reason she has been able to retain her family values as compared to her siblings, who were raised in the US, is her exposure to Pakistani culture. She feels Pakistanis in the US are doing well for themselves and if these brains had stayed behind in the country they would have been instrumental in national growth and development. "But in Pakistan, art and education are not valued. Educated people have tried to go back but life is very hard. I was there on a visit a few months back. People could not finish the work I had outsourced because the power kept going off. How can industries survive in such a scenario? Electricity is a basic necessity. During my time in the 1970s, it was rare for power to go off but now in 2010 it is worse!"
*      *      *
Your Guide to Healthy Food
Shafaq Jawed is the first Pakistani dietician in New South Wales, Australia, and works at the Royal Prince Alfred Hospital — the largest hospital of the State. Shafaq says she always wanted to be a dietician. In school in Karachi, she consciously chose to study food and nutrition after the seventh grade. "All my friends chose literature or commerce which was the 'in' thing at that time, but I had always been interested in food and nutrition. I was not very interested in science but anything related to food interested me and topics like physiology, digestion, absorption, the effects and deficiencies of different nutrients fascinated me. I was also very fond of cooking, so when I learned that we will be doing things practically, it excited me." After graduating from St Joseph's Convent, Karachi, Shafaq enrolled at the the College of Home Economics, promising herself to get out of there only after completing her masters in food and nutrition. She feels there were many hurdles and discouragement throughout her studies as hardly anyone knew what a dietician was in those days. People gave discouraging comments regarding job opportunities, pay scales and even the degree. At that time, Aga Khan was the only hospital with an entire department of dietetics and Shafaq was hired there right after graduation. Her responsibilities included selecting suitable diets for patients, running tray lines, checking for any unsuitable food given to patients and giving diet consultations to patients according to their weight and disease.
Shafaq got married in December 2005 and moved to Sydney, Australia. She says when she started working there she was shocked to know that hospitals were still working on the DOS version of nutrition software. "I was very proud of my country because there I had worked on Microsoft Windows and the most advanced software. The new system has been implemented here only recently and it feels great to know that I am the only person in the office who is already trained in the technology due to my Pakistani work experience." Shafaq says she was also surprised to see that the psychology of the patients, staff and food services in the two countries is hilariously similar. Patients have the same complaints: they expect five-star restaurant service, are never satisfied with the variety and taste of hospital food, and the food service staff always blames the dietician for their mistakes! However, one thing that is different in Australia is the treatment of patients. If the patients are reluctant to change their eating habits or lifestyles, dieticians do not force them and make amendments in the diet plan to suit the needs of the patients. "It was the other way round at Aga Khan. We used to force and, if needed, threaten the patients. It was in Australia that I learned about giving food alternatives and recommending small portions of restricted food rather than depriving them of their choices," says Shafaq. "Gradual changes have more impact on their life rather than a 180-degree change, which only results in stressing out the patients and making them give up on the entire consultation. The idea is to work around the patient's lifestyle rather than forcing them to adopt the lifestyle you want them to have."
Though Shafaq is very proud of her practical work experience in Pakistan, she expresses her disappointment with the academic training. She feels that in spite of having expert, foreign-qualified teachers the teaching methods in use were primitive. There was no such subject as community nutrition in the college, whereas it is thought to be the most important subject all over the world. A thorough understanding of community nutrition was compulsory to pass the Australian exam but for Shafaq it was embarrassing to find out that dieticians, even from other developing countries, thought she was kidding when she said she had no background in community health. "I don't know why community health is ignored [in Pakistan]. Maybe the needs of the people are not important or the agencies have no proper systems to follow."
Shafaq feels she has never experienced any discrimination from the Aussies, be it at the workplace or during general interaction. "I am a government employee here; they could have chosen anyone over me for this job, but their decision was made on merit. They are a very warm and friendly people and respect all cultures. In fact, I have found Pakistanis to be quite blunt in dealing with locals here, which can be quite embarrassing at times. We still have not aquired the simple manners of greeting or smiling at others."
*      *      *
Legal Eagle
Samia Kirmani grew up in Brookline, Massachusetts, a suburb close to Boston. After graduating from Tufts University with a bachelor of arts in international relations, she spent a year working for the Bar Association of San Francisco's Volunteer Legal Services Programme. She then chose to acquire a law degree from Boston College Law School. After clerking for the Superior Court of the Commonwealth of Massachusetts and subsequent years of law practise, she is now a partner at Jackson Lewis LP, an American labour and employment law firm.
The layman's perception of an American lawyer and a corporate one at that is straight out of John Grisham's novels. But what exactly is a typical day like for an American lawyer? Is it really all about the billing and having your nose in the grind 24/7?
For Samia, it is nothing like that. She says she works in an office which is one of 45 Jackson Lewis offices around the country, with approximately 20 other attorneys. Her area of expertise is defence and counsel of employers in employment matters. She provides employment counselling, training and litigation on behalf of management, offering practical legal advice to clients on various employment law issues, including disability management, discrimination, reductions in force, retaliation and whistleblower matters, individual separations and employee relations issues. She also assists clients with various policy issues and conducts management and employee trainings on various topics in employment law including sexual harassment prevention and best management practices.
As for hours, she says she generally works the standard office timings on weekdays. Often, she has to work again after her daughter, who is 18 months old, goes to sleep at night. "That said, if there is a client need, I will work late and on weekends in order to meet it. After all, like any other service professional, I try and provide the best client service that I can and if that means working long hours and weekends, that is what I do.
"For two years, Samia has served as the president of the South Asian Bar Association of Greater Boston (SABAGB), which is the Boston chapter of the North American South Asian Bar Association (NASABA). NASABA serves as a link between South Asian lawyers and the South Asian community across North America with the aim of protecting the rights and liberties of South Asians across the American continent, providing creative business solutions for them and as a platform for understanding their motivations and goals by providing a network of specialist lawyers to the community.
Being very active in the South Asian legal community professionally, Samia strongly believes that diversity of background is actually appreciated and sought after by mainstream businesses and organisations in the US. Therefore, her being of South Asian origin has, if anything, helped her professionally. "I don't think that people react to me negatively because I am Pakistani. I actually think it is just the opposite. I do not think that I had to face any stereotypes about South Asian women because when I was growing up in the 1980s, there were not enough South Asian women around in order for there to be a stereotype about them. Therefore, I believe I enjoyed the benefit of being able to develop without any preconceived stereotypes held by others. I am not sure that is the case for those 10-15 years younger than me, as by then, there were many more South Asians in the Greater Boston area. I can only surmise that my parents' objectives for moving to the United States were to pursue education and to provide opportunities for themselves and their children. I would imagine that their objectives have been realised as they were educated and we are all doing fine."
Next