The big trends to emerge at PFDC Fashion Week 2010 in Lahore.
Jumpsuits: The biggest trend that emerged at the PFDC Fashion Week for this season was jumpsuits. Introduced by Feeha Jamshed at Fashion Pakistan Week last November in Karachi, the garment bloomed this year as a number of designers sent their own interpretation of the garment down the ramp. Loose, belted, gathered at the waist, skin-hugging, strapless, single shoulder, kimono-style — the garment ruled the ramp in all shapes, forms, colours and sizes. Kamiar Rokini, Khaadi Khaas, Faraz Mannan, Feeha Jamshed, Iman Ahmed, Sara Shahid, Sadaf Malaterre, Ammar Belal — in short, the garment appeared in almost all collections. However, the fact that it feels most at home in Feeha Jamshed's hands became glaring. She treated the garment so ingeniously that it seemed she can cut a sparkling one in her sleep. After all, she introduced the trend locally.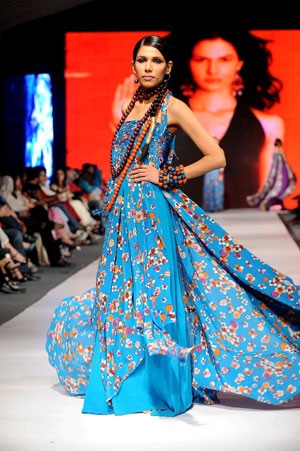 Flow: There was so much flow at the PFDC Fashion Week that if fabric were to be converted into water, it would have inundated the city of Lahore. Layers, panels and more layers and panels dominated the long silhouettes of most collections.
Incidentally, there were more panels in the collections than any wooden floor of an ancient palace could boast of. Almost all long shirts in the eastern silhouette — and there was no dearth of them — comprised panels. A 'Panel Week,' dedicated to this phenomenon, would be in order.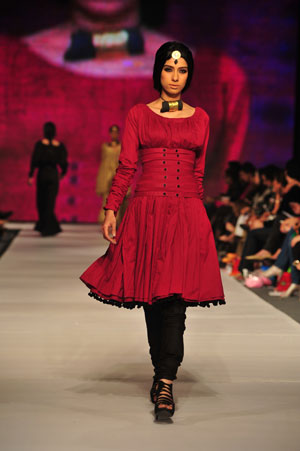 Chooridaar: Wrinkles became highly fashionable this season. In sleeves and pajamas alike, the chooridaarmade its presence felt.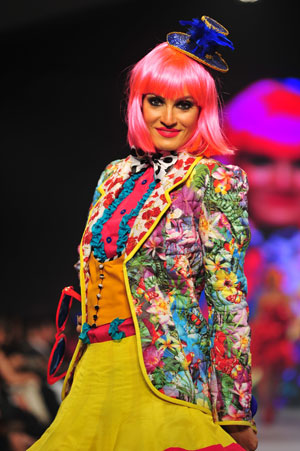 Colour: The lack of one colour as the colour of the season stood out in all collections. Designers chose their own shades and failed to agree on a single colour with which to flood the season.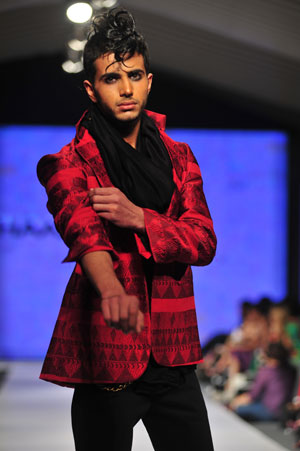 Craft conservations and modernisation: There was a conscious effort on the designers' part to use the country's indigenous crafts to highlight our rich heritage and to preserve and contemporarise these crafts and find international markets. Nicki Nina used traditional Swati embroidery as the salient feature in their collection. Kamiar Rokni introduced rilli (patchwork) and ajrak to adorn his collection. Shamoon Sultan of Khaadi Khaas explored Ikat weaves and motifs, while Yahsir Waheed employed tie-and-dye to enhance his collection. The clever employment of all these crafts became one of the high points of the PFDC week, sending a clear message that if given design value, these crafts can create wonders in fashion.
This post is a sidebar within a larger article: "Blow Haute, Blow Cold".
Next