Nature has always been one of Aliya Chinoy's key areas of interest. She paints the kind of images that take one back to that perfect quiet Sunday picnic from the journal of childhood memories: close-ups of flowers, rippling water around rocks, and the sky in all its exquisite beauty.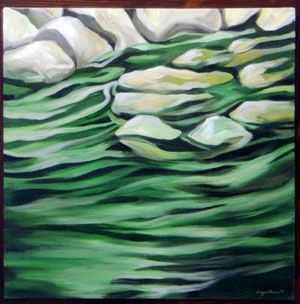 Aliya Chinoy's recent exhibition at Zenaini comprised serene art works displayed on dark wood panels that made the viewer sink into a Zen state of mind. The best thing about this show was how simple, focused and non-pretentious the canvases were. Chinoy's work is remarkable in that the viewer can palpably feel the unbridled elation the artist must have experienced while creating this body of work.
Chinoy received her education from the Putney School of Art and the Chelsea School of Art and Design in the UK, and then transferred to Moore College of Art and Design in Philadelphia. She recently finished her postgraduate studies in education.
Chinoy is a Karachiite to the core but has lived and worked as an art teacher in Islamabad for four years. The lush and beautiful Punjab landscape seduced her into creating works that make people stop and take in the joy of simple beauty.
Chinoy's present work is not only pleasing to the eye, it is also thoughtful; it draws parallels between nature and certain aspects of the human condition. With works titled 'Memory,' 'Destiny' and 'Crossroads of Love,' the artist makes insightful observations about nature and human nature. This body of work is a visual retreat for the dwellers of this concrete jungle called Karachi.
Next