Newsline's twentieth year proved to be an extremely lucky one.
The publication bagged four more APNS awards in March. This makes a total of eight APNS (All Pakistan Newspaper Society) Awards handed out to the small monthly this year, beating all other competing publications in the run for those categories. The awards covered two publication periods: 2005-2006 and 2007-2008.
It was a record of sorts for Newsline — and one presumes for the APNS record books too.
In February, the winners of the 18th APNS Journalist Awards were announced, and Newsline came away with four honours: Best Business/Economic Investigative Report (Ayesha Siddiqa), Best Scoop (Ghulam Hasnain), Best English Column (Mahir Ali), and Best English Feature (Ziad Zafar).
And Newsline followed it up with four more 19th APNS awards. (The Daily Jang ran a close second with three awards).
Newsline won for Best Business/Economic Investigative Report (Farieha Aziz), Best Investigative Report Development/Environment (Shimaila Matri Dawood), Best Feature Award in English (Zainab Iqbal) and Best Scoop jointly awarded to Salam Dharejo from Newsline and Sajid Ali from Family Magazine.
Shimaila Matri and Ghulam Hasnain are second-time winners while for the rest, like the very young Farieha Aziz and Zainab Iqbal, it's their first win. The stories, ranging from the army's corporate interests (by that intrepid analyst Ayesha Siddiqa) to the roaring piracy business (by a very bright young reporter now working for the Guardian's documentary unit in London) to life below the poverty line (by journalism's bright star Shimaila Matri Dawood) to "Ladies First" (by our man Down Under, Mahir Ali), covered the whole gamut of issues Newsline has focused on in its two decade life.
Over the years, Newsline has dedicated itself to providing independent and honest reporting and analysis, and that philosophy has helped it earn many national and international accolades. The latest industry acknowledgments reinforce the publication's reputation for top-notch journalism.
The eight awards come as Newsline celebrates its twentieth year as an independent monthly magazine. In the present media environment, where print publications compete against not just each other but also television, radio and internet outlets, the recognition highlights the relevant in-depth journalism that is still being done in the print media in Pakistan. Of course, putting out a magazine regularly for two decades is a collaborative effort.Newsline would like to share its success with all the writers, editors, designers, business team members and readers who have supported and contributed to Newsline over the years.
These APNS awards were handed out for articles published during 2005-06 and 2007-08. An impressive panel of judges consisting of academics, writers and broadcasting executives adjudicated the recognised awards competition.


Read the award-winning articles here.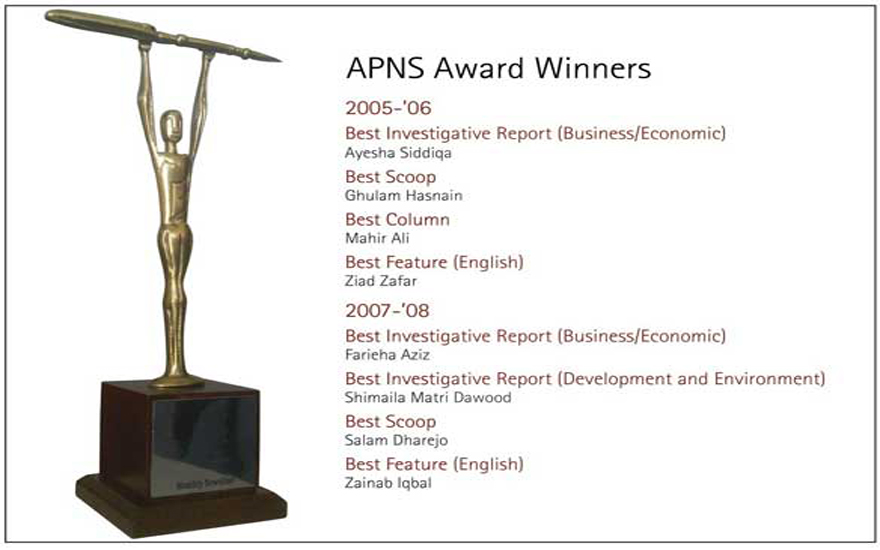 Next