Mohsin Sayeed picks seven of his favourite collections from PDFC Fashion Week.
Iman Ahmed of Body Focus:
'Flights of Fantasy and Escape' was a symphony in the eternal dignity of black and white. It superbly blended flow and drapery with structure in the form of clever tailoring. Ahmed chose digital prints of Grecian imagery to adorn silks. Although she didn't introduce anything new or exciting in terms of silhouettes or cuts, her collection was stylish, comfortable, extremely wearable and safe. Intrinsically Iman, I'd say.
Yahsir Waheed:
A hugely exciting collection, this was a true tribute to simplicity and the 'less is more' philosophy. Yahsir used the age-old craft of tie-die in black and white to portray the confusion and chaos in our society. Slashed ribbons, used as embellishment, conveyed the destruction by extremism. Draped tops, togas and long dresses in breezy chiffons brought fluidity to the flowing silhouettes. Hooded tops and baggy harem pants created a balance with the drapery. What seemed clichéd was the use of slogans like 'Je ne suis pas terrorist' and 'education not bombs.' But soon it paled into insignificance as the soothing whites, greens and shades of blue began appearing on the ramp, depicting the transformation from chaos and destruction to peace and serenity. Yahsir's collection showed his understanding of fashion as one piece flowed into another, highlighting the journey. It also highlighted the importance of a tightly edited collection as no piece seemed out of place.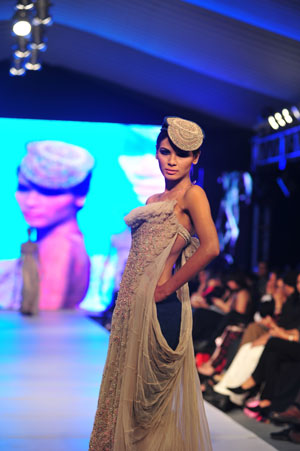 Mehdi:
This collection was an ode to romance in just two colours: beige and rose pink with a hint of black. Laces, frills, smocking, embroidery, and ruching — all these elements came together to enhance an elegant and understated collection. Reminiscent of gypsy bohemia, Mehdi's intelligent use of tiers in tops to create the right amount of volume was rather innovative. Sharp tailoring in dresses fused with chiffon-frilled robes enhanced the impact. This collection announced Mehdi's mastery over his craft.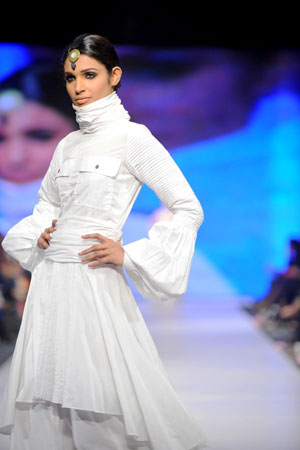 Feeha Jamshed of Teejays:
She sent her 'Diamond City' collection down the PFDC Fashion Week ramp. It was an ode to Lahore — and what a lovely ode it was. The highlight of the collection was Feeha's imaginative use of sleeves — bat, Turkish, ballooning, bell, straight. There wasn't a single garment that was sleeveless, halter or half-sleeved! She brought back the romance of sleeves in fashion. She proved that if done stylishly and imaginatively, sleeves can prove to be a big style statement. Another salient feature of her collection was the fact that nothing except cotton was used to create various silhouettes. Her floor-sweeping voluminous numbers in solid blacks, her chic cinched-at-the-waist jumpsuits, chooridaars and palazzo pants all flowed on the ramp with extreme elegance, along with sharply tailored jackets with pockets, and shirts in grays and khakis that marched with upright postures. A selective use of bold prints added vibrancy to an otherwise solid-hued line. Feeha's flair for flare emerged gorgeously in the long flowing jackets with huge lapels and the short Rajasthani style short angarkhas. But she added her twist by layering and adding more volume in the form of palazzos, pants and bells. She conveyed the message that completely covered and layered clothes, at times, can be far sexier, elegant and international. A truly ramp-to-racks collection, which could sit comfortably in any fashion store in the world, proudly announcing the arrival of the brand 'Made in Pakistan.'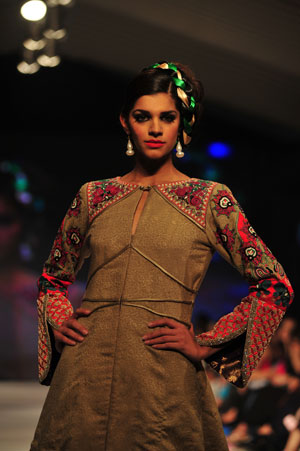 Kamiar Rokni:
Remaining true to his philosophy, Kamiar incorporated South's Punjab's ethnic motifs in his collection as highlights and gave them an edgy, stylish twist. Rilli (patchwork) and ajrak prints adorned the outfits. Cuts ranged from eastern to western; the volume beautifully blended with sharp cuts, lent the collection an irresistible allure. From straight mid-thigh shirts to ankle-kissing flowing tops — There were sartorial solutions for all occasions — from a lunch to a ball. Black, khaki, white and fire-engine red with just a dash of emerald green and purple, dominated the palette. A long sherwani in red with purple rilli deserves special mention. Comfortable and elegant, the collection screamed 'Kamiar.'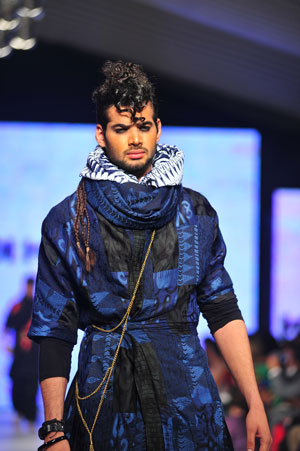 Khaadi Khaas:
Robes, wraps and drapes! Shamoon Sultan of Khaadi Khaas sent a wonderful collection down the ramp using the gorgeous ikat in weave and screenprints. The marriage of textile and fashion design worked extremely well. Long robes highlighted with ikat in vibrant reds and saffron, and long dresses in bold prints set the ramp afire. Numbers in deep indigo, black and white were simply breathtaking. Ikat has never looked so stylish before; Shamoon lent the craft his Midas touch. The brilliant use of ikat, blended with interesting cuts like hooded-tops, long coats and jumpsuits, was a very ingenious way of contemporarising an age-old craft in a modern silhouette that will work anywhere in the world. Occasional men's jackets in the same weave in red and saffron could take the international market by storm. I particularly fell in love with the gorgeous scarves, which can be marketed as separate items.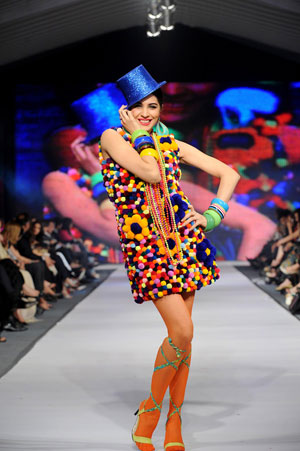 Nomi Ansari:
It seems Nomi Ansari has decided that in every fashion week he will startle us with a new side to his design philosophy which, hitherto, remains a secret. In Fashion Pakistan Week, Nomi impressed the fashionistas with a structured line in black. This time, he decided to surprise them with his playful colour sense in a modern, sexy and chic expression. 'Social Circus,' the aptly titled collection, drew inspiration from the playful, dangerous and edgy side of a circus. Flowers, animals, a burst of colours…all blended to create an extremely naughty collection which showed the lighter side of life. Short-sequinned dresses worn over vibrantly hued leggings, quilted jackets and frilled dresses in organza injected a heavy but much-needed dose of vivaciousness. The red cocktail dresses, adorned with red and rust rosettes of organza, and sequinned flapper dresses spoke volumes of Nomi's passion for colour and form. For the first time in Pakistan, Nomi showed that clothes could be witty and lighten wardrobes and lives alike.
This post is a sidebar within a larger article: "Blow Haute, Blow Cold".
Next