Movie Review: The Magnificent Seven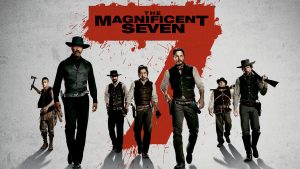 A modern interpretation of John Sturges's Hollywood Western classic made in 1960, The Magnificent Seven was originally a remake of Japanese director Akira Kurosawa's masterpiece, the Seven Samurai. The contemporary take on the cowboy film boasts a stellar rainbow coalition cast, with African-American actor Denzel Washington in the lead role of Sam Chisolm, a bounty hunter.
Set in the days of yore in old cowboy West when industrialists were more bare-faced about their ambitions, a small mining town by the name of Rose Creek, is trapped in the clutches of a known renegade capitalist, Bartholomew Borgue (Peter Sarsgaard). Since poisoning the village water supply wasn't enough to compel the townsfolk to leave, the mining baron makes clear his intentions to forcibly take over their lands rich in gold — for a pittance. With the help of the thugs under his employ, he kills the few who try to resist, including the husband of Emma Cullen (Haley Bennet). As a parting shot, Bartholomew burns downs the church, promising to return soon to clinch his deal.
In search of help, the widowed Emma comes across Chisolm, who agrees to rescue her defenceless hamlet in exchange for all the villagers' worldly goods. On his way to the hamlet, Chisolm convinces six other highly skilled mercenaries, bounty hunters and gamblers to get the village battle-ready for Bartholomew's expected army of goons and free it from his evil mining company. Soon enough they discover that the oncoming battle is more than just about the money.
Alas, despite the sheer talent of The Magnificent Seven star-studded cast, including Josh Farraday (Chris Pratt), Goodnight Robicheaux (Ethan Hawke), Jack Horne (Vincent D'Onofrio), Billy Rocks (Byung-Hun Lee), Vasquez (Manuel Garcia-Rulfo) and Red Harvest (Martin Sensmeier), the new version lacks the cinematic depth of the original, which too had a line-up of Hollywood heavyweights. The current version seems to implode under its own weight.
There is nothing fresh or original in the remake, except for the ethnic diversity of the band of seven hired mercenaries, who are protecting an all-white town from a white, cut-throat capitalist villain. However, the theme of a hapless people being protected from the big bad wolves by a brave band of men has universal appeal, so don't be surprised if it performs well at the box office. Its horse-riding, gun-toting stunts are what lift the sagging spirit of the film. The only heartening thing about the movie was the seven, tough men trying to train a small town's half-starved farmers how to fire a gun for the inevitable violent showdown.
The writer is working with the Newsline as Assistant Editor, she is a documentary filmmaker and activist.
Next