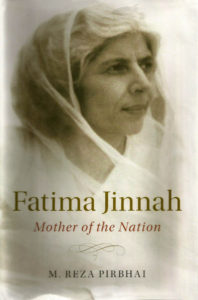 As Pakistan gears up to commemorate the 70th year of its existence, another anniversary has quietly slipped away — the 50th death anniversary of Fatima Jinnah which fell on July 9. Of Muhammad Ali Jinnah's six siblings, it is only Fatima Jinnah who is seen by his side in photographs, an attestation to the special synergy they shared.
Like other significant dramatis personae in Pakistan's history, this extraordinary sister of the founder of the country is well known but little understood. In the mind of the nation, she represents the stereotype of sisterly devotion. This perspective severely limits the nuanced life and personality of the independent-minded Fatima Jinnah. But redress is at hand in the form of the first scholarly biography of Fatima Jinnah titled Fatima Jinnah: Mother of the Nation, written by M. Reza Pirbhai.
Reza Pirbhai is currently associate professor at Georgetown University's School of Foreign Service in Doha. He has an earlier (2009) book to his credit, Reconsidering Islam in the South Asian Context, as well as many academic articles.
Pirbhai's study of Fatima Jinnah aims to relocate her within the broad context of South Asian national and gender politics. Pirbhai "seeks to retrieve Fatima from academic obscurity to place her in the discourses of the 'new' and the 'forgotten' women of South Asia and Islam." He approaches this task by scouring primary sources such as the Mohtarma Fatima Jinnah papers, accounts by her contemporaries, and other published material.
Pirbhai traces Fatima's evolution from her birth as the youngest child of a Khoja mercantile family into an independent young woman and social activist and — in the later stages of her life — a disillusioned elder. He streamlines her biography with historical and theoretical analysis so that gender becomes centralised within the nationalist discourse, as debated by theorists such as Partha Chatterjee and Shahnaz Rouse.
The cosmopolitan influences on Fatima's personal development included her stays in major Raj cities such as Karachi (where she was born in 1893); Bombay and Calcutta, her Convent education in Bombay (insisted upon by Jinnah) which gave her fluency in English, her exposure to books in Jinnah's library in the Malabar Hill house, etc. Unlike her three sisters whose lives followed the conventional pattern of marriage, Fatima remained single and chose to take a professional route by enrolling in a dental school.
Following Rattanbai's death in 1929, Fatima relocated to Jinnah's house from her sister's home in Bombay in order to manage her brother's household. The eldest and youngest siblings were already united in their urbane outlook and cosmopolitanism. By sharing a home, they became lifelong companions and partners in the unique enterprise that led to the independence of India and the formation of Pakistan.
Fatima Jinnah and other women such as Jahanara Shahnawaz, Shaista Ikramullah, Princess Abida Sultan etc., were vigorous participants in the nationalist movement. In fact, Pirbhai makes the strong assertion that it is "no exaggeration to conclude that without women like Fatima, Pakistan could never have survived its birth." Against the background of political developments, he extrapolates on theoretical considerations that defined the Muslim "new woman" who played such an important role in the creation of the "imagined community" of Indian Muslims, whose self-perceptions enabled the idea of a separate nation-state to be imagined.
Pirbhai traces the role of 19th century clerical reformers such as Ashraf Ali Thanvi, as well as the non-clerical reformers such as Sir Syed Ahmad Khan. He demonstrates that their roots emerged from the Deobandi school of Shah Wali Allah. The nurturing qualities of women as householders were strongly emphasised. The clerical and non-clerical reformers diverged, however, on issues of purdah, women's education and polygyny. The two strands of Islamic revivalism differed in their adherence to premodern practice.
Fatima's epithet as 'Mother of the Nation' is consonant with the Islamic reformers' trope of woman as nurturer. Her life choices, however, speak of a broad inclusionary outlook that harmonises more with Iqbal's vision of how to be a Muslim. Fatima did not veil herself; she became a public figure in her own right as convener of the Muslim League Women's Sub-Committee and facilitator of several other organisations. Pirbhai surmises that New Islam promised women's rights, and as much as it fuelled the Pakistan Movement, it "did not diminish the capacity of Muslim women to develop a modernising feminism."
Fatima, by being what she was, stood for a democratic and ecumenical Pakistan. The new country's failures to consolidate democratic norms left her deeply disillusioned. In the chapter called 'Democracy and Dictatorship,' Pirbhai teases out a puzzling contradiction in Fatima's political stance with reference to General Ayub Khan. Fatima initially endorsed his bid to power but subsequently became disenchanted. This woman of stature, who had hitherto kept away from political office, accepted the offer made to her by the Combined Opposition Parties (COP) to contest the General in the 1964 elections. Ironically, one of the parties in the COP alliance was the Jamaat-i-Islami, whose Deobandi ethos was a complete mismatch with the progressive Muslim woman's image represented by Fatima Jinnah.
Such contradictions raise many existential questions regarding the roadmap for imagining a nation. Fatima Jinnah: Mother of the Nation is an erudite study of the formative state of Pakistan as observed from the lens of biography. It challenges the ideological straitjacket which vested interests continually promote to reduce liberal parameters for defining women's rights and democracy. As such, this book is a worthy 70th birthday gift to Pakistan. n
Next