"This is not just the story of one Laxmi."
Interview of Laxmi Narayan Tripathi by Deneb Sumbul.

At first sight, Laxmi Narayan Tripathi might make you blink. Six feet tall, draped in a glittering, shocking-red sari and bejewelled to the hilt, Laxmi towers over a crowd that is very eager for selfies with her, as an impatient media pushes for sound bites. 

Bold, brash, and 'beautiful' (in the eyes of some of her beholders); Laxmi's band of admirers multiplied after two engaging sessions at the Karachi Literature Festival (KLF).  This was her second trip to Pakistan. Earlier, she launched her book Me Hijra, Me Laxmi at the Islamabad Literature Festival last year.

Interestingly, just before her first KLF session began, she proceeded to re-touch her bright red lipstick on stage — in full view of a 400-plus audience. Her razor-sharp wit and guts won over the crowd. 

Laxmi is determined that she be recognised as a hijra. Never mind her sequinned acrylic nails and scarlet lipstick, she is an activist to the core and perhaps one of the loudest voices to be raised for the rights of the transgenders in the region. If anyone can bring her community into the mainstream, it would have to be her. In one of his writings, Salman Rushdie called her "a force of nature."

Born in an upper-crust Brahmin family, Laxmi received the finest education. After a postgraduate degree in Bharatnatyam, she began her career as a dance instructor but gave it all up to become a bar dancer after coming into contact with the hijra community, which eventually led her to becoming a hijra by choice in 1998. While her parents were considering marriage proposals for her, Laxmi `came out' during a media press conference — fully decked up in women's clothes and full makeup. It was then that her parents learnt about her sexual orientation. After their initial shock, they took it in their stride. Now, Laxmi calls her father a real macho man because, according to her, he not only sired a boy and a girl but a transgender as well. 

Apart from representing her gender at several national and international forums, Laxmi also set up her own organisation, Astitiva, in 2006 with fellow activists, for the welfare and development of transgenders. In this interview with Newsline, Laxmi speaks about her life as a transgender.
How has the hijra community fared in India?
My community pays a price just for being honest — that of social exclusion. People make a mockery of us. Parents disown children like us; they are made to feel unwanted in their homes and in society. They end up begging on the streets, only to be sexually abused. Later, they resort to selling their bodies for survival. Why should a child have to pay the price for being truthful? Special and disabled children exist in this world — nobody throws them out. Our sexuality may be different but there is a rich hijra culture in both countries.
Wasn't the hijra community an important part of society some 200 years ago? 
Yes. In pre-colonial India we had an enormous presence. One of Bahadur Shah Zafar's generals was also akhawaja sara. When the British attacked the Lal Qilla, 500 khawaja saras lost their lives defending the harem. Only the Rani was left. We were exterminated by the goras (whites). It's so ironic that I'm here because of a British publishing house.
So you hold the British responsible for your present plight?  
Of course. It was the British who introduced in 1860 Section 377 in the Indian Penal Code (which criminalises sexual activities that are 'against the order of nature'). One of the first persons to be convicted during the British Raj was a hijra. Also they introduced the Law of Inheritance, whereby women didn't exist. The inheritance was passed from the father to the son. They introduced the ideology of the Church of England. In our Sufi culture, even Islam speaks of the third gender, as does Hinduism. Moreover, even the Bible mentions eunuchs. But the British couldn't digest what deviated from their own culture and the Church of England's ideology.
They also brought in another law called the Criminal Tribes Act, which made it incumbent upon any transgender who travelled from one district to another, to first take the collector's permission. The marginalisation started 311 years ago in both countries, and from that point onwards the transgenders were thrown out of the mainstream. Neither government, whether in Pakistan or India, adopted any welfare measures or schemes for their benefit.
People in both countries accept us only when they need us. Acceptability ends when needs end. People plead with us for duas, otherwise you can't even imagine the way they humiliate khawaja saras on the roads.
When did you realise that you were different?
Why should I have had to realise I was different? I was born this way. In school, I was like a normal child, like any other boy or girl, but the world made me realise that I was different. In my senior year and school, they would say, 'this one is a homo, a gay, chakka,' and called me by 10 different names.
This is not just the story of one Laxmi, but hundreds and thousands of Laxmis who, as young kids, are sexually abused because of their feminity.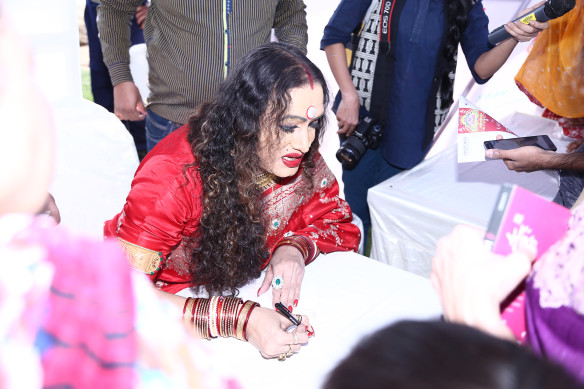 How did your parents treat you? 
My parents supported me a lot and they gave me the finest education. I come from an orthodox Brahmin family. And even though my parents never disowned me, there was still the torture of stigma.
However, in some ways I felt secure because I had good parents. I love my father for what he said: 'No educated parent will go and see what a child is doing in his bedroom. For me, Laxmi Narayan Tripathi is my child and my child is very normal. His gender preferences and sexuality may be different. But my child is my child.'
What was the reaction in the Brahmin community and amongst your siblings?
At first the community said to my parents, 'Give him poison and kill him.' A lot of time has passed since, and now I go to my parents' house exactly as I am. I have an elder sister and a younger brother. I have cousins too, and we are all quite close. No function can take place at home without my approval. Even my brother — the eldest boy of the family — seeks my approval. Incidentally, the sex assigned to me at birth by the doctor was that of a male.
You have been in the forefront of the struggle for the rights of transgenders and a petitioner in a landmark case for the recognition of transgenders.
I was one of the petitioners. The writ petition was all very British — the term 'transgender' was used everywhere. Anand Grover, a very famous lawyer and women's rights defender, said, "Laxmi Bibi — hijra ka koi baat hi nahi ho raha." So we intervened in the case. Then looked at the history, culture, everything. Interestingly no religious group has ever stood against the transgender.
Recently we have been working on the Transgender Bill which the Government of India has prepared. It has been passed by the Rajya Sabha (the upper house of parliament); next it goes to the Lok Sabha (the parliament's lower house) which hasn't happened as yet. We held a community consultation and sent our input to the government asking for complete inclusion of our community in every sphere — there are 23 ministries and we have asked to be included in all of them. The Supreme Court of India gave us recognition in 2014 and created a 'third gender' category. Previously, hijras and transgenders were forced to write male or female against the gender column. How can they not recognise us?  Apparently you were even invited to the UN.
I represented Asia-Pacific in the UN President's Office Civil Society Task Force. I was part of an 11-member committee tasked with organising a high level meeting on HIV-AIDS. I was involved in the selection of speakers and attendees.
What is a typical hijra community in India like? Didn't many of them migrate at the time of Partition?  
The same hijra families that exist in India live here as well. I am a hijra of the Sujania family. Karachi also has a Sujania (hijra) family. At the time of partition, the hijra families got divided, but the lineage didn't. It's just like other divided families on either side of the border.
Those whose hearts were in Pakistan migrated to Pakistan. To give you an example, there were two guru brothers, Sonam and Chaman. The head of a hijra family is called a guru. Sonam came here while Chaman stayed back in Dehli. Some gharanas (households) had roots that extended to what is now Pakistan, while some communities here had their roots in India.
In any case we are Sufis — what do we have to do with religion? Rasool-Allah's 'khauf-e-illahi' is also ingrained in me — even if I am a Brahmin ka bacha. Just because I wear a sari and a bindi, how does anyone know whether I have accepted Islam or not? We don't make a show of it. But the majority of all our gaddis are Islamic. All ourgaddis had accepted Islam. This is a very big step. However, when I see the condition of the khawaja saras in Pakistan, I feel like crying. So many of them have been murdered. Even last month one of them was shot here. The situation of the hijra is no better in India, but nobody has the guts to kill us.
Is the hijra community better off in India than here?
I don't believe so. But change is inevitable. To this day, no one has raised a voice in favour of mainstreaming us. Even in Pakistan, people like Kami, Bindya Rana, Sara Gill, who are the voice of the community, need to develop more leadership qualities. And potential leaders should support them as well.
In our country, the Supreme Court gave an important verdict that was very inclusive; further the Transgender Bill has been introduced in parliament; then there are welfare boards for us in Maharashtra and Tamil Nadu, and even in the women's policy there is a separate chapter for transgenders — for which I was the coordinator.
Then we have the Protection of Rights and Welfare Board. But your rights have to be protected before passing bills on welfare schemes. The transgenders / khawajas sara / hijras have to be owned by the respective countries and given full dignity. The government has to invest in advocacy and awareness.
You are multifaceted: you are a dancer, an actor, and now an author. What more lies ahead?
Yes, I have a few award-winning movies in my purse, and I have also written a book. Another book of mine titledThe Red Lipstick Men in My Life published by Penguin, will be coming out. It's about my father and all the men in my life. And there is a third one as well which is in Hindi, called Pakeezgi ki dehleez mein.
This interview was originally published in Newsline's March 2016 issue.
At the end of the interview, I asked her if it was true that the curse of the hijras always came true. She declined to comment on it. However, just when I was leaving, she held my hand and softly recited a dua for me. 
The writer is working with the Newsline as Assistant Editor, she is a documentary filmmaker and activist.
Next