"He left home after having chai and roti. My son was wearing a vibrant turquoise blue shalwar kameez. He was listening to music on his phone, the hands-free plugs in his ears. He was the essence of life — but that was the last time I saw him alive," says Almas Essa of her son Faisal who was 23 years old when his life was brutally cut short during the Lyari gang war of 2012.
"Faisal was carrying his future in his pocket," his mother adds. "He had a receipt for the passport he had applied for in his pocket. It arrived three days after his death."
The young man was headed for Dubai — he had found a job there. The primary earner for the family, Faisal was determined to ease their financial constraints and forge a brighter future for them. Those were the hopes his mother saw him leave home with that fateful day. The blast that took his life left the passport receipt, an identity card, a few torn rupee notes and the burnt remnants of his cellphone — items the family cling to in a bid to keep his memory alive.
"What was left of him was reportedly transported like meat in a rickshaw to hospital," says Almas.
And while more than three years have lapsed since he was slain, Faisal's family still finds closure difficult. "We don't do anything wrong. We are not part of any political party or group. We quietly do our work and make a living. So why was Faisal made a victim of a war in which we have no part?" laments Faisal's father Essa, a roadside barber.
Even more tragic, Faisal leaves behind his childhood sweetheart to whom he was soon to be engaged. She was reportedly devastated, unavailable for comment.
His siblings, however, share their trauma. Saima, Faisal's sister was full-term in her pregnancy when she heard the terrible news. First it was hidden from her, but when she was confronted by it, she says, it was like an avalanche. Her husband recalls, "Faisal was very close to Saima, he clung on to her. And lively as he was, he was the life of the family. So his absence is huge. My wife cannot reconcile with the fact that he's gone and still cries, all the time." They named their youngest child, born eight days after Faisal's death, after him.
Faisal's younger brother, Bilal has dyed hair, sports a necklace and an earring as most young men in Lyari do. But his confident, brash appearance camouflages a sad, fearful young man. Bilal relates how he had been at work all day long at the cloth market where he folds clothes, and got the news about Faisal only when he returned home. He was so overwhelmed, he says, he smashed both hands and arms into a mirror. "I was told I had to break the news to my mother. I didn't know how to do that." He says he rushed to the hospital, but it was all over. To this day, he regrets smashing his arms into the mirror because he could not shoulder his brother's hearse at his funeral. His arms were bandaged for three months after the incident.
Bilal shows a video of Faisal on his phone. It is from when the brothers went to interior Sindh to help their relatives there during the floods. Faisal is cooking food in the video, wearing a white shalwar kameez and a chequered scarf. He is full of life, oblivious of the impending doom awaiting him.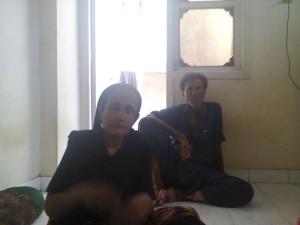 Twenty-three-year-old Kashif, the driver of a school van, is Faisal's youngest brother. He too learnt of the dire news on his return from work. "I was told a rocket launcher had been fired by one of the warring sides and my brother became one of its innocent victims." Kashif said his family were told Faisal had been wounded, but no one knew which hospital he had been taken to. So the brothers and their father went from one hospital to the next — to no avail. "The Civil Hospital is under the sway of the Lyari gangs. They refused to accept Faisal. Then he was taken to Abbasi Shaheed Hospital, where he succumbed to his injuries," says Kashif. It was almost two days later that Faisal's body was found at the Edhi Morgue in Sohrab Goth.
As if the loss of their beloved son and brother were not enough to contend with, Faisal's family has had to endure more terror: threats, as a result of which they have moved home more than once. And no compensation has been forthcoming from the provincial authorities to date.
Next