With little warning, Mumtaz Qadri, Governor Punjab Salmaan Taseer's assassin, was hung in Adiala Jail Rawalpindi on February 29 at 4.30 a.m.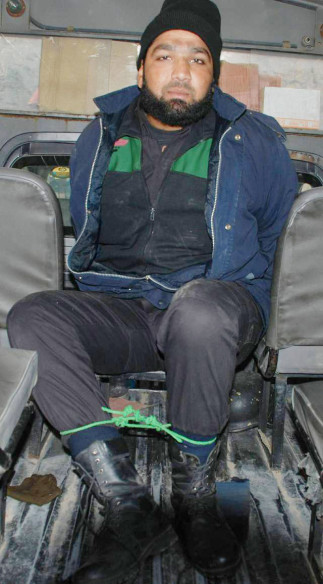 The news, which first broke on the internet, was later cautiously aired on mainstream news channels. It engendered varying responses from the public, with reports and updates of protests emanating from different cities. However, there is a consensus that up to last count, the reports were overstated. In most cases, traders and businessmen in Karachi waited to see what turn of events would transpire before deciding whether to shut shop or not.
A busy market in Saeedabad, Baldia Town remained open till the afternoon and was closed only when local Sunni Tehrik activists appeared demanding a shutter-down closure. They also resorted to pelting stones at the traffic plying in the area and at the windows of open shops.
An irate shopkeeper said, "What is really outrageous was the response from local policemen who did not intervene even when LCD devices from a local shop were trashed in full view of all by the protestors." He added, "The sudden absence of paramilitary troops — the Rangers — from an area in which they are usually stationed, was also shameful. The police were left to deal with the situation, and everyone knows only too well they do not dare to take on the local thugs backed by religious political groups."
The markets in Hyderi, North Nazimabad and Saddar remained closed, and roads at Shahrah-e-Faisal and Numaish Chowrangi on MA Jinnah Road were blocked by protesters, causing traffic jams and bottlenecks. However, business centres on I.I. Chundrigar Road remained open.
Though Qadri's hanging was termed a bold step by the government, the latter still faced criticism from political commentators for allowing an unnecessary delay in funeral prayers for Qadri, despite the fact that the body was handed over to his family a couple of hours after the sentence was served. The delay only gave the country's fundamentalist-extremist groups the opportunity to organise political demonstrations by assembling as many people as they could muster.
Owais Towhid, veteran journalist and a former head of PTV English, expressed his concerns on Twitter, saying "General Zia-ul-Haq didn't even allow people to participate in their great leader, Zulfikar Ali Bhutto's funeral. I am stunned by the 36-hour sanction allowing extremists to gather for killer Qadri's funeral."
And as the day wore on, videos of Qadri's corpse being carried by his supporters with ever more people joining their procession, began to air.
Qadri's hanging was the culmination of a lengthy legal process. During the five years since Salmaan Taseer was assassinated in January 2011 after religious clerics had issued a decree in November 2010 declaring him an apostate, Qadri, his self-confessed killer, had been lionised and placed on a pedestal as a hero of Islam.
When the Anti-Terrorism Court issued its verdict in October 2011, awarding him the death sentence on the counts of murder and terrorism, the judge delivering the verdict had to flee abroad for fear of his life. Death threats were, in fact, made to anyone who asked for justice to be done.
The appeal went to the Islamabad High Court and it remained there for three years without a single hearing. It was finally taken up in January 2015, and the death sentence was upheld, but terrorism charges against Qadri were dropped. However, the Supreme Court upheld the penalty, and even brought back the terrorism charges.
As a last resort, Qadri filed a mercy petition with the President. It was not approved.
Shaheryar Taseer, the son of slain Salman Taseer reacted to the new of Qadri's hanging by terming it a "victory for Pakistan." But he added, "The safe return of my brother is the only victory my family wants."
Shahbaz Taseer was abducted by Islamic militants in August 2011. His whereabouts remain unknown.
This article was originally published in Newsline's March 2016 issue.
Ali Arqam main domain is Karachi: Its politics, security and law and order
Next