In Memoriam: Naushaba Burney
Naushaba Burney began and ended her career in education and was certainly well-equipped to do so, having studied at the best institutions — St Joseph's Convent School, Karachi, Kinnaird College, Lahore, Columbia University, New York, and the Universities of Oregon, Eugene, and California, Berkeley.  She made full use of her talents and qualifications to share her experience, thinking, and knowledge with others. She helped establish the department of Journalism at Karachi University and went on to edit Woman's World, Humsafar, Dawn Supplements, and Dawn's Sunday Magazine. As a journalist, she travelled with Queen Elizabeth and Jackie Kennedy to cover their visits to Pakistan and interviewed Prince Karim Aga Khan.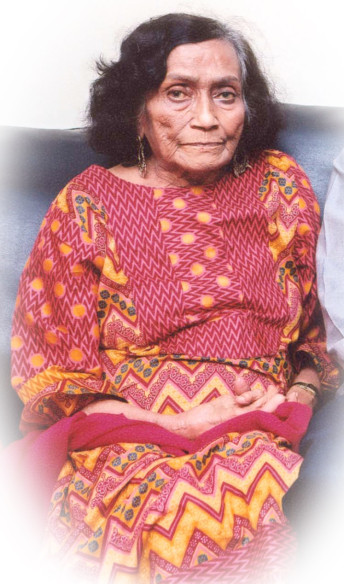 Naushaba spent the last 16 years of her life helping to set up a school for children from low-income areas, in teaching and running it. She was passionate about it because she believed that her pupils deserved the best. Her zeal and commitment were not confined to her pupils but extended to teachers and parents. She engaged with parents and was frustrated that many did not have books and newspapers in their homes and spent their spare time watching television and films. She embarked on a campaign to change this and never missed an opportunity to work on parents.
For me, she was simply 'Apa,' a loving, caring person who participated closely in my education,  guiding and supporting me at every stage and not mincing words, as was her wont, whenever I strayed from the straight and narrow.  She taught me when I was in school and monitored my progress. She actually got me on the path of reading by introducing me to the Nancy Drew series to which I became addicted.
Naushaba had a strong sense of uprightness and innocently presumed others were like her. When she found this was not always the case, she spoke her mind but somehow got away with it because her sincerity shone through. I remember feeling embarrassed at times with her frank talk but then realised that was vintage Naushaba. She was direct, never held a grudge, forgave easily, and moved on. I felt there were no filters between her mind and tongue. Telling the truth came to her naturally.
Her commitment and devotion to Karachi were inspiring.  Although widely travelled, Karachi remained her beloved city and she was ready to throw her weight and pen behind any cause for her city, and indeed Pakistan. She insisted I join her in protests for liberal, secular causes. I remember walking down Abdullah Haroon Road with her to protest the acquittal of Mukhtaran Mai's rapists. For some reasons shops had shuttered down their doors and windows and we were feeling hot and bothered. She just walked up to a jewellery shop and knocked. The nervous owner peeped outside, took one look at Naushaba, and opened his door.  We walked in and were treated to water and tea before we took off again to walk the streets, feeling refreshed.
Her three children, Shehryar, Samya, and Samar Burney live abroad, Shehryar in Bangladesh, and Samya and Samar in the US. She would visit them or accompany them on holidays but always refused when they begged her to move in with them. She insisted she could not live anywhere other than Karachi. During one of her holidays with her children, when they had driven in Europe, she came back impressed that they would drive from one country to another without realising they had crossed borders.
She had a huge circle of friends and was powered on by her affection for them. She would be greeted by people whose lives she had touched and revelled in catching up with friends from across the spectrum of age, gender, and background.
Naushaba delighted in attending literature festivals across Pakistan.  She even went to Quetta to attend the Children's Literature Festival and told children stories. She loved asking challenging questions. At a Karachi Literature Festival, she asked writer Hanif Kureishi, whose books she had read, questions that fazed him. He was at a loss for words and said rudely, "That's a stupid question."
It's not easy losing a sister, especially when you have spent 20 years living together. We had common interests. We would wait for each other to finish a book so the other could read it, we enjoyed the same TV programmes, films, theatre, cultural and educational events. Her friends became my friends and vice versa. The 2016 Karachi Literature Festival was the first one she missed because of her illness. I was at the Lahore Literary Festival last week and missed her at every session. So many people came up and condoled with me and I saw how much my sister was loved by many people in many ways. Khuda Hafiz, Apa.
This article was originally published in Newsline's March 2016 issue.
The writer is a publisher. She is the current managing director of Oxford University Press (OUP) Pakistan. She is also the founder of the Karachi Literature Festival
Next