Opinions on the state of classical music in Pakistan run through an entire spectrum, from unmitigated pessimism to cautious optimism. Anjum Altaf, the provost of Habib University, an academic who has a deep interest in classical music, writes, "One often gets the sense that classical music is breathing its last in Pakistan, the death throes so painful that one prays against one's will for its quick demise."
I pose the same question to Ayla Raza, the indefatigable director of the All Pakistan Music Conference (APMC) Karachi, and after a pause she says, "Well, I really don't think too much about whether classical music is going up or going down in Pakistan, I am busy trying to organise the next concert."
While there exists an abundance of opinions on the health of classical music in Pakistan among music lovers, one thing is certain — neither the performers nor the listeners feel secure about its future. Classical music has been on a trajectory of steady decline. This is substantiated by the shrinking audience, a lack of new performers, its disappearance from the mass media like radio and television, lack of state sponsorship and, most importantly, the decline of musical gharanas in Pakistan, which were the only nurseries for classical music that nurtured the progeny of the established names in this genre.
In the subcontinent, the primary vehicle employed for carrying on the tradition of classical music has been agharana (family).  A gharana can loosely be defined as a group of musicians who have developed a distinct style and technique through their performance over an extended period of time.  Typically, at least three generations of active performances are necessary for a group to be deemed a gharana.
Gharanas can exist for either the various styles of singing or for the various instruments that are played. For example in Pakistan, the Patiala and Sham Chaurasi are well-known gharanas for the Khayal form of singing, whereas Talwandi is a gharana that performs mainly the antiquated form of singing, known as Dhrupad. Similarly, instruments like sitar, sarangi and tabla have their own gharanas of performers.
Approximately 45 gharanas exist in the subcontinent, which cover the vocal, instrumental and dance forms of classical music. Some of the gharanas date back to the 16th century.
A number of gharanas migrated to Pakistan after 1947. Unfortunately, many of them returned to India for assorted reasons. Others, like the Agra gharana, for instance, just went into extinction after the demise of their senior exponent, Ustad Asad Ali Khan.
Currently, the gharanas that are performing vocal music in Pakistan are Patiala (represented by Ustad Hamid Ali Khan and Shafqat Ali Khan);
Sham Chaurasi (Akbar Ali, Shafqat Ali Khan); Delhi (Ustad Naseeruddin Saami); Talwandi (Mohammad Afzal Khan); and Gwalior (Ustad Fateh Ali Khan Hyderabadi).
The sitar players that remain in the field are Ustad Raees Khan and his son, Farhan Khan, of the Mewatgharana, Ustad Imdad Hussain (Delhi), Ashraf Sharif Khan (Poonch), and Sajid Hussain (Jaipur-Senia). Ustad Bashir Khan and Ejaz Hussain, among others, represent the Punjab gharana of tabla players.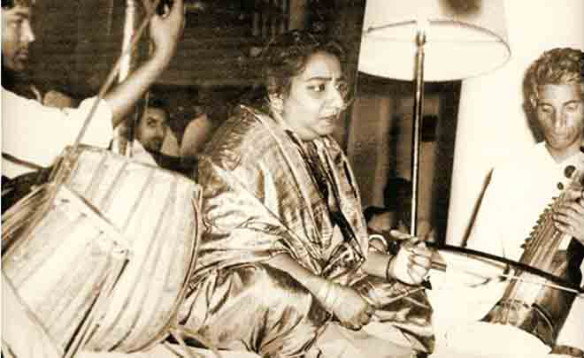 The prime factor behind the decline of the gharanas is economic. Traditionally the main source of income for the performers used to be either radio and/or television, which were solely state-owned. However, with the privatisation of the media, viewers were offered different fare and classical musicians faded away into the background.  Additionally, artists do not get any revenue from their recorded music, primarily due to piracy. Hence performing at concerts or teaching are their primary sources of income. Classical music concerts are still few and far between. As for teaching, there are only two educational institutions where music is taught officially as a subject. Due to a lack of interest in classical music in Pakistan, even private tuitions, have become a rarity. Consequently most performers find it hard to make a decent living from their hard-earned skills.
Younger members of the decade-old gharanas have abandoned traditional music and moved on to the more popular and financially rewarding genres of music. A case in point would be Wali Hamid, a younger member of the Patiala gharana who is part of the popular pop music band, Raga Boyz. He claims that he earns significantly more than his father, the virtuoso classical music singer Ustad Hamid Ali Khan.  Since a majority of these crossover artists have received basic training in classical music through their senior family members, they have a natural advantage over the relatively untrained singers of pop or film music.
Besides pop music, some members of classical gharanas have shifted their focus to the qawwali. For example, not much remains of the Delhi gharana, whose luminaries include Ustad Naseeruddin Saami. However, the number of qawwali singers in that family (including the popular Farid Ayaz) is increasing, as the younger generation continues to learn and perform this genre of music. Those who avidly follow the Farid Ayaz group might have noticed that a number of wispy kids with reedy voices seen in the rear row have now graduated to being lead singers with powerful voices occupying the front row.
To find exceptional performers outside a gharana are rare. Only in a few cases has a maverick performer, who does not belong to any gharana, achieved a high level of excellence.  The most notable among them is Ustad Badr-uz-Zaman, now 75, who did not belong to any gharana but gave stellar performances. Another senior teacher, scholar and vocalist who does not belong to a gharana is Ustad Mehfooz Khokar. The ustad is also the author of a comprehensive book on classical music titled Raag Saroop.
Among the younger generation of artists who do not represent any gharana is Asad Qizilbash, a brilliant sarod player. Asad says he learnt through listening to the recordings of the sarod maestro, Amjad Ali Khan. Asad did not find enough support in Pakistan to make his passion for music a full-time profession; therefore when he got an opportunity to teach music in Belgium, he packed his sarod and left.
Another non-conventional performer is Shahid Hamid. Although a banker by profession, he pursued his passion for music while continuing to hold a full-time job. He performs at major public concerts and gives private music lessons.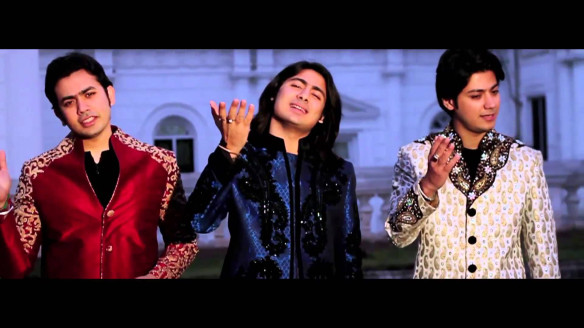 In Pakistan, music is not taught as a formal subject in most colleges and universities. Only the University of Sindh Jamshoro and the National College of Arts (NCA) in Lahore have departments of musicology. NCA offers a four-year degree programme that covers both the theory and practice of music, while the department of musicology and performing arts at University of Sindh Jamshoro offers a one-year diploma course in musicology.
Lamenting the absence of formal teaching and research in classical music, Shahid Hamid says, "There was an institute in Lahore called Gandhara Maha Vidayala, established in 1901 by the renowned singer Pandit V.D. Paluskar. The institute offered formal training in classical music and also employed a number of researchers in the field of music. In India, this institute still exists in all major cities."
The Karachi-based National Academy of Performing Arts (NAPA) offers part-time, basic level training in classical music. However, for those who want to pursue music more seriously, private teachers are the only option left. But this facility can only be availed by people from affluent backgrounds who can afford to pay for the services of a good teacher. Unfortunately, most private students are unable or unwilling to go through the rigorous training required to meet the standards necessary to perform in public.
The lack of institutions for teaching music speaks volumes about the lack of attention and respect given to one of the most important aspects of our cultural heritage. By comparison, India has 15 universities and music academies that offer advanced level training in classical music. Canada, with a population of just 35 million, boasts 50 institutions for imparting western classical music. Even Indonesia has three such institutions
Another factor that seems to be dragging down classical music is the friction between the performers themselves. The size of the classical music pie is miniscule and the competitors clamouring to get a slice of the pie are many. Subsequently, the performers end up painting their peers in an unfavourable light, leading to a negative impact on an already fragile enterprise.
The lack of quality mentoring is also a serious issue.  Only a few accomplished senior artists remain. And they seem to be fighting a race against time to bring the younger singers to that higher level of skill.  This is the main reason why most music aficionados feel that the overall quality of performance is suffering. The decline in the quality of performance was clearly evident in the 2015 annual music conference of APMC Karachi.  While senior artists like Ustad Naseeruddin Saami and Ustad Fateh Ali Khan Hyderabadi performed brilliantly as always, the performance of the younger singers and instrumentalists was mostly patchy and left a lot to be desired.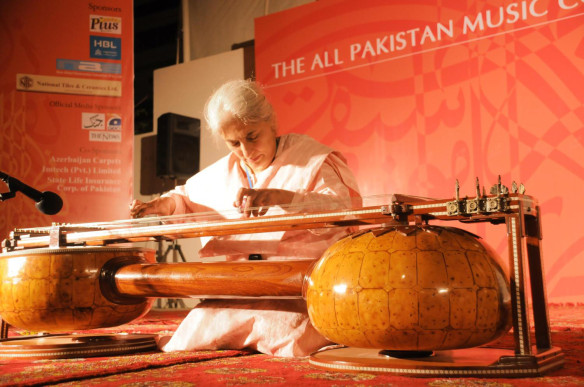 One unfortunate aspect of classical music in Pakistan is the near absence of female artists. No notable female classical singer has emerged in Pakistan after the great Roshan Ara Begum (1917-1982). The only prominent female performers in Pakistan now are Noor Zehra (on the sagar veena) and Aliya Rasheed (a vocalist). Incidentally, both do not belong to any gharana.  This is in stark contrast to India, which boasts a remarkable number of accomplished female performers.
However, in spite of these challenges, classical music is fighting to remain afloat. Some of the older and more established ustads still continue to train the younger singers in their families against all odds. However, they often lose their pupils to greener pastures.  Ustad Raees Khan, the sitar maestro, has taken his son, Farhan Khan, under his wing. Similarly another senior sitar player, Ustad Imdad Hussain, has trained both his son, Akhlaque Hussain, and grandson, Turab Hussain. Ustad Sharif Khan Poonchwale (1923-1980), the doyen of the Poonchgharana of sitar, has also trained his son, Ashraf Sharif Khan. Unfortunately, due to the prevailing economic pressures, Pakistan has lost two of its most promising performers to foreign shores: Akhlaque is teaching and performing in the US and Ashraf, who is now an accomplished artist in his own right, lives and performs in Germany.
Interestingly the increased popularity of the qawwali — thanks to Ustad Nusrat Fateh Ali Khan — may also have inadvertently promoted classical music. Most qawwalis are based on ragas and the practitioners have a good grasp of the fundamentals of classical music. Listeners who are fond of qawwali sometimes simultaneously get drawn to pure classical music due to a desire to understand the foundations of qawwali music.
As a result of this renewed interest, a new generation of classical musicians has begun to emerge. There is now a pool of performers that is singing at concerts.  However, they are still unpolished and require more mentoring and training to raise the bar of their performance.
Occasionally these classical singers have to supplement their incomes by singing ghazals at private parties.  As an admirer of classical music, it is unfortunate to see a talented classical singer pandering to rowdy audiences, singing vulgar sharab and shabab ghazals. Shahid Hamid recounts asking the well-known ghazal singer Salamat Ali why he sang ghazals, when he was a pure classical musician. "Because I have to eat!" Ali remarked matter-of-factly.
This is where the challenge lies: will these younger performers receive enough appreciation and financial incentive to develop their skills to a professional level and to realise their full potential as classical singers, or will they be overshadowed and pushed out by the more popular forms of music?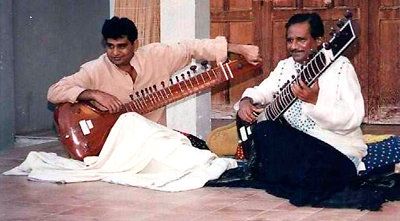 The classical music organisations in Pakistan are also playing a heroic role in the survival of classical music. Their efforts are both a testament to the failure of the state and alongside, the admirable persistence of these private organisations managed by a handful of committed individuals.
These organisations include the All Pakistan Music Conference and the Tehzeeb Foundation in Karachi, and the All Pakistan Music Conference in Lahore. Typically, these organisations arrange one major annual event, which lasts for two to three days, and hold a number of smaller events (baithaks).
The APMC Karachi has the unique distinction of holding performances that are free of charge and open to the public; no invitation cards are required.
In order to attract a larger audience, some of these organisations invite artists from India, even if it weighs heavy on their limited budgets. These private organisations receive their funding mainly from corporate sponsors and, to a smaller extent, from private individuals. While these organisations produce CDs of the performances, the low sales and piracy of such CDs preclude any serious fund injections.
Sometimes these organisations do programmes in conjunction with international cultural organisations, like the Alliance Francaise or the Pak-American Cultural Centre.
The government-run Pakistan National Council of the Arts (PNCA), and the National Academy of Performing Art (NAPA) also organise a few concerts. Most of these are by invitation only, thus limiting access to a select few.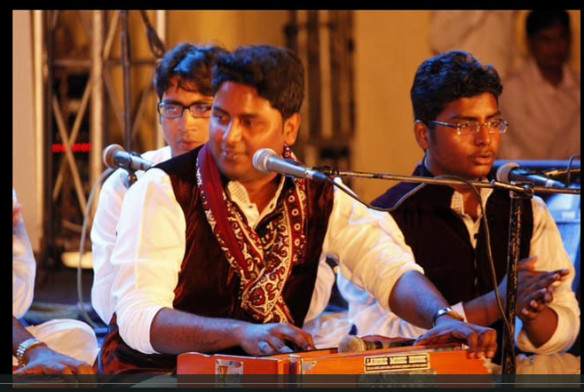 While PNCA and NAPA are still active, the quantum of governmental support for classical music in Pakistan is very limited.  Since the late 1970s, when the significantly conservative government of the military dictator, General Zia-ul-Haq, discouraged the performing arts in Pakistan, subsequent governments (with the possible exception of Gen. Pervez Musharraf) have done little to promote it — presumably, due to the fear of a religious fundamentalist backlash. However, such fear does not appear to stem from any real basis, as so far there has been no instance of disruption of a classical music concert by religious parties or extremist groups.
The efforts of some individuals and the institutions have given a sense of hope to the devotees of classical music. Architect Najeeb Omar and his wife Nasra, a fashion designer, have attended nearly every classical music concert held in Karachi. Najeeb Omar is also on APMC Karachi's board of governors. They feel that things were far worse five years back. There has been a gradual improvement. "Classical music in not dying yet," was how Omar summed it up. In fact, the couple maintain that the number of concerts in Karachi has gone up in the last few years.
When asked to state the reason behind the improved classical music scene, they reiterated that classical music is riding the wave of popularity of pop-traditional fusion, which is best represented by Coke Studio.  This well-funded production combines traditional Sufi and classical genres with western instruments like guitar and drums, to make a more palatable mix. Since the base of many of the traditional sufi songs is ragas, they invoke an interest in pure classical music.
However, despite these positive notes, Pakistan clearly has a long way to traverse before it can create a secure niche for classical music. The survival and growth of classical music depends on developing a strong symbiotic relationship between gifted artists, a discerning audience, institutions that support teaching music and public performances. Additionally, it requires funding from generous private and state sponsors. Pakistan clearly lacks all of the above. The harsh reality is that the situation will not coalesce unless there is a major initiative, either private or public, that introduces classical music to a larger population. This can be achieved by making it available through radio and TV channels, building institutions for teaching it, supporting frequent public performances, and making it financially viable for the artists.
Classical music is the foundation of all good music, and has stayed with humankind for centuries. Like all of life's finer things, it requires care and nurturing. However, market forces alone cannot be expected to fulfil that role; it requires human investment as well. If classical music is not nursed back to life in Pakistan, the beautiful order of the musical notes in a raga will descend into cacophony.
Interview: Ustad Rais Khan

Clad in a crisp white kurta pyjama, a jewelled stud winking in one ear, Ustad Rais Khan cuts a commanding figure. One of the finest sitar players in the world, Pakistan was indeed privileged when the sitarist chose to make this country his home in the eighties, migrating from India. Belonging to the Mewat gharana, Ustad Rais Khan has won international acclaim from audiences in India, USA and Europe. In Pakistan, he was awarded the Pride of Performance. Newsline spoke to the inimitable Ustad about the state of classical music in this country. 

How do you see the future of classical music in Pakistan? 

The future of classical music in Pakistan is dark. There are a few top-notch classical musicians whom you can count on your fingers, but nothing else besides this. Boys and girls here consider themselves talented but they have no passion for hard work. They are over confident.

Then there are those who say they have a God-gifted talent.  This term can only be used for a choice few, who are classical maestros. Whether it is singing or dancing or playing an instrument, you cannot learn without the guidance of an ustad. But nowadays, the cassette has become an ustad.

Also, there are very few true listeners and connoisseurs. There is very little interest here. In all my years here, I have done a handful of concerts at home. The rest have all been abroad. There have been some exceptions of course. Express organised an Urdu Conference in Lahore some years ago, which was a very good effort. They put me up for three days and I played to a large audience. Then HUM gave me an award but we need many more such initiatives.

Your son Farhan has followed in your footsteps and has been winning a lot of praise. 

Yes, I have groomed and trained him. He has performed all over the world with me and is now playing on his own. He has just returned from India, where he had a solo performance. It was at the Sangeet Mahabharat Academy and they had a packed house.

So there is an interest in other parts of the world. We get tremendous appreciation abroad. We have performed in the US, India, Europe. I have even played in the Indian parliament and the United Nations. I have played at the Kennedy Centre where no other Pakistani has performed. One of our former ambassadors invited me to Washington where I played for foreign dignitaries.

When I play in India we have audiences of tens of thousands. The auditoriums overflow, with people spilling onto the streets.

So why did you leave India then?

I followed my wife here. But I must say that although I left India, India didn't leave me. I still command tremendous love and respect over there.

What do you think of fusion music?

It's a good thing if done well. And some good work is being done.

You have performed for Coke Studio. How was that experience?

It was interesting. I performed alongside Abida Parveen but it would be incorrect to say that I played with her or that she sang with me. She sang her own song and I played my own tune. At the same time.

Here I also have to say that the respect and love I received from Bilal and Faisal [of Strings], really touched my heart.

Why don't classical families encourage their daughters to take up music?

Women are allowed to learn music. My sister played the sur bahar very well but unfortunately she passed away.

— Zahra Chughtai
The writer is an engineer by training and a social scientist by inclination.
Next