A true soldier does not cry. But in director Dawar Mahmood's stage play Siachen, the psychologically testing conditions at the Karakoram glacier show us the human side of war where stoic, resilient soldiers have their moments of weakness.
Written by Anwar Maqsood, and presented by KopyKats production, the setting of snowy peaks, an igloo partially covered with the national flag and soldiers clad in white garb carrying ammunition transport us to a glacier where not many survive.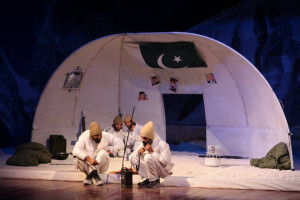 As is archetypal of Maqsood's scripts, there are moments of satire with undertones of grave issues to deliberate upon. A soldier fleetingly reminisces his time with his mother and expresses how much he misses her. Another soldier comforts him by embracing him only to rebuke him seconds later to "be a man and not cry."
The audience goes through an unnerving realisation of the extreme cold at the glacier when a solder writes a letter to his sister asking for a deep freezer to be sent to him, "as sitting inside that may be less cold."
The play gives a flavour of humour when a female BBC journalist travels to Siachen to interview the soldiers. They are fascinated by a woman's presence, are mischievous in their interaction and when the camera is switched on, they are instructed by the captain to say only good things. However, when the camera is switched off, the soldiers ask themselves why they are at the glacier in the unbearable cold and not at home with their families. A soldier tells his comrades how patriotism can be expressed in other places as well: "If Raheel Sharif gives me a visa for Muscat, I promise I'll chant Pakistan zindabad there too with just as much ardour."
The play has been staged in several cities across Pakistan, including Islamabad, Faisalabad, Multan and Karachi from October 2015 to February 2016. After its last performance in Karachi on February 28, it is headed to Dubai where performances are scheduled from March 17-19.
This review was originally published in Newsline's March 2016 issue.
Next