On January 7, the spokesperson for the chief minister of Gilgit-Baltistan (GB), Hafiz Hafeez ur Rehman, told the media that, "a high level committee formed by the prime minister is working on [giving GB constitutional status]."
On January 9, the Azad Jammu Kashmir (AJK) state government decided to lodge a protest against attempts to convert GB into a province. The resolution was tabled in the Legislative Assembly on January 12.
Chaudhry Latif Akber, Minister for Finance, Planning & Development, maintains that Gilgit-Baltistan is part and parcel of the divided and disputed state of Jammu & Kashmir. "Any attempt to merge GB into Pakistan could fatally damage our stand vis-a-vis UN resolutions, which recognise the Kashmiris' right of self-determination," he says. "GB is a constitutional part of the Jammu & Kashmir state. We won't let it be divided at any cost."
According to sources, the move to grant GB provincial status comes amidst Chinese pressure, with the China-Pakistan Economic Corridor (CPEC) passing through what remains a disputed territory. "China obviously isn't comfortable spending $46.2 billion — its largest ever overseas investment — on a project that runs through an area that is claimed by both India and Pakistan," says a government official. "However, what could become problematic is the fact that giving GB provincial status in effect means Pakistan backing out from its stance on a plebiscite in all of Kashmir. Not only would this jeopardise Pakistan's position on Kashmir, it would also alienate the leadership in Indian-administered Kashmir, who would feel betrayed," he adds.
On January 13, Hurriyat leader Syed Ali Shah Geelani released a statement stating that giving GB constitutional status amounts to 'betraying Kashmiris.'
"There is no constitutional or moral justification for taking any decision over any part of this territory without the consent of its people and it is also a clear violation of the UN resolutions on Kashmir," he said. "No such action will be acceptable to the Kashmiri people. Hurriyat is not against the economic development and prosperity of the South-Asian region but creating trade routes at the cost of the aspirations and sacrifices of Kashmiri nation is unjust and unkind."
On January 27, Geelani wrote a letter to Prime Minister Nawaz Sharif opposing the move. "The merger of Gilgit-Baltistan in Pakistan will prove a disaster for the disputed nature of Jammu and Kashmir and this act will impact the disputed status of this region," Geelani wrote. "CPEC will definitely boost the economic condition of this region but merging it into Pakistan for this purpose is not necessary."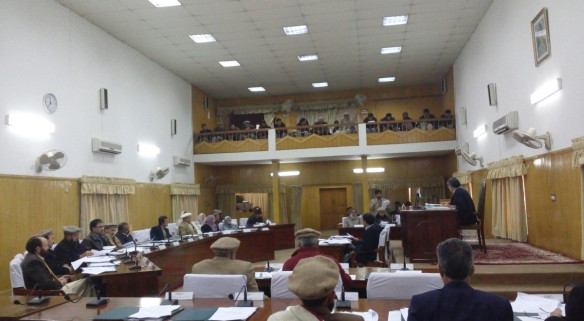 On February 1, the GB Assembly's 19-member delegation met Senator Mushahid Hussain, Chairman of Parliamentary Committee on the CPEC. The assembly members represented both the ruling and opposition parties. In the meeting that lasted over two hours, Hussain reiterated the importance of GB as CPEC's gateway, saying that the region also links Pakistan to the Central Asian states and will be a major beneficiary of the benefits of the economic corridor. Sources privy to the meeting reveal that the GB delegation was not convinced.
On February 18, the Deputy Commissioner of Diamer announced that the Pakistan Army is making its headquarters in Thak Das to provide security installations for the CPEC. "The army will soon take over the land formally and start work immediately so it can assume responsibilities," he said.
The president of the Washington-based Institute for Gilgit-Baltistan Studies, Senge Hasnan Sering, says the CPEC cannot succeed without taking the people of GB on board. "Pakistan and China need the cooperation and commitment of the local community for CPEC's viability and security," he believes.
"Recently Senator Mushahid Hussain Syed stated that GB is intended only as a conduit for the economic and industrial zones to be established further south in Pakistan. This suggests that CPEC serves the strategic interests of China and Pakistan, while excluding local communities in the same fashion as the Karakoram Highway (KH).
"The KH allows a useful historical reference for this approach and its impact on GB. Thirty-seven years after China constructed KH, GB retains the lowest trade ranking of Xinjiang's six neighbors. The Beijing-Islamabad trade via KH is negligible."
Sering believes that Pakistan has failed to leverage the KH to export GB's products to China and Central Asia.
"According to the BBC, over 80 per cent of Gilgit's retail outlets carrying Chinese goods are owned or operated by non-locals. Simultaneously, the KH contributed greatly to sharp demographic shifts, which threaten cultural identity. Further, the KH enables movement of weapons, illicit drugs, militants and extremist terrorists, creating greater insecurity and regional instability.
"By building a large infrastructure project without inclusivity, China and Pakistan failed to fully realise the KH's potential and, instead, built a road — with mixed results. Without a meaningful partnership, the CPEC becomes like the KH, which looks great on paper but in reality, is a carcass of a dusty road prone to routine blockages."
Sering continues: "Like KH, the CPEC is a project of high regional significance. It presents an excellent opportunity for China and Pakistan to demonstrate commitment to global standards of democracy and governance. However, GB's disputed status and India's claim over the region is also integral to the question at hand. Given the dispute, China and Pakistan resist local partnerships, exacerbating the poverty and security issues, which are obstacles to progress. I think that CPEC will fail to connect vision to reality or flourish in the absence of a truly robust constitutional and autonomous foundation within GB."
Sering says that if China's efforts in GB are viewed as a threat to its people, culture, natural resources and environment, it is a serious setback for the entire region.
"A truly vibrant corridor must incorporate local manufacturing and jobs.  The CPEC has the potential to catalyse accelerated commerce of local goods and ideas while promoting local culture as a means of social stability and tourism. This vision requires a well-regulated system in which Pakistan and China partner with local communities and treat them as equals; build human capital, and give the locals due share in decision-making. As a consequence of GB's current disputed status and the absence of any constitutional guarantees, its people are skeptical about realising CPEC's benefits. I urge Pakistan to grant GB a constitution of its own, and demonstrate its commitment to democracy and the rule of law."
Sering says Pakistan's claim on AJK or GB will be recognised legally only after Kashmiris participate in the UN-led plebiscite and vote to join Pakistan. "Absorbing GB would be viewed as a unilateral annexation by Pakistan. By doing so, Pakistan sidesteps the UN process, clearing the path for India to do the same," he says.
"One can utilise the Shimla Agreements to attempt to settle GB bilaterally but that would, again, come at the expense of Indian-administered Kashmir. Any unilateral move by Pakistan will be temporary in nature. The issue involves multiple actors and any one-way conversation with itself is not going to bring long term strategic dividends for Pakistan or GB.
"A unilateral annexation of GB, granting it constitutional rights, would provide momentary relief to locals from the current insecurity and uncertainty but the long-term ambiguity will continue to plague the region until all parties, including India, arrive at an internationally-recognised agreement.
"Till a final resolution, Pakistan must grant GB its own constitution thus reinvigorating the UN process. Only then should projects such as CPEC continue, which recognise GB as an equal partner."
But how would the people of GB be affected should it be accorded provincial status?
"If Pakistan were to give GB a constitutional status, it would have to merge with KP since GB's 1.4 million estimated population does not warrant a free-standing province," Sering believes. "Alternatively, a new province could emerge, comprising GB, Hazara, Chitral, Swat and Muzaffarabad divisions. In either scenario, the people of GB will be subsumed, and vying for identity and resource ownership."
"Granting a constitutional or provincial status will not satisfy the people of GB since their socio-economic rights and cultural identities would be compromised to ensure the 'greater national interest' — a euphemism for the ruling class. The people of GB do realise that the majority of people living under the constitution, such as those in Balochistan and FATA, are not accorded rights over their resources. Further, sister region AJK's failure to secure royalty from Mangla Dam over the previous four decades does not inspire confidence in GB.
Sering believes Pakistan would have to win over GB hearts for a lasting solution.
"Temporary relief from current uncertainties will lead GB into permanent insecurities, and the people of GB will continue to resist if a legal status leads to further subjugation. I believe winning the hearts and minds of the people of GB is critical for lasting relations with Pakistan. The CPEC process is a critical window in which to herald this necessary step."
This article was originally published in Newsline's March 2016 issue.
Kunwar Khuldune Shahid is a journalist and writer based in Lahore.
Next