In Memoriam: Intizar Husain
Few people are fortunate to live a life intertwined with letters, and the great Urdu writer Intizar Husain was one of them. Covering a remarkably wide range of writing styles and genre, Husain's creative muse represents Pakistan's political and literary history from the eyes of a primal citizen. After all, like many others, Husain left his soil — Uttar Pradesh in India — and settled in a new country that was imagined in different ways. For young men like Husain, this perhaps was a new beginning.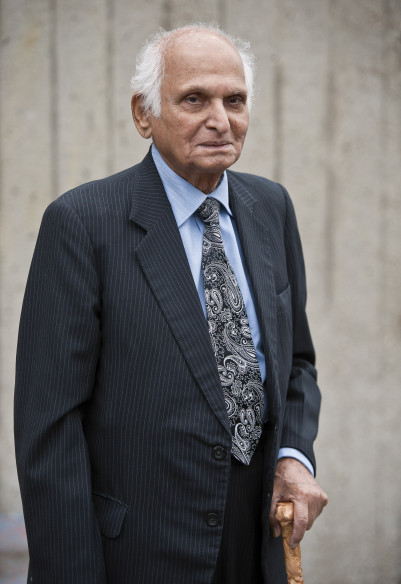 But the pain of leaving one's origins is way too intense. The writer in Husain was shaped by this event. As he told me in an interview, "At that time, many people had given the keys of their homes to the Hindu neighbours for safe-keeping. We didn't imagine that this would be a permanent migration. Few had this realisation and some didn't even think of it back then." The 1965 war raised the India-Pakistan iron curtain and the movement of people declined substantially. This situation continues to date.
Husain left this world with charming fairy tales of Tarawali, Jogi and Vanwati. In hundreds of short stories, travelogues, essays and novels, Husain mapped the journeys — internal and external — of migrants and with clear intimation of a lived, never-ending personal trauma, explored the theme and its myriad facets.
The 1947 migration turned into a larger metaphor of the human condition. Husain delved into the hijrat of Prophet Muhammad (pbuh) in 7th century AD. In later works, he also explored the movement of peoples in medieval Spain. His works transcended the immediate political and social upheavals and ended up continuing the meta-stories of our mythological past — from the Islamic tradition to the Hindu and Buddhist storytelling.
In a 2010 session at the Karachi Literature Festival, Husain mentioned how, when reading up on Buddha, he stumbled upon a tale narrated by him. "I realised that Buddha also narrated stories… We used to believe that Buddha only delivered sermons. I found him to be a great afsaana nigar. His technique had an impact on me. His technique of unfolding a new story from within a  story was what I found novel. Buddha's idea that man doesn't die, but is only reincarnated in a new form, is what I thought of experimenting with."
This historical consciousness nourished his works. All five major novels he wrote — Chaand Gahan (1952), Din Aur Daastaan (1959), Basti (1980), Tazkira (1987), Aage Samandar Hai (1995) — invoke such references and show that 'modern' existence is informed by such subterranean, parallel mythological worlds.
Even though Husain adhered to the school of thought which considered politics as being separate from art, his fiction became more and more engaged with the political torrents of contemporary Pakistan. The characters may appear to be disengaged and passive at times, but the writings grappled with issues of our times. In Basti, the 1971 breakup of Pakistan was the context and Aage Samandar Hai explicitly deals with the Karachi of today — its violence, Mohajir identity, the rise of the jihadist mindset and the larger idea of human displacement.
Author, critic and translator, Rakhshanda Jalil has recently translated the novel as The Sea Lies Ahead and in her introduction she tells us of the provenance of the novel's title. The Sea Lies Ahead plays on a quote from Pakistani dictator Gen. Ayub Khan. Reportedly, Ayub Khan mentioned the sea while warning the migrants or Mohajirs against voting for his opponent Fatima Jinnah in 1964 elections. Husain chose to use this historical reference in the 1990s, when he was writing the novel. The decade of 1990s was also the time when repeated military actions in Karachi were meant to fix the Mohajir militancy and the fabricated charge of separatism.
Jalil's new translation led me to read this work after years. Right at the start of the novel there is a conversation between the narrator and protagonist-in-chief, Jawad Hassan, and Majju Bhai about Jawad's way of storytelling. Majju Bhai is irked by the circular manner in which Jawad tells the story, which moves from the present to the past, commemorating experiences under Islamic empires and moves back to Karachi.
The archetypal Mohajir, Jawad had moved to Karachi from India during 1947. Despite his worldly success, Jawad's longing for his place of birth is a central motif.
Jawad has moved up in life and continues to advance in social terms. He lives amid Karachi's turbulent political environment, marked by ethnic violence, religious extremism and an indifferent elite.
Jawad dwells in his older world and even makes a trip to India, only to be jolted by his past existence and returns to Pakistan.
The rootlessness of Jawad intersects with the urban life of Pakistan. And in line with other authors, including Qurratulain Hyder, the world of Mohajirs in Karachi is defined by the memories that they relive. Habitations in today's Karachi are organised around the origins of the migrant. Meerut, Hyderabad, Lucknow, Delhi, and other places have colonies or mohallas named after them.
Jawad also speaks of a city described by "mushairas and Kalashnikovs" and the ominous presence of urban crime in everyday lives. Jawad and other characters are not delinked from the larger human experience. The use of mythological references takes the characters' experience to a broader, universal level. And it is in this context, that the 'foreignness' of Mohajirs in Karachi presents a problem that individuals and communities have faced through centuries. The global debate on refugees from Syria and Iraq — and their demonisation and suspect status — underlines the power of Husain's formidable and prescient imagination.
The novel also presents a character, Ghazi Ataullah, "the epitome of a monolithic and inflexible Unitarian Islam." His intolerant nature and xenophobia reminds us of the past two decades of contests within Pakistan. This novel was written years before 9/11 and Ghazi Saheb wants to destroy the West as well as those who adhere to western values and scientific advancement. This chilling sentence has a global resonance as well: "Musalmanon, I only need 313 mad men to achieve the destruction!" By the 1990s, Pakistan was in the throes of jihadism and Husain portrays the rise of the idea through this disturbingly real and metaphorical character.
The Sea Lies Ahead also tells us that characters such as Majju Bhai live a regular life by avoiding reflection about their context. Majju tells Jawad that if he wished to live there, "Do not think about what is happening." But Jawad cannot help thinking and time-travelling — not unlike the author himself.
Jawad's existentialist angst is not limited to losing the origins. It is not even about the relatives and childhood sweetheart whom he left behind. Jawad's return to India is also unsettling. But his condition is also shaped by the disillusionment with the nationalism he espoused in 1947. The ambiguity of belonging is what haunts him. Like his ancestors in Muslim Spain, he is an uprooted, lost soul.
Husain's writings — fiction, non-fiction, critical and journalistic — are a compendium of Pakistan's unresolved battles of identity, its loss of a composite civilisational ethos and issues of uneven and unequal citizenship. But these texts are larger than the national and the local. Their universalism will keep these writings alive, reminding us of the mild-mannered, quiet craftsman who created them.
This article was originally published in Newsline's March 2016 issue.
Raza Rumi is a Pakistani author, academic, policy analyst, and a journalist. He is editor of Daily Times and a faculty member at Ithaca College and Cornell University, USA
Next