"This is a great time for Pakistani cinema." — Mehreen Jabbar
Known for her nuanced characters and intense storylines, Mehreen Jabbar is one of television's most respected directors. She is now poised for the release of her second Pakistani film Dobara Phir Se. With the brightest talent from television now transitioning onto the silver screen, Mehreen and her team hope to add another success to the growing list of such ventures.

Mehreen's first film, Ramchand Pakistani won critical acclaim but not much commercial success in what was then the cultural wasteland of Pakistani cinema. This time round she hopes to win on both counts.

Made under the banner of ARY films, Dobara Phir Se was shot in New York and Karachi where, just before the onset of a hectic filming schedule, Newsline managed to squeeze in an interview with the down-to-earth filmmaker.
Tell us something about your upcoming venture.
Well it's a love story between two adults, soulmates who find each other when the time is not right. Hareem Farooq and Adeel Hussain play the lead roles and the story unfolds in New York and Karachi.
You have done this before, love stories set in New York…
This is different because all my other plays involved tortured love stories. This is more along the lines of a sweet, feel-good love story. But it deals with important issues. It is a story about relationships and the characters have emotional depth. It is a commercial film, but not to the point of making me cringe.
So this is a total departure from your first film, Ramchand Pakistani?
Yes, I definitely had marketability and mass appeal in mind this time. Having said that, the audience right now is ready for all kinds of films. This is a great time for Pakistani cinema. We have more cinemas than ever before and new ones are coming up; people are investing money in film and recovering it.
Na Maloom Afraad was really the breakthrough film. Now there is enough space for all kinds of film and that's what has happened in the last year. There was the art film, the commercial film and so on.
You ventured into filmmaking before the whole cinema revival with a serious, weighty film. How was that experience? 
Yes, I made Ramchand in 2008. I learnt a lot from that experience. It gave me a great deal of exposure. We took the film to many festivals when no films were coming from Pakistan. It did a lot for my personal growth as a filmmaker.
Do you think audiences would be more receptive to Ramchand now?
Perhaps. Maybe I should re-release it (laughs).
When television directors or producers make films, they often retain that television feel — and that doesn't work on the big screen. Your take on this?
Yes, that can happen. Television is great but one can get mired in that style of writing and direction. On TV one is expected to churn out a certain kind of product. So yes, it is a challenge to get away from that TV feel. I think Ramchand also had that problem. But going forward I have learnt so much after that experience, especially what not to do. So I hope that won't be the case now.
Do you prefer television or film?
I think film is the most amazing experience, but the amount of work and the stress level engendered is way higher. There is far more detail involved in film, but the reward is tremendous. Television is also very rewarding, but in a different way. You keep getting feedback as it unfolds, whether praise or criticism.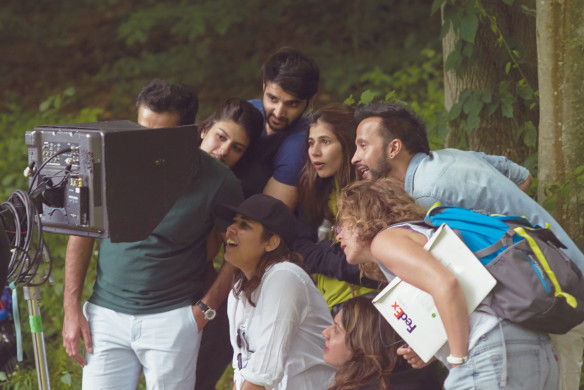 Do you have a regular team that you mostly work with?
It's a mixed bag. There are some old faces, some new. The writer of my film, Bilal Sami, is actually a Fulbright scholar and trained in script-writing. But he has chosen to teach and has barely any experience in show business.
How important is the musical score in a film for you?
It should be used when needed, but I can't obsess about including a certain type of song or of including a certain number of songs.
What's your take on item numbers?
They are great — but not for me. There is no judgement call; I just think I'd handle it really badly.
Tell us about your project for Zee Zindagi.
Zee Zindagi is an Indian channel that airs all our dramas. So they commissioned 12 directors, six from India and six from Pakistan to make hour-long films. The themes are varied, nothing to do with Partition.
My film is called Lala Begum. It stars Marina Khan, Humayun Saeed and Sonia Rehman. The project is called Zee Unity and I think they plan to have a ceremony at the Wagah border and screen the films there. And then they have a year-long plan of taking the films to different festivals and showing one Indian and one Pakistani film. They will also be shown on Indian television. This is the first time something like this has been done and it's important because art is the best way to build bridges
What do you see for yourself  in the future? What are your personal ambitions?
I just want to be able to continue to make films. I want to continue with television as well. It's an important medium and has made me who I am today.
Mira Nair is a friend of yours and you have also worked with her. Don't you want to capture the kind of international audience she has managed to reach?
There are very few South Asian directors who have broken through. Mira Nair is one of them. But I don't want to make an English film set in Pakistan. Indian filmmakers get away with it because English is much more commonly spoken in India by the middle class. Dobara Phir Se is actually a very universal film, but of course it is aimed at a desi audience because it's in Urdu. Eventually, to get mainstream, you have to make a film in English. Or one can go the route of Iranian films.
Since the local film and television industry has grown so much, is it easier to work on a project today?
It's a bit of a Catch 22. Even though a lot of things have become more streamlined, more departments sometimes mean more people to chase.
Actually, Pakistani production needs a massive overhaul. We need project management skills. A producer is coordinating anywhere from 50 to 100 people. And simple things don't exist in our culture, like following up, making lists, being punctual. An efficient producer is crucial to the successful completion of the project. The 'ho jayega' attitude has to stop for us to reach the international level.
This interview was originally published in Newsline's March 2016 issue.
Zahra Chughtai has worked and written for Pakistan's leading publications including Newsline, the Herald and Dawn. She continues to write freelance.
Next