"The image of a mustachioed man with peaked cap and a chest full of medals is… splashed across the posters of a politician competing in a by-election… It is a rare day when Pakistan's chief of army staff is not pictured on a newspaper front page," readThe Economist's profile of Pakistan Army Chief General Raheel Sharif in a piece titled 'Hail to the Chief,' published on September 26, 2015.
The media blitz of the army chief in all parts of Pakistan at a time when the country has been engaged in a multi-pronged war on terror has been an integral part of the promotional campaign run by the armed forces' media wing, the Inter-Services Public Relations (ISPR). And with the ISPR diligently reporting the army's "success after success," in Operation Zarb-e-Azb in the northwest and in operations throughout the country, and the "restoration of peace" in Karachi, the army chief's popularity has grown exponentially since he was appointed the Chief of Army Staff (COAS) on November 27, 2013.
"The face of General Raheel Sharif, Pakistan's army chief, stares out from banners in the city of Karachi that proclaim him the country's 'saviour,'" is how The Financial Times interpreted Raheel Sharif's media promotion on New Year's Eve this year, after he had spearheaded the most "peaceful" year for Pakistan in a while, with the state witnessing the least number of terror attacks since 2007. And on Christmas Eve, Pakistan's security narrative seemed to be on the brink of an epoch-defining change, when Indian Prime Minister Narendra Modi visited Lahore.
"For all the accusations of anti-Indianism leveled against the army, its senior leadership fully backed the Nawaz-Modi meeting. They are all for good ties with India, as long as Pakistan's interests aren't compromised. This is the latest in a long list of decisions that show the progress in the Pakistan Army's narrative," says a former intelligence officer. "The ISPR's job is to promote the army. General Raheel Sharif's image-building is an important part of the war on terror. And if any army chief in Pakistan has deserved it, it's him. Not only does he have the backing of army officials across the board, you can also see the results his policies have yielded over the past couple of years, especially in North Waziristan and Karachi."
On January 2, gunmen attacked the Pathankot airbase in India — an attack that was dubbed an effort to derail the progressing Indo-Pak dialogue. The military operation launched to combat the attack lasted over two days. While Indian intelligence maintained that members of the Jaish-e-Muhammad (JeM) had penetrated the Line of Control (LoC) to orchestrate the attack, Kashmir's United Jihad Council (UJC) claimed responsibility for it. But it has been long conjectured that the UJC has an affiliation with both the JeM and the ISI. "The Jaish moved to Bahawalpur, following the apparent crackdown after the Mumbai attacks in 2008. They've been here since 2009," says a professor at Islamia University, Bahawalpur. "Graffiti and posters propagating 'Ghazwa-e-Hind' have sprung up in the city since then. Scores of madrassahs are affiliated with the JeM throughout the city and nearby towns. Most of the local citizens know about them, so it's safe to say that the establishment does too." The link between the Jaish and the recent attack was lent further credence by the revelation of a recent telephone conversation between the perpetrators of the Pathankot attack and a seminary in Bahawalpur.
On January 20, Tehrik-e-Taliban Pakistan (TTP)-affiliated militants attacked Bacha Khan University in Charsadda, killing 21 people, mostly students and staff members. "Our policies in Afghanistan are backfiring," says Dr. Fazlur Rahim Marwat, the Vice Chancellor of the university. "They have, in fact, been backfiring for decades, and we still refuse to learn from them. I don't want to open a Pandora's Box, but it's clear that a strategic shift is needed so that the burden of securing the safety of our students lies with the state and not armed teachers."
Five days after the Bacha Khan University attack, with Indo-Pak talks seemingly derailed and criticism of the establishment soaring on the domestic front, General Raheel Sharif announced his decision to retire on the "due date" via the ISPR. "I don't believe in extensions and will retire on the due date," read the Director General ISPR, Lt. Gen. Asim Bajwa's tweet on behalf of General Sharif. "Efforts to root out terrorism will continue with full vigour and resolve. Pakistan's national interest is supreme and will be safeguarded at all costs," Gen. Sharif was quoted as having said. Ironically, this statement emerged almost simultaneously with a petition that was filed in the Supreme Court asking for General Sharif's extension.
"He announced his retirement plans at the time because there was so much hype in the media, with people saying that he would get an extension," says Brigadier (R) Asad Munir, a security analyst. "He just wanted to dispel those rumours."
Lt. Gen. (R) Talat Masood, a columnist for local publications, agrees. "What he was probably trying to suppress — somewhat prematurely — was the clamour asking him to continue. He would not have made the announcement at that time if the rumour mills had not started churning. He would probably have waited for a while," he says.
Another columnist, Dr. Mohammad Taqi, however, doesn't make much of the timing of General Sharif's announcement. "Gen Raheel Sharif and the army achieved most of what they set out to do — i.e. shake the civilians down and keep Prime Minister Nawaz Sharif from even thinking about punishing General Musharraf, or trying to have a say in Pakistan's Afghan and India policy," he says.
"The army was restored to its mythical pedestal, and more importantly, a tutelary role that was meticulously conceived by planners like General Sher Ali Khan after the army was politically bruised by the agitation against Field Marshal Ayub Khan. The extension or departure of Gen. Raheel Sharif and its timing is irrelevant in the grand scheme of things."
The concern, of course, is that with General Raheel Sharif's carefully cultivated image as the "saviour" of the nation, will Pakistan's multi-pronged military exercises be adversely affected following his retirement?
"I don't think so. All the serving corps commanders are involved in the army's strategies. He is not the only one making decisions. All decisions are made taking the chain of command at GHQ on board," says Asad Munir. "Certainly, the individual and personality of the chief do matter. People are of course, different in their thinking, but the[army high command] will never allow any negative impact. If their objectives are being achieved, they will continue with the policies in place."
Masood contends that General Raheel Sharif's successors are also very efficient. "The next tier comprises very professional people. Whichever general becomes the army chief will move forward with greater zeal, because he will be following somebody who has set very high standards. So the officer next in line will not only want to match those standards, but also exceed them," he says, adding, "I know we have had Musharrafs and Zias in our history, but I believe the new generation is much wiser."
Masood believes that the positive image that has been created of General Sharif owes in large part to the unpopularity of the politicians. "It is a reflection of the weak democracy in Pakistan — it's got more to do with the civilian government than the army," he says. "The army is popular because the masses don't have any belief in the civilian government. Politicians are exposed to the public and are heavily criticised. In fact, the popularity rating of politicians all over the world is very low. The popularity of  Congressmen in the US is only 9%."
Munir contends that General Sharif's popularity has a lot to do with his own persona. "He is very informal and popular among young army officers, which adds to his image. When he attends functions and some kids show up and ask for selfies, he readily agrees. He even dances with them. That is what adds to his aura," he says. "He's popular in the army as well as throughout the nation."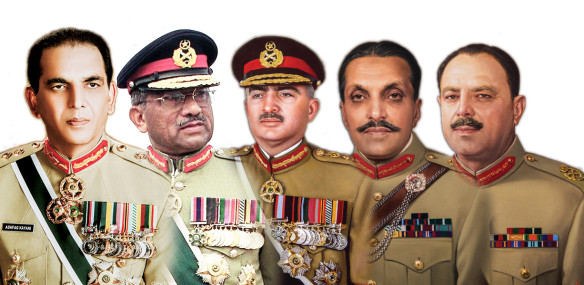 General (R) Masood agrees, saying that General Raheel Sharif is a "Great guy… he is determined and focused — which is very refreshing. And also, in a way he is apolitical, but not totally without politics either," he maintains. "He has extended the domain of the military in areas which was not there in the past. He's asserted himself very aggressively in certain civilian domains like foreign policy and defence, and also in Balochistan. And he has achieved results. So people have started to expect that and he's got the politicians on the back foot. They look small in front of him, based on performance. In this is a lesson for the civilian government to improve its performance."
Taqi says the formula of projecting a military strongman in Pakistani living rooms has been used since Gen. Ayub Khan. "Some variation of the blatant propaganda unleashed by the ISPR under Gen. Raheel Sharif will inevitably be repeated in the next phase too. I say under Raheel Sharif because the army is an extremely disciplined, top-down institution, and an ISPR director could not dare to use gimmicks like those used by Gen. Asim Bajwa unless his boss approves of them. Bajwa's promotion to a three-star general indicates that his boss loved the over-the-top image building job he conducted.
He continues, "But it's not individuals or their actions that matter, rather the institution's desire to have its image rehabilitated. Note that Generals Sharif and Bajwa were trying to restore the army — not just to pre-General Kayani status, but to the pre-General Musharraf one. The Musharraf-Kayani continuum left an image of an interventionist and then lethargic army which became politically vulnerable. The 'charisma' has been a constant theme of — and tactic for — the army's political ambitions since General Sher Ali Khan identified it as the 'strength' that enabled the army to beat back politicians."
Even so, Munir says General Raheel Sharif's successor will have massive shoes to fill. "His successor is going to have a problem. He's a man liked by the whole of Pakistan. He's the only serving army chief whose pictures are appearing on trucks — Ayub Khan's appeared once he left. So his successor will have to make some real extra effort."
Masood points out that this is the "first time after a long time that we have two successive army chiefs completing their tenures, parallel to two successive civilian governments." He believes that the mindset in the army that yearns to topple civilian governments isn't there anymore. "I think that narrative is over. There is no question of any takeover any longer. Neither international, nor domestic politics will allow that," he says.
Munir points out that the narrative was changed at the time of General Kayani. "It started with Kayani when he took over in 2007. Even though Musharraf was still in power, the army as a whole decided that they would not interfere in government affairs," he says. "They said, 'we have been in power for nine years and we don't want this any further.' This was a mutual decision taken by all the corps commanders and that thinking has continued.
"Now it's the ninth year, and even though it doesn't take long for minds to change, I think the army is going to continue with the same policy. The army isn't suitably trained to rule the country, or bring about any drastic or revolutionary changes. So I don't think any change of heart is going to happen."
However, Taqi doesn't expect civil-military relations to change much in the near future. "The army is firmly in control of national security and foreign policies and will remain so in the foreseeable future," he says. "The guardian angels  — pun intended — have established and become comfortable in a tutelary role. Remember General Waheed Kakar was praised a lot for not taking an extension. But note that the then PM, Nawaz Sharif, was pushed to resign in 1993 by him and the Afghan Taliban were created and unleashed in 1994 on General Kakar's watch. The point is that the army works to preserve its institutional interests under the generals who get extensions — and the ones who go without them."
Munir however contends that nothing is permanent. He maintains that it doesn't take much for civil-military dynamics to change in Pakistan. "There's an army chief and he's good with the prime minister and then something happens — an incident here or there can change everything."
This article was originally published in Newsline's March 2016 issue.
Kunwar Khuldune Shahid is a journalist and writer based in Lahore.
Next