Movie Review: The Breadwinner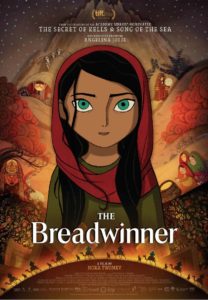 In the opening scene of the animated film The Breadwinner, a little girl and her father sit on the side of the street at a marketplace in Kabul, the father selling wares and offering his services as reader or writer of documents in Pashto and Dari. In the background, Taliban soldiers accost a vegetable vendor for selling to a woman. Trying to distract his daughter, Parvana (Saara Chaudry), from the frightening scene, her Baba (Ali Badshah) urges her to return to the history lesson he was giving her as they wait for customers. He tells her a story about the history of their land and their people, a history of the beauty and wonder of the Silk Road as well as a history of war and violence. "We were at the edges of empires at war with each other, as borders were defined and redefined over thousands of years," he says, as the story he tells comes alive on the screen in the form of a paper cut-out animation, conquerors and invaders from Alexander the Great and Chengez Khan to the British and the Russian flitting past. In the opening scene alone, the film deftly sketches out both the relationship between Parvana and her Baba, as well as the broader social and political context within which Parvana's story takes place, giving way to a beautiful film which is both tender and harrowing. 
Based on a children's novel of the same name by Deborah Ellis, which came out in 2000 to great critical acclaim, The Breadwinner is the latest outing by the Irish animation studio Cartoon Saloon. Its executive produce is Angelina Jolie, who has in recent years turned to film projects that explore the effects of war on women and children. After Baba is taken away by the Taliban, Parvana, her mother Fattema (Lara Sadiq), older sister Soraya (Shaista Latif) and baby brother Zaki are left to fend for themselves. Since women are not allowed to leave their homes unaccompanied by men, Parvana decides to cut off her hair and dons her older (and now deceased) brother's clothes, so that she can earn some money and find a way to bring back her father. Together with Shauzia (Soma Chhaya), a friend who is also disguising herself as a boy to earn a living, Parvana braves the streets of Kabul, encountering landmines, prisons and cruel Taliban soldiers along the way. Meanwhile at home, taking her father's advice about the importance of stories, she entertains her brother Zaki with a story about a boy in the Hindu Kush mountains trying to defeat an evil Elephant King, a narrative that runs parallel to the main story and intersects with it in subtle ways.
Despite being an animated film, The Breadwinner does not shy away from depicting the cruelty of Taliban-era Afghanistan, even as it takes care not to delve into unnecessary melodrama or pathos. Through one girl, her family and the characters in her orbit, the film reveals the consequences of war on ordinary people just trying to live their lives. Through animation, the city of Kabul, with its bustling marketplace to its desolate outskirts where abandoned military tanks form a kind of graveyard, is brought carefully to life. 
The film offers no easy answers to the hardships faced by its characters, and resists portraying things in black and white. At the same time, one of the most fascinating subplots is Parvana's interaction with a Taliban soldier, Razaq (Kawa Ada), who comes to her to have a letter read to him — a letter relaying the news of his wife's death because of a landmine. Parvana's offering of kindness to a man clearly grieving, and their slowly evolving relationship as she teaches him to write his wife's name, is a testament to the film taking pains to look past easy stereotypes. Even Idrees (Noorin Gulamgaus), the soldier responsible for Parvana's father's arrest, is subtly revealed to be a posturing, terrified young man. The Breadwinner is attuned to the various sufferings of its characters, and how that suffering manifests in subtle ways: the story of Parvana's older brother's tragic death is revealed in pieces, even as it's clear that the grief still hangs heavy over the family, and Shauzia's dreams of saving enough money to one day go to the sea are juxtaposed heartbreakingly with her present life disguised as a boy, earning money for her abusive father. 
Resisting the urge to offer simple resolutions to those characters whose everyday lives have been transformed by violence and oppression, while at the same time retaining a sense of hope in the narrative, is a difficult line to walk, and The Breadwinner does a tremendous job of it. The world Parvana inhabits is not easy — at one point, she takes up back-breaking jobs to earn enough money to bribe the prison guard so he would let her see her father, only to have the guard kick her in the gut — and yet it is not devoid of love and hope, and moments of happiness. Her friendship with Shauzia, her bickering with her older sister and her storytelling sessions with her baby brother go a long way in creating a holistic, fleshed out view of her world. 
The Breadwinner is the rare kind of animated cinematic experience that will move both children and adults.
— 
Nudrat Kamal teaches comparative literature at university level, and writes on literature, film and culture.
Next